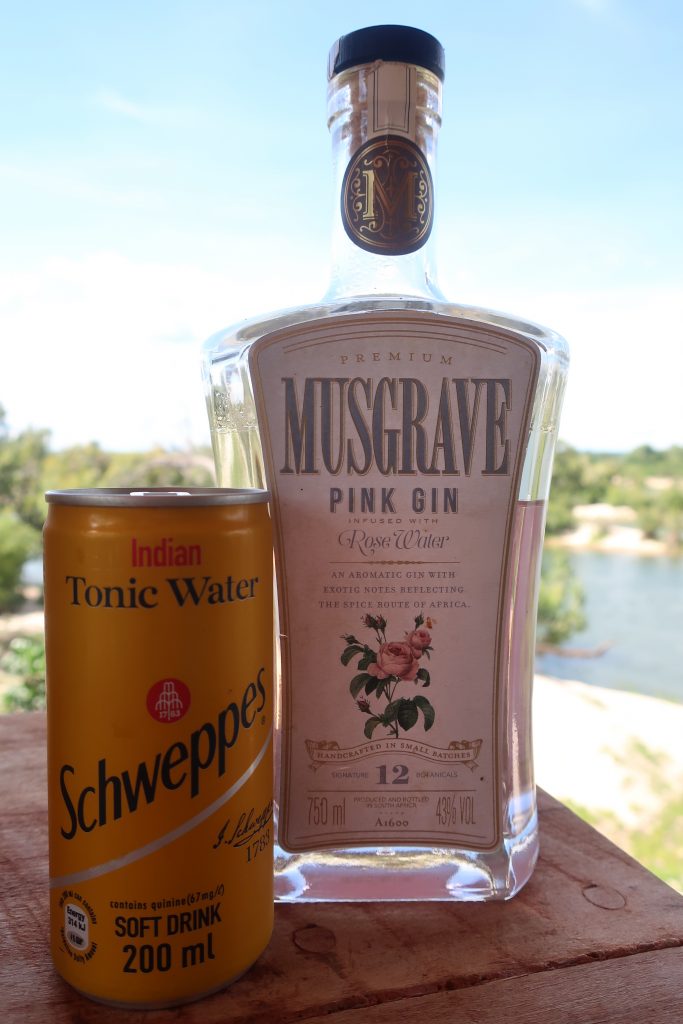 A cocktail as basic and familiar as the Gin & Tonic might seem an inappropriate topic for a blog about drinking the unusual and the obscure. But there's been something of a Gin & Tonic revolution in recent years. I first became aware of it only last summer, when I visited London, and I was reminded of it here, in southern Africa, where a Gin & Tonic is mandatory at sunset.
Distilleries now create all manner of delicious gins made from an array of different botanicals, far beyond simple juniper and spruce. You might encounter rose or lavender notes, green or pink peppercorn, or herbaceous flavors like rosemary or sage. I wrote some time ago about a New Mexico gin, for example, flavored with cholla cactus blossoms, cascade hops, white desert sage and osha root, all sourced from within a 30-mile radius. Creative distillers are experimenting with all sorts of wonderful aromatic combinations.
There has been a similar explosion in fancy tonic waters, ranging from relatively sweet and easy-drinking to bone-dry to floral to bitter. Tonics like Fentimans, Fever Tree, Q Tonic and Jeffrey's, to name just a few, all have their partisans. And goodness, they can be rather expensive, costing almost as much, per liter, as cheap gin. Fortunately, Schweppes still makes a perfectly respectable mixer with gin.
Both in London and near Zimbabwe's Victoria Falls, I've seen menus offering a variety of combinations of gins and tonics, garnished with a range of citrus peels and other aromatics.
It turns out that a simple Gin & Tonic can get rather complicated! That gave me an idea for a party.
What fun it would be, to set out a number of different gins, tonics and garnishes, and have a little contest to see which guest could come up with the best combination!
I recommend having three to five different gins — perhaps avoiding the most obvious brands — depending on the size of the group, and a similar number of tonics.
The more "artisanal" gins often list the botanicals used, making it relatively easy to assemble gins with different characters. A good liquor store should have plenty to choose from on the shelf. Binny's in Chicago, for example, has dozens from which to choose. I also count seven tonic brands.
Also be sure to provide an array of garnishes. I suggest some fresh herbs, like rosemary, basil and sage, as well as the zests of orange, grapefruit, lemon and lime. Gin & Tonic may seem like a summer beverage, but now is citrus season. In addition to the obvious fruits, you might be able to get your hands on some Meyer lemons, blood oranges, pink lemons or even Buddha's hands.
The garnish is important, because its aroma and oils mingle with the botanicals of the gin, changing the experience of the drink. It's not just for show in this case.
Have fun experimenting, and if you hit on a combination that you love, I would love to hear about it!