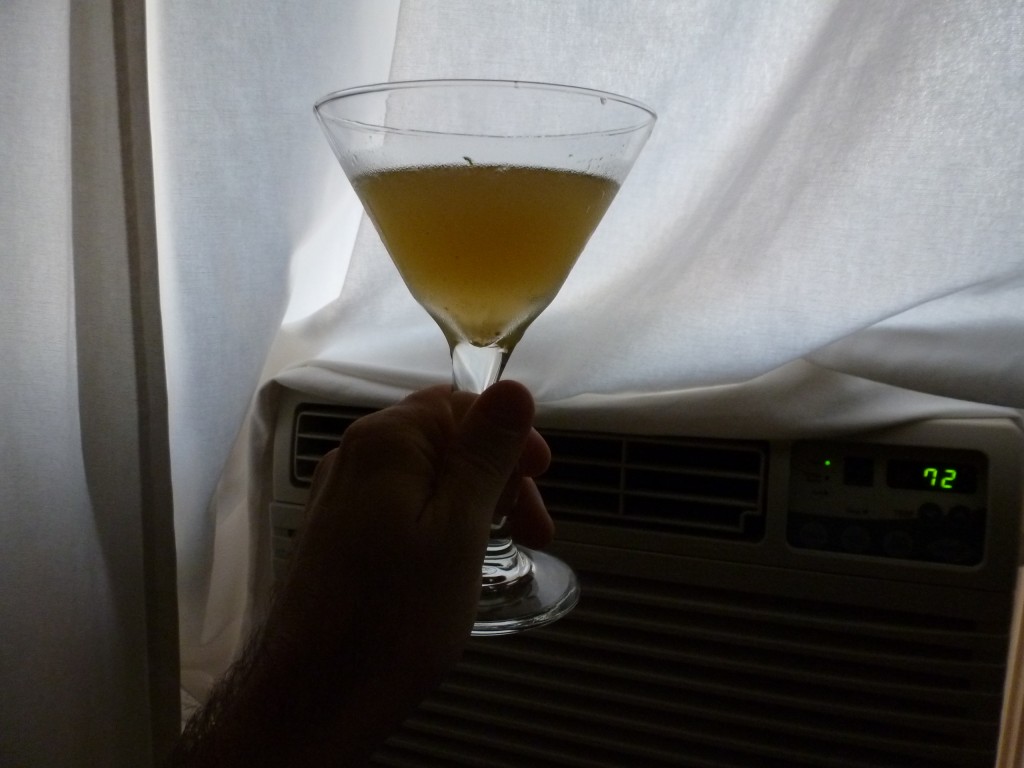 With some delicious Thai delivery coming our way, and no Gewürztraminer, Riesling, Torrontés or even Moscato chilling in the fridge, I had but minutes to come up with a cocktail pairing. Something exotic and aromatic was called for, and in this heat, something very refreshing.
I took stock. Just as home chefs sometimes create something delicious out of various bits of leftovers, so I hoped to craft a cocktail from ingredients readily at hand that needed to be used up.
The coldest thing I had was a mostly empty bottle of Sobieski Vodka which had been cluttering up the freezer for months. Time for a little housecleaning. Vodka may not exactly be odd, but it works as a wonderful base on which to layer other more unusual ingredients. What else did I want to get rid of? Perhaps that half-finished bottle of mango juice… Ah — and that box of fresh basil leaves that have but a day or two left before they turn black. Fresh herbs can really kick a drink up to the next level. And how old was that bottle of lychee liqueur in the refrigerator door? A cocktail began to take shape.
I tried combining the ingredients listed above, but the resulting concoction ended up to be too sharp, too astringent. Fortunately I had a lemon in my fruit bowl, and a little fresh-squeezed lemon juice really helped round out the flavor. It tasted sweet, tart and vaguely exotic, with whispers of the basil and lychee. It was just the thing to pair with the Thai food as we huddled around our air conditioner.
While it can be great fun to experiment with leftovers, there's something to be said for making a recipe that's tried and true. Here's what worked for me:
The Best Exotic Mango Martini:
2 parts vodka (I like Sobieski — it's an excellent value for the money — but use whatever brand you prefer)
1 part mango juice (100% juice if possible)
1/2 part fresh-squeezed lemon juice
2 or 3 fresh basil leaves, depending on their size
Small splash of lychee liqueur (I used Soho Lychee Liqueur, which is available at Binny's for $25)
Juice a lemon, and use that as the measure of one part (one lemon will make two cocktails). Add all the ingredients above to a shaker with several cubes of ice. Be sure not to add too much lychee liqueur — it can very easily overpower a cocktail. Just a tiny splash should do the trick. Shake vigorously, so that the basil leaves bruise and release their flavor. Strain into two martini glasses, and if you want to get really fancy, garnish with a basil leaf.