4 May 2018
Comments Off

on Nipyata: The Most Unusual Sample I've Yet To Receive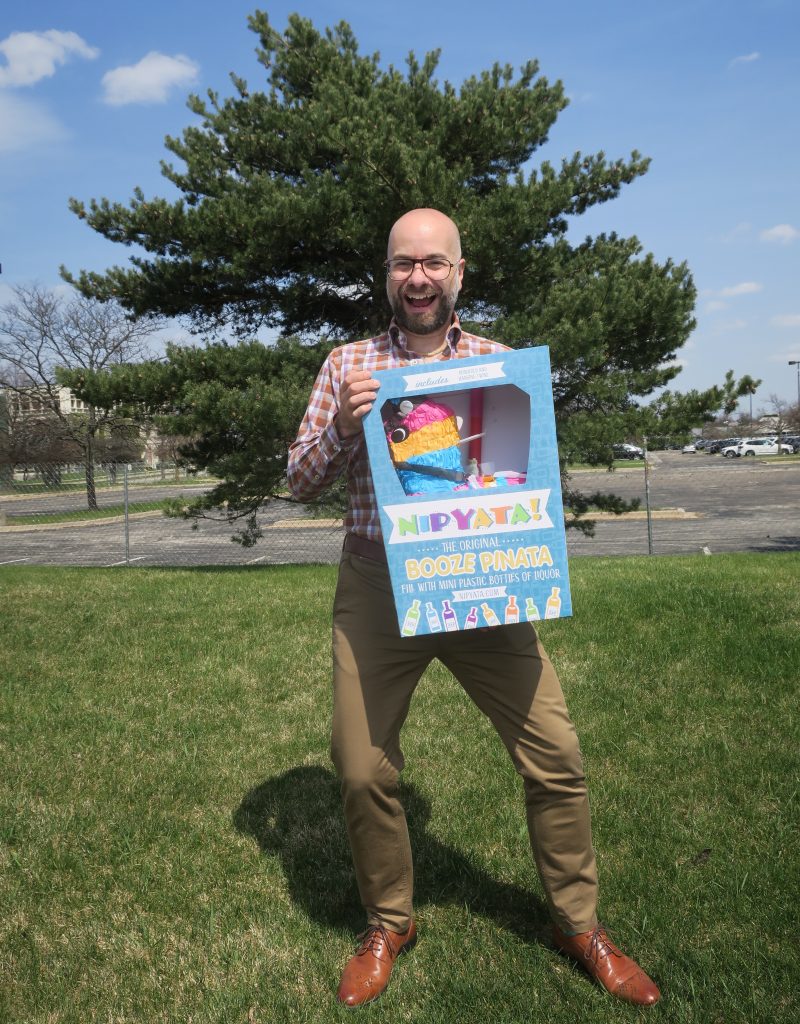 I receive quite emails from PR people offering to send me free samples of various products, ranging from crackers to Cabernet. These days, I turn down almost all of them. It sounds crazy to take a pass on free booze, I know, but if I accept the sample, I feel bound to write about it. And after writing almost 500 posts since 2011, it takes something special to catch my eye nowadays. Recently, I discovered something special indeed.
When I received an email offering to send me a free Nipyata, at first I scoffed. A piñata filled with little bottles of liquor? Come on. This is a serious blog in which I've discussed Château Margaux and Hennessey Paradis Impérial Cognac, for heaven's sake.
But like a fine wine, a fine blog needs balance. More important, this fine wine blogger needed to have a little fun. Bring on the Nipyata!
The Nipyata — "nips" are what the company calls the liquor bottles inside — arrived, and I knew right away where it would do the most good: my office. My colleagues are happy to use the flimsiest pretext as an excuse for a party, which is perhaps the main reason I've been with the company for 15 years now, and counting. Cinco de Mayo provided just such an excuse.
Cinco de Mayo actually honors the Mexican victory over the French army at Puebla on May 5, 1862, but in much of the U.S., and at my place of business, we like to use it as an opportunity to party. Nipyata!
On the Nipyata box are all sorts of clever rules to help maximize your Nipyata fun, most of which also involve maximizing your alcohol consumption. I especially like the "Prison Rules" version. I thought I would have to bring a blindfold, stick and hanging cord myself, but all three things conveniently came packaged with the Nipyata.
We ended up decapitating the Nipyata rather than breaking it open, but our resourceful Nipyata Master (this is an official role designated by the rules, along with a Swinger and a Guide Dog, among others) conjured a shower of candy and booze bottles nevertheless. The booze bottles, incidentally, are plastic, ensuring that none break while the Nipyata is being bashed around.
Nipyatas are not inexpensive, starting at $90 (on sale from $100) for the "Stay Classy Burrito" set including all the accessories and 10 nips (the upgraded 20-nip Nipyata is currently $110). But I can't deny that we had a fantastic time taking whacks at it and jostling each other for the booze once the Nipyata broke.
So this Cinco de Mayo, you can spend it in a respectful, reflective fashion, meditating on the Mexican contribution to American history, or you could get drunk, take some whacks at a Nipyata and get drunker. The choice seems clear.
This Nipyata was provided as a free sample.
To order your own Nipyata, visit www.Nipyata.com.