1 April 2017
Comments Off

on Taming Aglianico: Campania's Noble, Underrated Red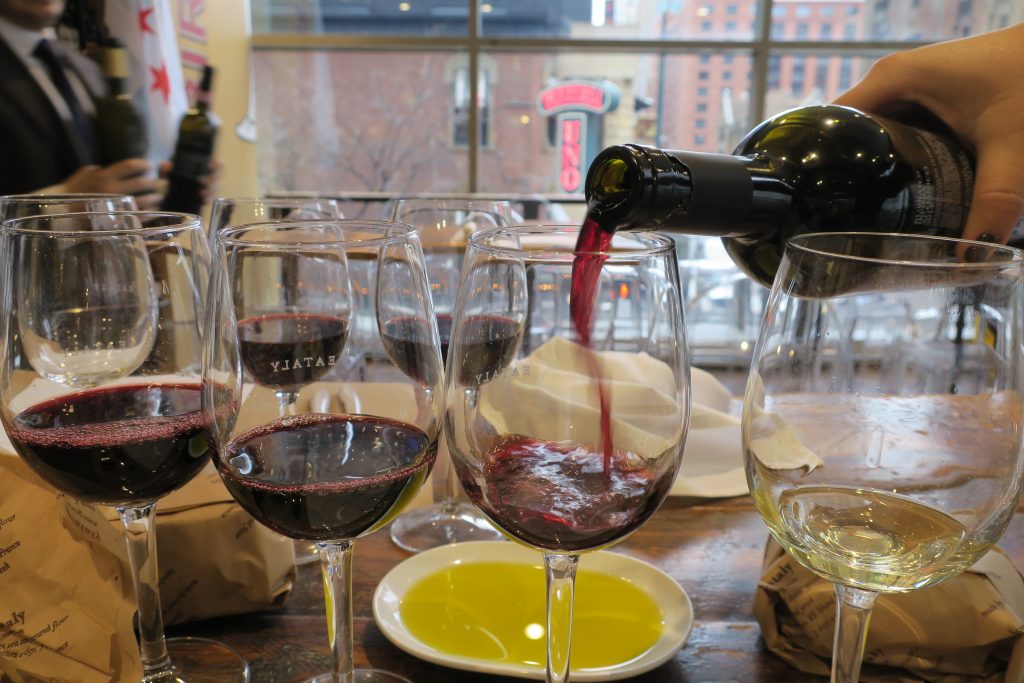 Certain beasts inhabit the world of Italian wine. Intense Barolo from Piedmont is perhaps the most famous example, with its high acidity and powerful tannins which often benefit from long bottle aging. But southern Italy has its own wonderful beast with big acids and forceful tannins: Aglianico.
Pronounced approximately "ahl-lee-AH-nee-coh," this "dark-skinned, top-quality" grape, as The Oxford Companion to Wine describes it, doesn't have the name recognition or cachet of Barolo. The Sotheby's Wine Encyclopedia calls Aglianico "underrated," and The World Atlas of Wine describes it as "one of Italy's greatest dark-skinned grapes, making wines with a powerful, obviously noble, brooding character."
One of my very favorite things is an obviously noble but underrated grape.
The Oxford Companion explains that Aglianico "seems to prefer soils of volcanic origin" and that it's quite late-ripening, which means that the warm vineyards of Campania, notably in the Irpina and Taurasi regions west of Mount Vesuvius, provide an ideal home. And what a home — in Roman times, Campania produced the most sought-after wines in the empire, notably Falernian.
One of the best and largest wineries now producing Aglianico in Campania is, oddly enough, one of the region's newest, founded in 1986: Feudi di San Gregorio. Founder Enzo Ercolino grew up in Campania but had moved to Rome. After the devastating 1980 Irpina earthquake, he decided he wanted to help his home region recover by investing in it, and he started a winery.
His son, Antonio Capaldo, has since taken over and now serves as Feudi's president. Like his father, he didn't start out in the business of wine. "I come from a dark past," he confided over lunch in the Birreria of Chicago's Eataly. "I come from finance." He always had felt close to the family business, however, and he has since made up for lost time, taking his sommelier exam. "And I drink a lot. That helps. My wife drinks even more, so that helps the industry." I kind of love a guy willing to throw his wife under the bus if it makes for a good joke.
Feudi completed a new winery in 2004, but in 2009 it needed a family member to take over (Feudi was and is a family business, like many companies in Italy). So Capaldo returned, and devoted his ample energy to winemaking. "But I left the winemaking to the winemakers. I tried to explain to them that perfection doesn't exist, that we should try to produce the best wine possible, that is the most important thing," he said, with refreshing candor. "But also other things are important. We want to communicate the beauty of our terroir." That's a philosophy I can get behind.
Over a lunch, we sampled four Aglianicos, as well as two whites: a rich and spicy Falanghina and a fruity, well-balanced Greco di Tufo (the Falanghina was particularly compelling — seek it out). The tasting made an Aglianico lover out of me.
2016 "Ros'Aura" Aglianico Rosé: "I didn't think it would be so challenging to make a rosé," Capaldo exclaimed. Feudi brought in a Provençal winemaker to consult. "In terms of rosé, the French are ahead of us [Italians]," he continued. "I hate to admit it, because I have a French wife." Well, this Italian rosé (with French assistance) certainly turned out well, with its fresh strawberry aroma, bright berry fruit and juicy, lemony acids, as well as an appealing undertone of richness.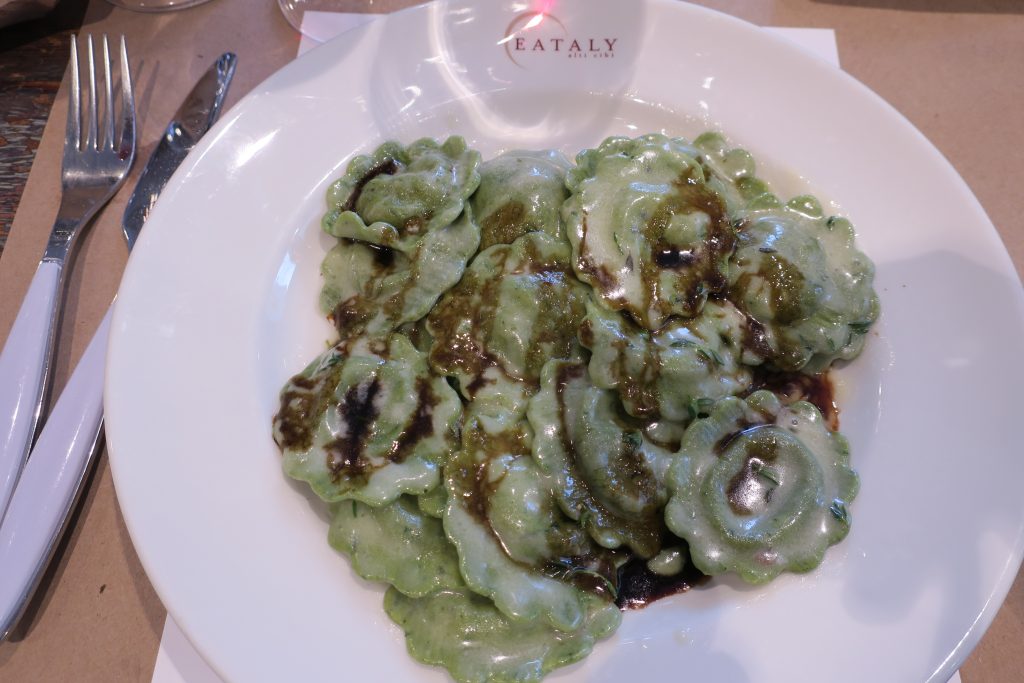 2014 Rubrato Aglianico: This Irpino DOC Aglianico ages 8-10 months in stainless steel, with no time in oak. It felt big and bold, with ample dark-cherry fruit, forceful acids, medium tannins and some black pepper spice. Some mushroom ravioli enhanced the spice, and smoothed out the texture of the wine. Like many Italian bottlings, this one was at its best with food.
2011 Serpico Aglianico: Also officially an Irpino DOC, this Aglianico comes from the Dal Re vineyard near the village of Sorbo Serpico. It sees 18 months in barriques as well as larger wood barrels, evident in the aromatic notes of vanilla and a touch of oak in addition to dark fruit. The Serpico tasted dark and rich, with loads of fruit, significant oak and plenty of acidity. With some meatballs in marinara, it became extra spicy delicious.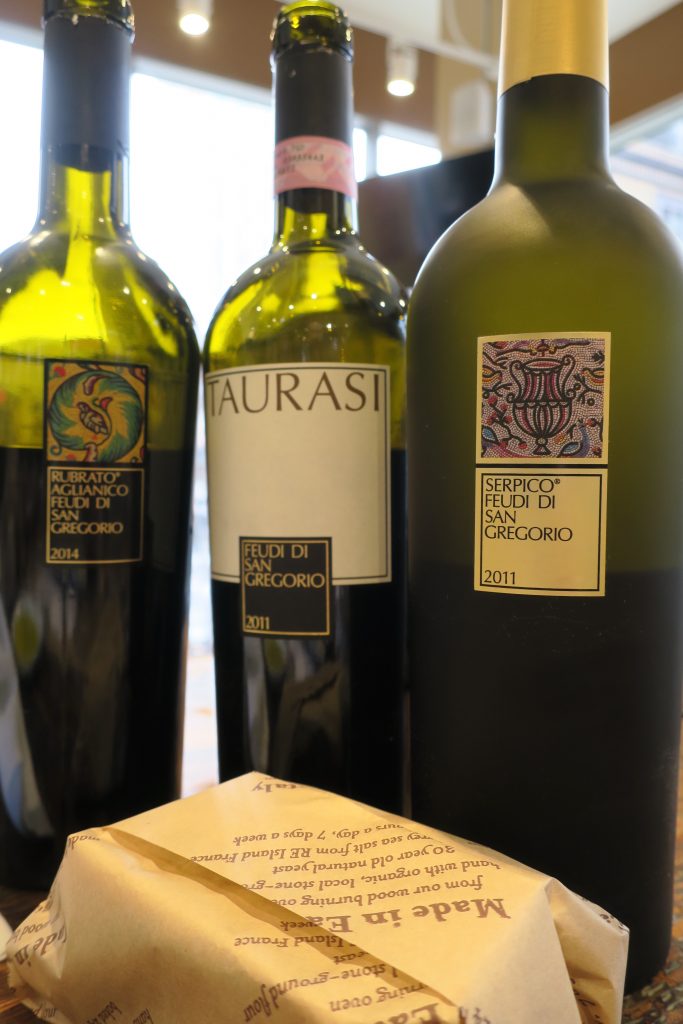 2011 Taurasi Aglianico: All my resources love Aglianico from the Taurasi DOCG. According to  The Sotheby's Wine Encyclopedia, "[Taurasi] is one of the country's greatest wines from this underrated grape variety." The Oxford Companion to Wine agrees: "Taurasi demonstrates the heights which Aglianico can reach in the volcanic soil which it favours." And from The World Atlas of Wine: "In the volcanic hills of the Taurasi DOCG zone, where [Aglianico] finds its finest expression, it can ripen as late as November…"
This particular Taurasi sees 18 months in wood, like the Serpico, but all the wood is barriques (smaller barrels enhance the effect of the wood and are more expensive to use). I loved its enticing aroma of deep, dark fruit and toasted wood with a touch of meatiness. As you might by now expect, it tasted rich and dark. The acids felt big but focused, and the tannins were brawny but not over-aggressive. There was spiciness, too, and a rather raisiny finish. Big and beautiful. If this wine were a person, he would be my ideal dinner party guest.
2012 Caparone Aglianico: Antonio Capaldo mentioned, with a tone of some amazement, that he knew of at least one winery growing Aglianico in California. As it happens, I had a bottle of Aglianico from California in my wine rack. I'd found a 2012 Caparone Aglianico from Paso Robles (between San Francisco and Los Angeles) at my favorite local wine shop, In Fine Spirits. Now seemed like an ideal moment to try it, to compare its character with that of Feudi's Aglianicos.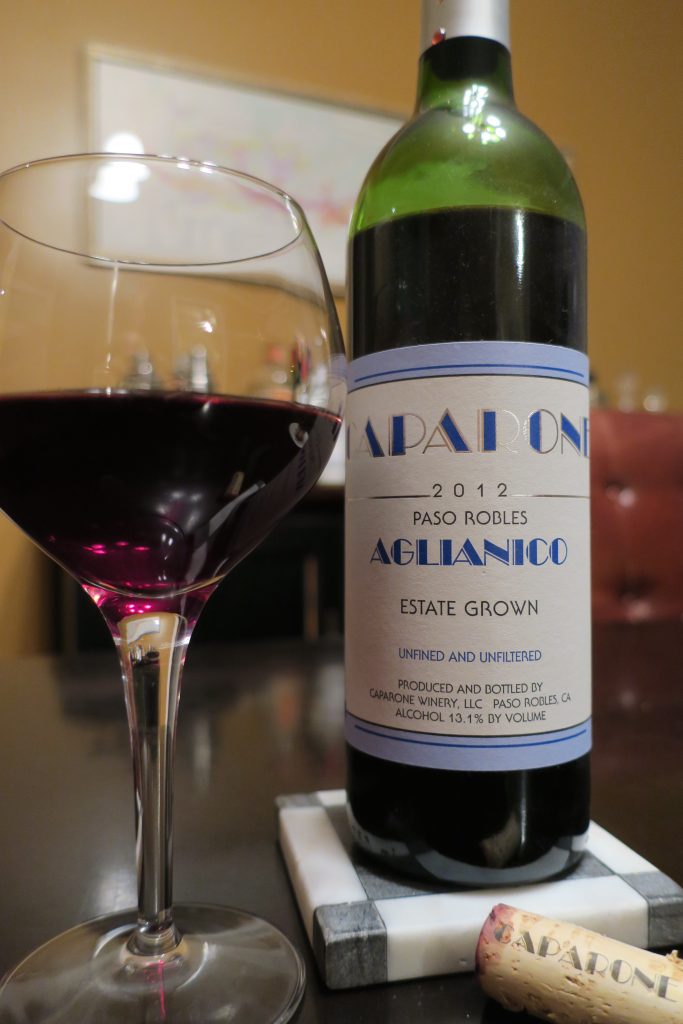 Sotheby's notes that in Paso Robles, coastal winds and fog do not penetrate, meaning that temperatures are high and sunny days are numerous. That's important when you have a late-ripening grape like Aglianico. Caparone grows it along with two other noble Italian varieties, Sangiovese and Nebbiolo, as well as Cabernet Sauvignon, Merlot and Zinfandel.
Caparone ages its wines "several years" in barrels, though it can't be too many years, since I bought the 2012 at least a year or two ago. In any case, its Aglianico was also delicious. It had a ripe and dusty dark-cherry aroma, with a bit of earth as well. The flavor was lusty and gutsy, with bold dark-red fruit, big acids, hefty but not clumsy tannins, a note of wood and some iron on the finish. The tannins softened with a slice of pepperoni pizza, and the food brought a vanilla note out from the background. Another fine Aglianico.
Of Italy's noble red grapes, Aglianico is arguably the least famous. That means it's also frequently the best value. It offers a lot of brawn for the buck.
Note: The glasses of Feudi wines were provided free of charge, but I purchased the Caparone Aglianico.