7 December 2013
Comments Off

on Old Vines In A New D.O.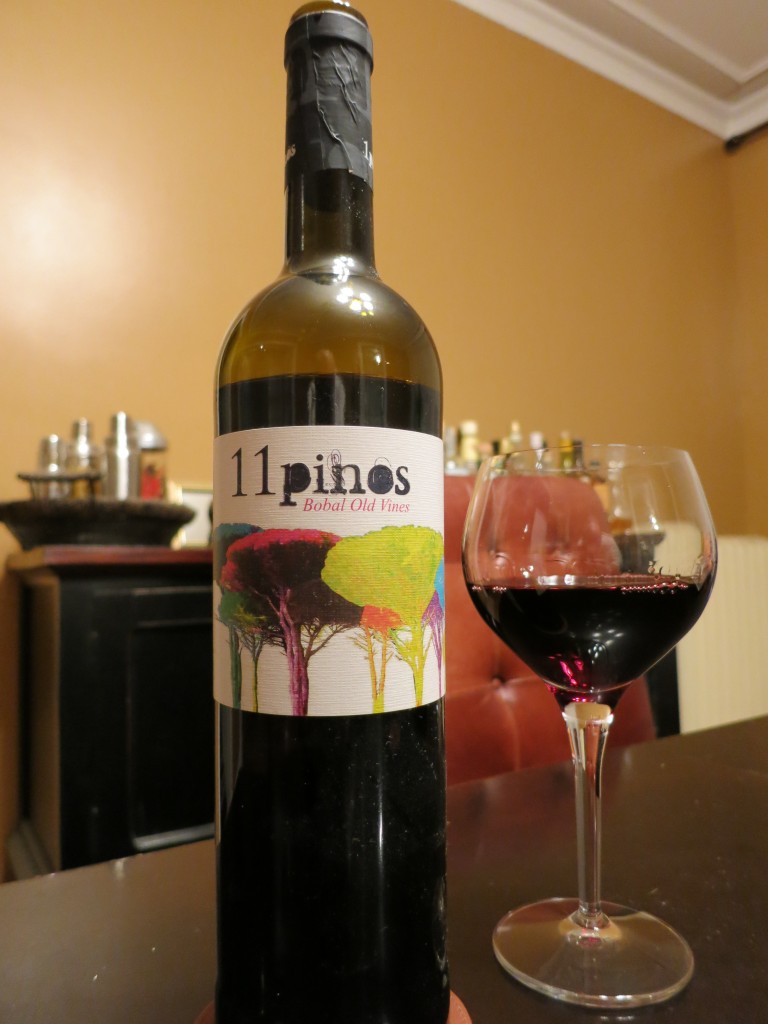 My favorite neighborhood wine shop, In Fine Spirits, is a small but exciting place in which to simply browse, with nothing in mind other than finding something new and unusual to try. Wine megastores like Binny's have a much wider selection, but I think every wine drinker needs a store like In Fine Spirits, which presents a curated offering of wines that the owners have tasted themselves and specifically chosen to put on their shelves. Because the palates of the owners align closely with my own, I never feel apprehensive about buying something I haven't heard of.
Which is why I had no qualms about picking up a bottle of 2011 Vega Tolosa "11 Pinos" Bobal a few weeks ago, even though I'd never tried a wine made from the Bobal variety, nor could I remember sampling a wine from the Manchuela D.O. where the 11 Pinos originates.
Bobal, I read with some dismay in The Oxford Companion to Wine, "produces deep-colored red wines" in certain areas, but in others, it's used "mainly but not exclusively for bulk wine production." I didn't feel any more reassured when I looked up the Manchuela D.O. in The Sotheby's Wine Encyclopedia. This region between La Mancha and Valencia generally makes wines of "a quality that is seldom better than an acceptable quaff," and indeed, "much is a lot worse," it says, not mincing any words.
Fortunately, the story doesn't end there. The Oxford Companion goes on to say that Bobal's "reputation has been growing as producers such as Mustiguillo have managed to fashion velvety reds from high-altitude vineyards in Utiel-Requena," an eastern sub-region of Manchuela. This high plateau, which was granted D.O. status in 2000, "shows great potential," the Oxford Companion argues, "but has lacked the investment required to develop it." It seemed there was hope for Manchuela Bobal after all.
I also felt encouraged by the fact that the Bobal vines in Vega Tolosa's vineyards have an average age of 80 years, which theoretically means low yields, high concentration and deep flavors. I poured myself a glass as I cooked up some cavatappi with walnut-cilantro pesto, and I was immediately struck by the meaty, dark-fruit aroma. This was a lusty wine, with dark-red fruit, a dash of black pepper and a smoothly tannic finish. It felt rustic, strong and hearty, which was just what I needed on a cold winter's night.
I'm not sure the 11 Pinos Bobal would win in a blind tasting with a fine Toro or a top Rioja, but then it didn't have a top Rioja price tag, either. For $12.50, this wine packed a lot of flavor, and I would certainly buy it again. So if you see a Bobal on your wine shop's shelf, I recommend giving it a try. It's an ideal choice for a holiday party, where people will be in the mood for something hearty and fun.