15 April 2018
Comments Off

on Is Older Better? Top Bordeaux From The 80s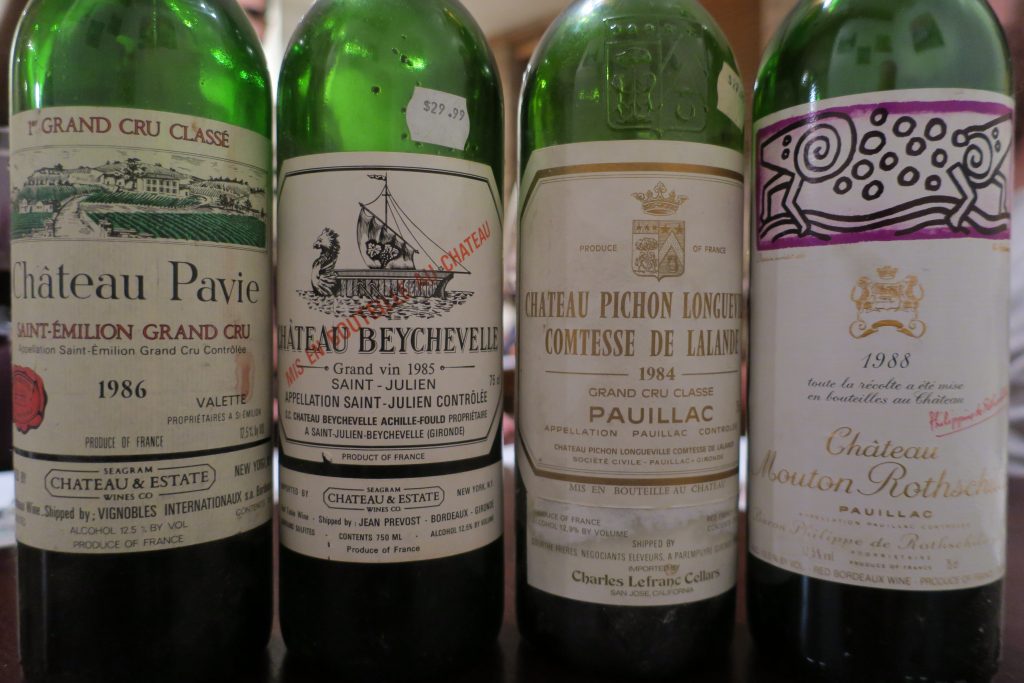 "Like a fine wine, I get better with age." This cliché appears on countless birthday cards and sparkly t-shirts in the more commercial winery tasting rooms. It's a nice turn of phrase, but it's a lie. At least for wine — even the very best, even the stoutest of Madeiras — there inevitably comes a period when it peaks, followed by decline.
I wrote about this at least once before, but it's a fact easily forgotten, even by me. I still have two of those bottles of 1975 Inglenook Charbono that I wrote about in that post five years ago. What on earth am I waiting for? They're not getting any better! Like most wines, that Charbono was surely meant to be consumed on release, or shortly thereafter.
Certain wines, however, do benefit from a few years in the cellar. Great Bordeaux, for example, can improve for some time, especially if stored in optimal conditions. The tannins integrate better, and additional aromas and flavors reveal themselves. And so I felt absolutely thrilled when Liz Barrett, my cohost on Name That Wine, called me up and alerted me that her friend had four bottles from tip-top Bordeaux producers, ranging in age from 30-34 years, and had finally decided to open them up.
Would we like to shoot an episode of Name That Wine around them? Hell yes we would! It's a blind tasting show, but screw it — how often do we have the chance to try a Mouton Rothschild, young or old?
These four bottles — a 1984 Château Pichon Longueville Comtesse de Lalande, a 1985 Château Beychevelle, a 1986 Château Pavie and a 1988 Château Mouton Rothschild — had spent some of their time in good basement conditions, but many of their years at room temperature as well. A couple of them bore their original price tags. Wow, you could get good deals on great Bordeaux in the 1980s!
Some of the bottles, alas, did not make it. Flavors and aromas in these ranged from "funk" to "fecal." Some of them did, however, and wow. Which bottles made it and which tasted like stinky French socks?
This was a tasting I won't soon forget.
If you liked that video, please subscribe to our YouTube channel! Recent episodes include a gefilte fish pairing, French versus Argentine Malbec, and an Irish Cream taste test.