28 November 2012
Comments Off

on A Thoughtful Gift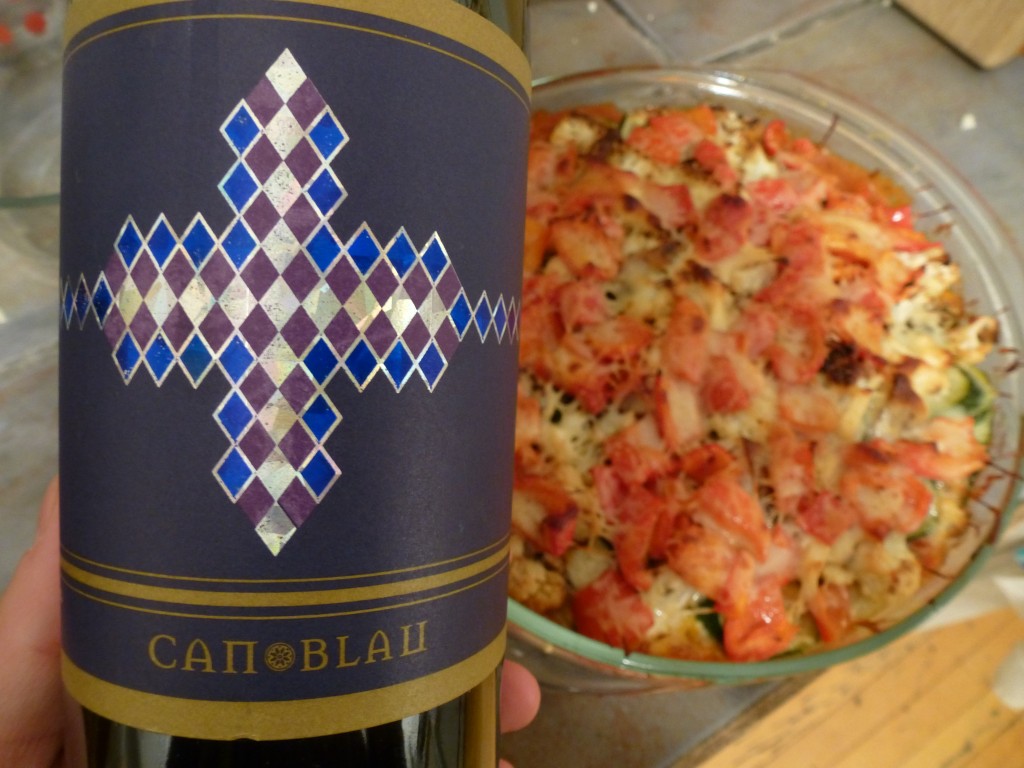 Not too long ago, my friend Will brought over a bottle of wine, and he chose something right up my alley. Knowing my preference for the unusual, he purchased a 2009 Can Blau Montsant, a blend of 40% Mazuelo, 40% Syrah and 20% Garnacha (Grenache).
What? A Mazuelo-based blend from Montsant?? Be still my obscure heart!
The Montsant D.O. (Denominación de Origen), I discovered, came into being only in 2001. It was carved out of the Tarragona D.O. in Catalonia, Spain, in order to "highlight its superior quality," according to The Oxford Companion to Wine. It can apparently produce wines "similar in style and quality" to those crafted in neighboring Priorat, which is pretty high praise as far as I'm concerned. And it's no surprise. According to the map in The World Atlas of Wine, the Can Blau winery is barely a kilometer outside the Priorat region. So close!
Now, Syrah and Garnacha I've heard of and sampled, but Mazuelo? Well, it turns out I've tried that too — "Mazuelo" is the term people in Rioja use for Carignan (also spelled "Carignane"). But why a winery in Monstant would label its wine with a term from the Rioja region instead of the locally used "Cariñena" is a mystery. Or is it?
I realized that though I'd tried wines made from Carignan before, I didn't know all that much about the grape. I read the entry about it in the Companion, and it began to make sense why Can Blau wouldn't necessarily be anxious to announce the Carignan component in its wine. The Companion praises old Carignan vines, but calls the variety in general "the bane of the European wine industry…distinguished mainly by its disadvantages." Varietal wines from this rot-prone grape tend to be "high in everything — acidity, tannins, colour, bitterness — but finesse and charm." Which boils down to wines that are too rough to drink young but are also "unworthy of maturation." Ouch.
But if late-ripening Carignan is going to do well anywhere, it seems, it's in sunny Catalonia. I have no idea how old the Carignan vines of Can Blau are (the website of its parent company is only in Spanish), but I suspect the Companion might not entirely approve. The wine was big and a little unpolished, but it was great with a bowl of hearty vegetable gratin on a cold Sunday evening. An appealing deep magenta, the Can Blau had fragrant aromas of jam and vanilla. On the palate, it started with a zing of black pepper before moving on to dark fruit, big rustic tannins and expansive acids. It finished with some sweet notes; a bit of anise and a quick reprise of vanilla.
Well, I suppose this wine didn't exactly scream "finesse!" It was more of a robust farmer than a refined city type, but I very much enjoyed it nevertheless. After all, robust farmers can be a lot of fun every now and then.
SUMMARY
2009 Can Blau Montsant: Big, fragrant, fruity and a little rustic. This wine might be a little much for some tastes, but I thought it was great fun. Chill in the refrigerator for 20 minutes before serving.
Grade: B
Find It: Binny's carries the 2010 vintage for $16, which is not at all a bad deal considering the wallop of flavor this wine packs.