25 July 2014
Comments Off

on Drink Like The Czars – Barta Pince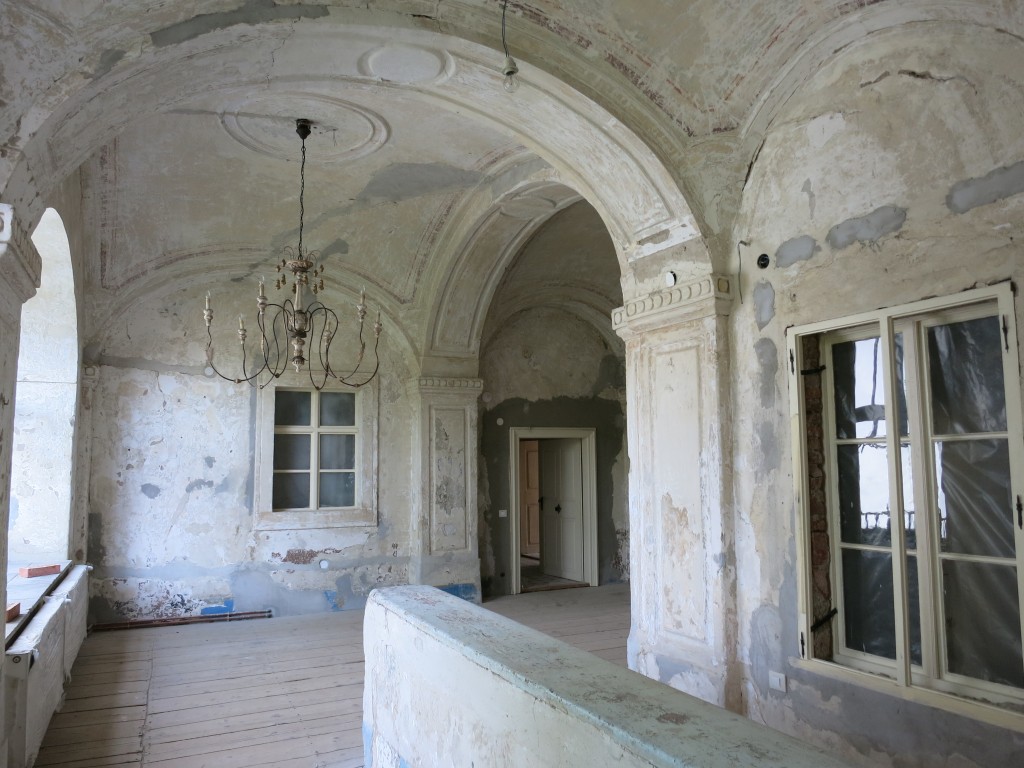 In addition to touring the wonderful Erzsébet Pince while exploring Hungary's Tokaj region, I had the fortune to visit the equally delightful Barta Pince in the tranquil wine town of Mád. Barta Pince ("pince" is Hungarian for "cellars") moved into its current home only in 2009, but the building itself dates back to the 16th century, with a newer second floor added in the 18th. This floor had yet to be fully renovated as of my visit (see right), and it retained its supremely atmospheric vaulted ceilings covered with faded, flaking paint above deeply worn wooden floors.
The winery gets its fruit from the Öreg Király dűlő (Old King vineyard), which is the second-highest vineyard in Hungary, according to Barta's sales manager, Anita Balogh (below right). This vineyard produced some of the best fruit in the region, but the communist authorities were not impressed by the vineyard's steep, difficult-to-work topography. They "barbarically" chopped down the vineyard, Balogh related with understandable emotion, and let the land return to scrub brush and eventually forest. Not content to leave well enough alone, the communists turned the other side of the hill into a quarry, an atrocity akin to converting one of Burgundy's top vineyards into a strip mine.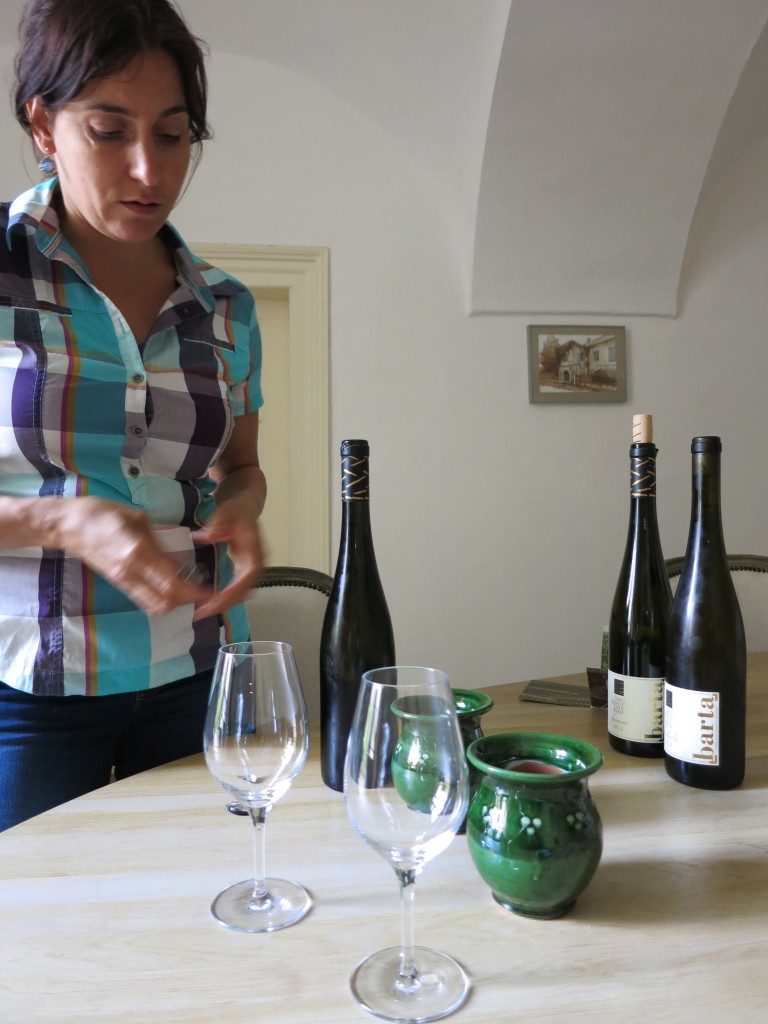 The owners of Barta Pince bought the Öreg Király vineyard in 2003 and slowly reclaimed it from the forest. They discovered that about three quarters of the original stone terraces remained miraculously intact, and the Furmint and Hárslevelű vineyards make use of these ancient terraces today. The height and grade of these 100% organic vineyards requires that most work be done by hand, just as it has been for centuries.
I sat down with Balogh in the elegant dining room of Barta Pince, just off the complex's shady garden courtyard. The wines proved to be packed with vibrant fruit and racy acids. After my tasting at Erzsébet Pince the day before, I had expected nothing less.
2011 Öreg Király Dűlő Furmint: What a delightful, elegant wine. It had bright aromas of honey and white pepper, a luscious texture and honeyed apple fruit. Beautifully controlled, the wine maintained balance with refined white-pepper spice that slowly gave way to a mineral finish.
2012 Öreg Király Dűlő Furmint: The following vintage had an open nose of honey and green peppercorn along with some citrus. It still felt lush on the tongue, but it seemed much drier, with an almost saline quality. It didn't feel as exquisitely refined as the 2011, but perhaps it just needs another year in the bottle to mature. These are quibbles though, arising only because the 2011 was so clearly at its peak.
2012 Öreg Király Dűlő Hárslevelű: Barta made only 900 bottles of this complex varietal wine, which had ripe, full aromas of peaches leavened with stone. It felt big and round, but the fruit resolved into tart acids and a dry finish of minerals and even a touch of wood. Quite a journey.
2012 Egy Kis Édes Furmint: Bottled just five weeks before I tasted it, Barta's least-expensive wine smelled enticingly floral. It tasted sweet and fruity, but lemony acids and floral overtones kept things well in balance.
2011 Öreg Király Dűlő Furmint Muskotály: A blend of 60% Muskotály (Muscat) and 40% Furmint, this late-harvest wine had an entrancing aroma of perfumed white flowers and peaches. Ripe and rich, it was redolent of white peaches, with softly limey acids and some minerals on the finish.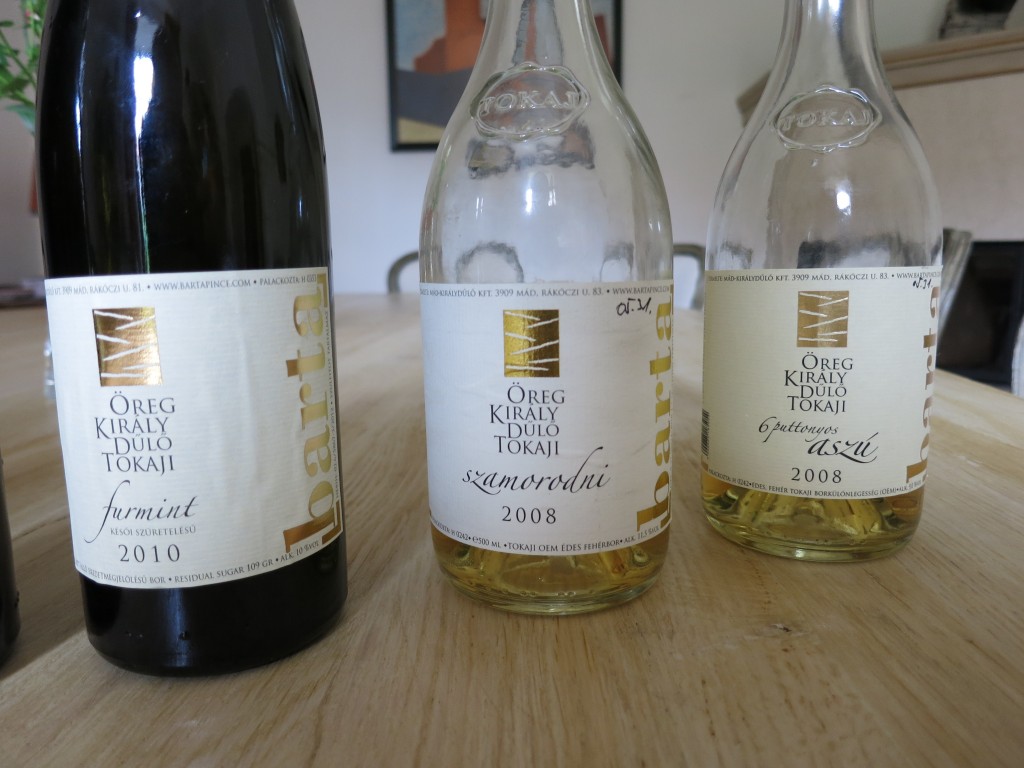 2012 Öreg Király Dűlő Furmint Muskotály: In 2012, Barta tweaked the blend to 50% Muskotály and 50% Furmint. It had a fresh, spicy, floral aroma, but the flavor was a little darker. Lovely orangey acids balanced out tones of honey, dates and figs.
2010 Öreg Király Dűlő Late Harvest Furmint: Barta had to wait later than usual to harvest the grapes for this wine because of the rains. Balogh called the aroma "pure quince." That doesn't mean a whole lot to some of us (I must admit that I don't encounter quince on a regular basis), so I'll describe the smell as peach pie with a hint of green peppercorn. Very sweet and honeyed, this wine had well-balanced orangey acids and notes of green tobacco giving it a lift.
2008 Öreg Király Dűlő Szamorodni: This sherry-like wine is aged in barrels for 20 months, and the botrytis-affected aszú grapes are not removed, deepening and concentrating the flavors. After tasting it, I can understand why a Hungarian president once ordered 1,500 cases of the wine. I loved the nose of honey and old wood, and though the wine exhibited fantastic richness, it was perfectly balanced. I must sound like a broken record by now, with all this talk of lush richness balanced by zesty acids, but that combination never gets boring. Flavors I noticed included pie crust, wood, peach and fig.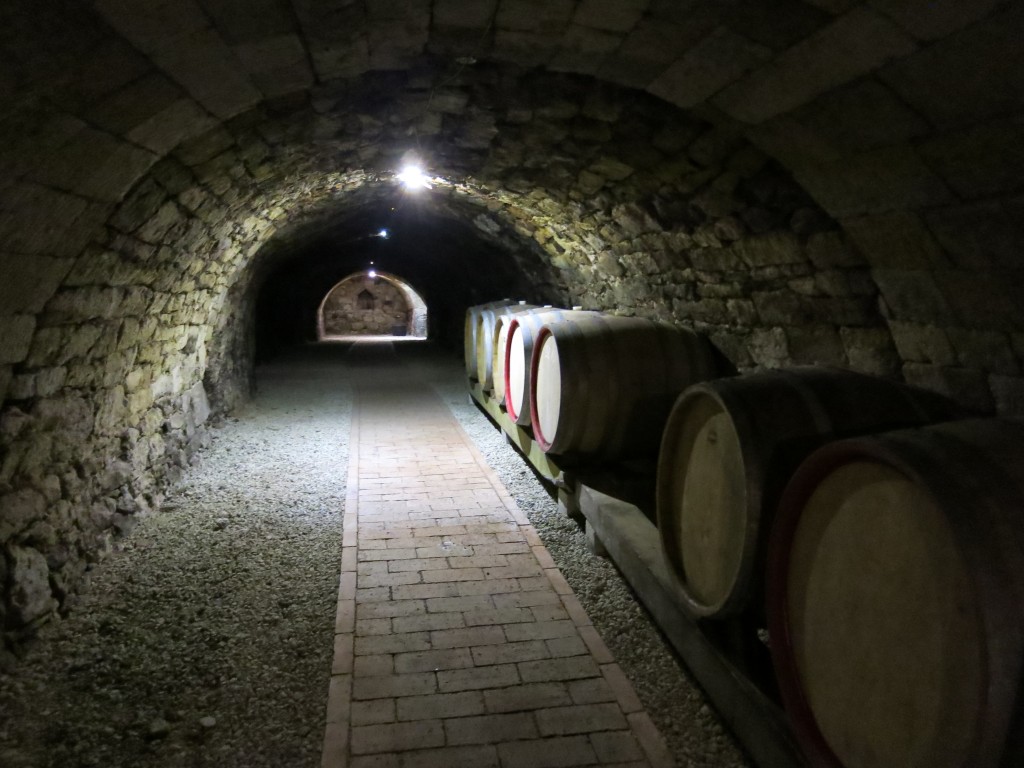 2008 Öreg Király Dűlő 6 Puttonyos Tokaji Aszú: Tokaj became famous in the courts of Europe for its aszú (botrytized) wines, such as this one. You can find Tokaji Aszú ranging anywhere from 3 to 6 puttonyos, and basically, the higher the number of puttonyos, the richer and sweeter the flavor. This extraordinary wine has a whopping 257 grams of sugar per liter. Compare that to, say, Dr. Loosen's 2006 Beerenauslese from Germany's Mosel Valley, which has a mere 142 grams per liter. With all that sugar, could it possibly be as balanced as the wines above? The aroma seemed promising — rich honey underlined by fresh mint. It tasted very, very rich, with honeyed fruit and dusky orange. Acids felt relaxed and slow, gracefully balancing out all the sweetness. Wow. I wrote in my notebook that this wine "feels wise beyond its years."
That's two spectacular tastings in a row! And I found yet more on my tour of Tokaj, tasting wonderful wines at Gróf Degenfeld and Szent Tamás. But after reading about Erzsébet and Barta, you get the idea. The wines of Tokaj, to put it simply, rank among the very best in the world. I don't mean that they rank among the best in their price range, or that they rank among the best in Central Europe. Tokaj's wines are some of the world's most beautifully crafted and extravagantly delicious. Period.
And what a joy and privilege to taste them in Tokaj itself! The wines of Tokaj have been famous since at least 1700, when the region was classified. But the region feels undiscovered, which makes visiting it an unusual and singular delight. If you have the means, go. Go.