1 April 2018
Comments Off

on Malagousia And Other Greek Wine (Re)Discoveries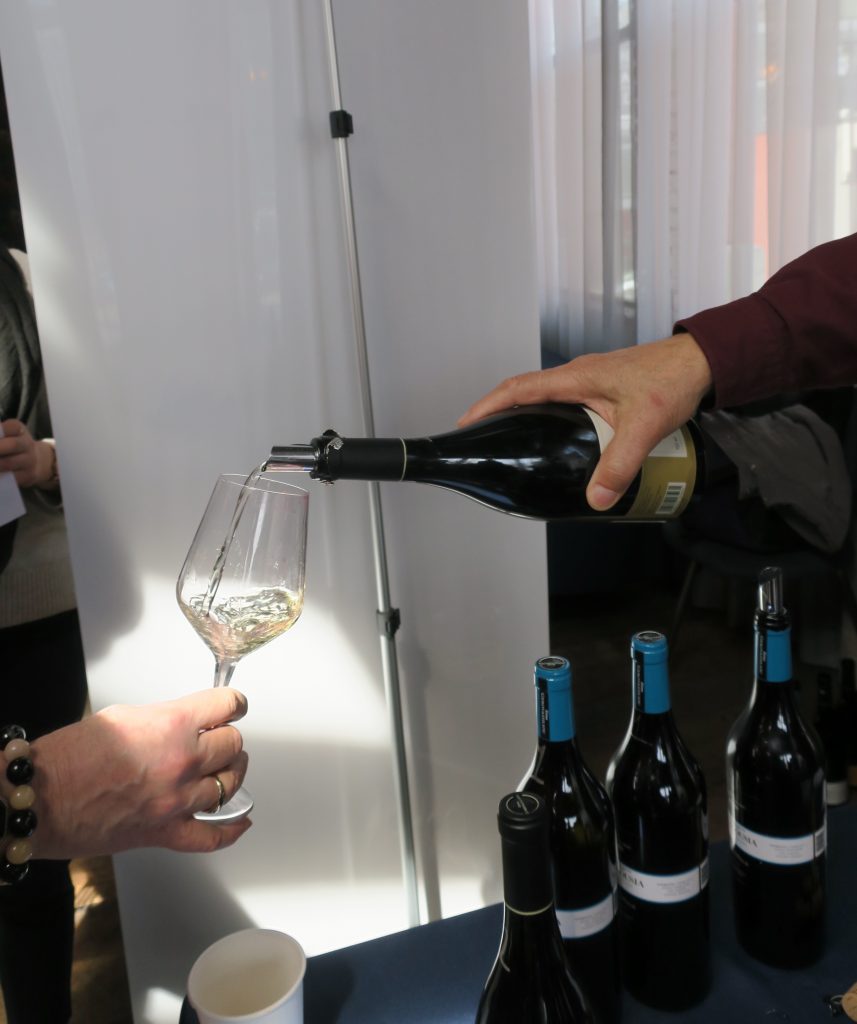 At a recent tasting of Greek wines, I had expected the bottlings from Santorini to be some of the biggest stars. I've long loved the sunny whites from this volcanic Aegean Island, where most vines are trained into unusual basket shapes to protect them from the wind. Accompanied by Liz Barrett, who cohosts Name That Wine with me, I made a beeline for the Santorini table.
Indeed, I quite liked some of the Santorini wines — I'm always up for a good Assyrtiko, which often has ripe fruit, brightly lemony acids and a minerally finish. But the biggest surprise came at a table on the opposite side of the room, where winemaker Evangelos Gerovassiliou was pouring.
Gerovassiliou's winery stands near the coast south of Thessaloniki, in the north of mainland Greece. My World Atlas of Wine considers this general region to be "red wine country," but Gerovassiliou is famous for rescuing what is now one of Greece's best-known white grape varieties: Malagousia. As he poured us tastes of his 2016 Single-Vineyard Malagousia, he told us how in the 1970s, he had been working with a University of Thessaloniki ampelographer, Professor Vassilis Logothetis. Logothetis found some Malagousia vines, planted them in his experimental vineyard and showed them to Gerovassiliou, who was working at a nearby winery as an oenologist.
Gerovassiliou recognized the vines' potential, and his success with the nearly extinct grape drew the attention of other winemakers. Now numerous wineries in Greece work with Malagousia, which "yields full-bodied, perfumed wines in many Greek regions," according to The Oxford Companion to Wine. Gerovassiliou's Malagousia certainly fit that description, with notes of ripe stone fruit, honey, orange flower and mango in the aroma. Yet it tasted spicy, clean and fresh, enhanced by zesty acids. A delight.
But Gerovassiliou is no one-trick pony. Each of the wines he poured us proved delicious:
2016 Gerovassiliou Fumé Sauvignon Blanc: Some New Zealand Sauvignon Blancs slap you in the face with grass and grapefruit. Those notes were in this wine too, but it had a lighter, subtler touch. Well-integrated and well-balanced. Retsina this is not! ~$30
2016 Gerovassiliou Viognier: Viogniers can sometimes feel ponderous, but this version had a bright, almost soapy aroma with a hint of cream, and a mouthfeel that seemed almost ethereal. A hint of butter kept the exotic fruit flavors and light spice grounded. ~$21
2015 Gerovassiliou Chardonnay: I loved the aroma of fresh butter and light wood. The fruit felt rich and lush but not heavy, lifted up by focused acids and spice. And whenever there's a note of buttered popcorn in a Chardonnay, as in this one, I end up thoroughly seduced. ~$32
2015 Gerovassiliou Estate Red: This blend of 70% Syrah, 15% Merlot and 15% Limnio smelled of currants and vanilla. Rich, ripe fruit was blasted aside by an explosion of spice, followed by some cleansing (and not unpleasant) bitterness on the finish. Bracing and lively. ~$20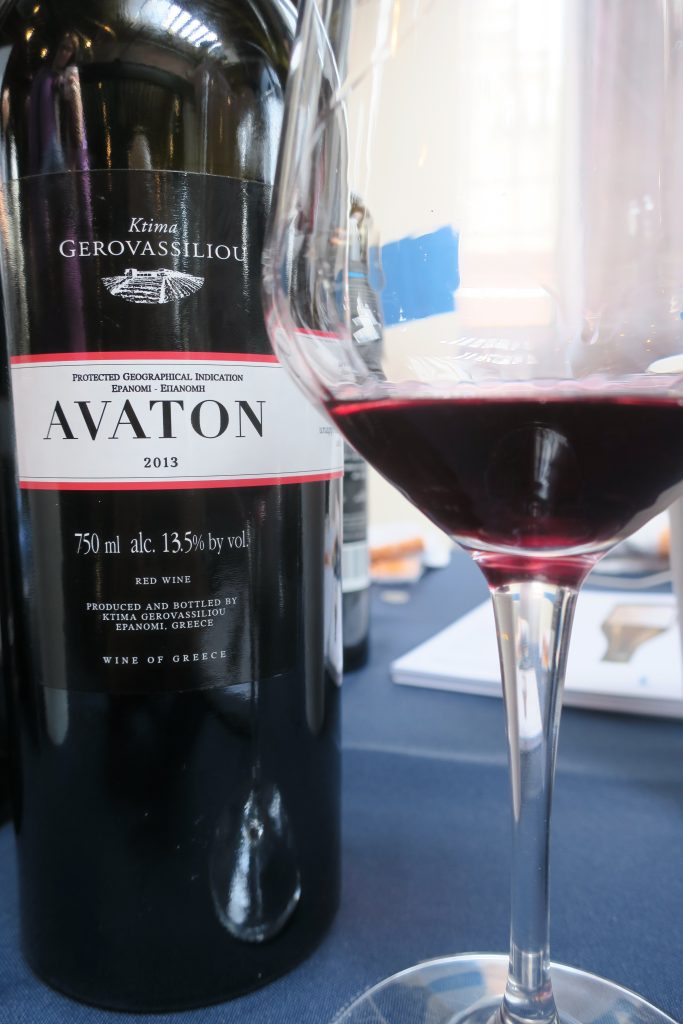 2013 Gerovassiliou "Avaton": Here's a blend I suspect you haven't tried before: 50% Limnio, 25% Mavrotragano and 20% Mavroudi. Limnio, Gerovassiliou told us, is the oldest documented Greek grape variety, mentioned by Aristophanes in the 5th century B.C. Mavrotragano is an "increasingly appreciated" red grape indigenous to Santorini, according to an unusually brief description in the Oxford Companion to Wine. The book is even more laconic about Mavroudi: "generic name for several Greek grape varieties," is the entirety of the entry. (You can read more about Mavrotragano here and Maroudi here.) I wrote in my notes that this blend "smells expensive," with rich red fruit and some oak. Full of sumptuously ripe fruit, the wine was so graceful and delicate, it felt as if it hovered just above my palate, like some sort of wine ghost (quite surprising, considering the 14% alcohol content). I rather loved it. ~$40
2013 Gerovassiliou "Evangelo": A Rhône-style blend of 92% Syrah and 8% Viognier, this dark beauty had a dusky, plummy aroma with notes of raisins and chocolate. I tasted it, and wow. It felt lithe and elegant, moving with slow power from prune-like fruit to focused spice to fine-grained tannins. Absolutely gorgeous. ~$65
2012 Gerovassiliou Late-Harvest Malagousia: Gerovassiliou makes this wine only in vintages when the conditions are right. I really loved it. It smelled enticingly of peach crumble and honeysuckle, and though it had sweet honey notes, the wine was quite light on its feet, leavened by green peppercorn spice, cardamom and lively acids. What a joy. ~$30
Too often in wine shops, Greek wines are shunted off in a corner along with various Eastern European oddities (and many of those deserve better as well). Yet Greece's winemaking traditions go back thousands of years, and contemporary winemakers are making world-class wines that any sommelier should be proud to pour. Ask your wineshop for a recommendation. And if you happen to find a bottle by Ktima Gerovassiliou, don't hesitate to snap it up. Anything by that winery is sure to be a pleasure.