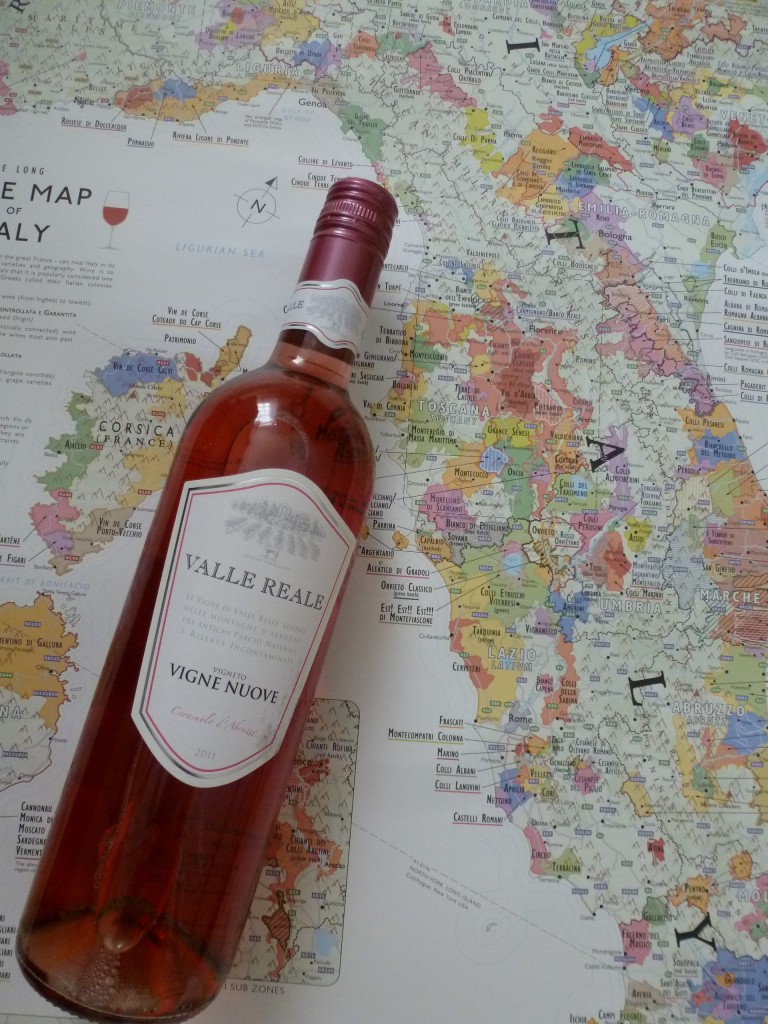 When 90 degrees feels like relief, there's nothing to do but break out a bottle of rosé. It's almost never a mistake to turn to one of Provence's renowned pinks, but fine dry rosé can come from any number of wine regions these days. While shopping at In Fine Spirits recently, I came across a bottle of rosé Montepulciano d'Abruzzo, and since I didn't even know rosé was allowed in the Abruzzo DOC, I couldn't resist snapping it up.
But "Montepulciano" can be a confusing term in Italy. In this case, if refers to a late-ripening grape variety grown throughout much of central Italy, most notably in the southeastern province of Abruzzo along the Adriatic Sea. "Montepulciano" also refers to a celebrated wine town in Tuscany, but the wine there is made mostly from Sangiovese, not Montepulciano.
Now that we've got our Montepulcianos straight, let's investigate further. Abruzzo, at least according to The Oxford Companion to Wine, seems to be a region of great but unrealized potential: "Despite the presence of one of Italy's better grape varieties Montepulciano d'Abruzzo, despite the warm climate, and despite favorable vineyard sites where hills descend towards the Adriatic and enjoy the benefits of summer heat and solar radiation from the sea, most of the region's production is undistinguished…" Why? Because Abruzzo has ill-conceived DOCs promoting quantity over quality.
And how does rosé fare in this potentially excellent terroir? Does it shine through in spite of the poorly designed regulations? Official opinion is split. The Sotheby's Wine Encyclopedia notes that "A lighter style called cerasuolo exists for cherry-pink wine with fresh fruit, but it is seldom as exciting [as red Montepulciano d'Abruzzo]." But The World Atlas of Wine praises Cerasuolo d'Abruzzo, calling it "satisfyingly full-blooded."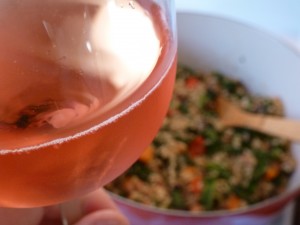 I'm delighted to say that the one I found at In Fine Spirits, the 2011 Valle Reale "Vigne Nuove" Cerasuolo d'Abruzzo, turned out to be satisfying indeed. The winery uses a "low-spurred cordon" vine training method, which is notable because it results in significantly lower yields (and therefore more concentrated flavors) than the overhead "tendone" system strongly encouraged by Abruzzo's regulations back in the 1970s.
A beautiful deep salmon pink, this wine had an enticing strawberry nose and bright flavors of watermelon and bubble gum. On the palate, the wine moved from fruit to prickly acids to bracing minerals. It tasted especially zesty when paired with a simple dinner of beans, rice and fresh vegetables.
Once again, a risk on an unknown rosé pays off. I don't have any hard evidence to back this theory up, but I suspect that because rosés tend to be less popular than reds or whites, they are often a labor of love for a winemaker. The pink sugar-water of White Zinfandel aside, you'll be hard-pressed to go wrong with a rosé this summer.
SUMMARY
2011 Valle Reale "Vigne Nuove" Cerasuolo d'Abruzzo: Fruity, dry, juicy, minerally and beautifully pink. In short, just about everything a good rosé should be. Perfect for a picnic, a barbeque or a light summer dinner.
Grade: A-
Find It: I purchased this bottle for $13 at In Fine Spirits in Chicago. If you don't mind abysmal service, you can also find it at Binny's.