20 November 2013
Comments Off

on Frank Cornelissen's Volcanic Reds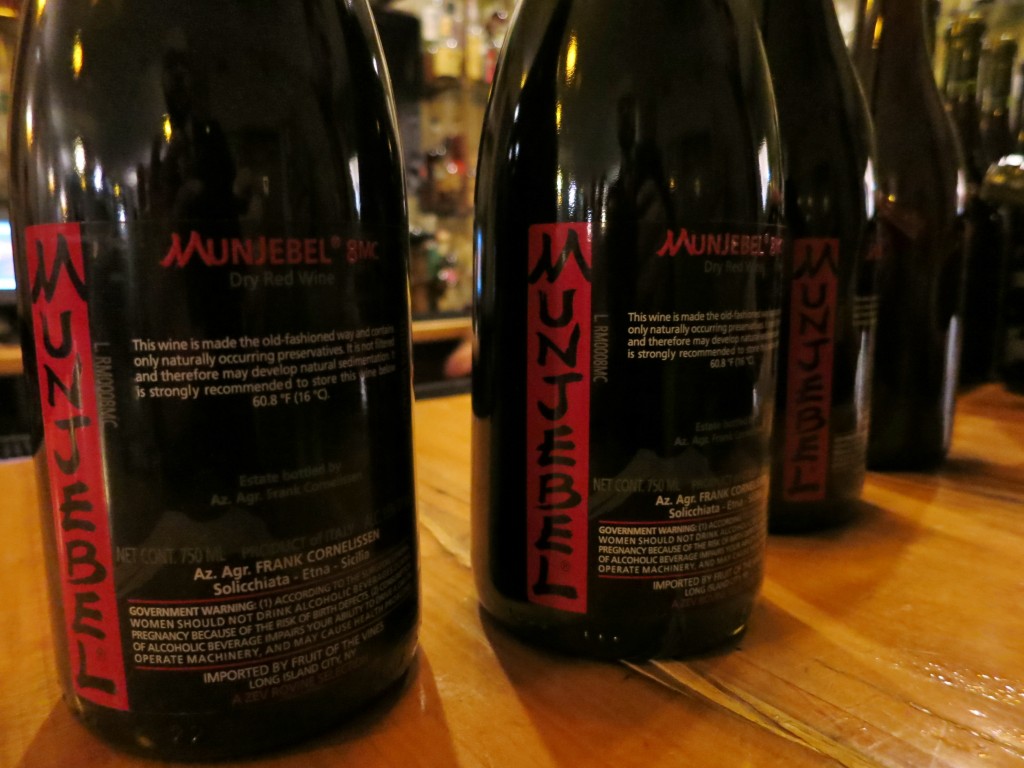 As I wrote in this post, "non-interventionist" winemaker Frank Cornelissen isn't afraid to break a few rules. He refuses to add preservative sulfur to his wines, he refuses to filter them, and he even ferments the juice of white grapes with the skins, resulting in the startlingly tannic Munjebel 9. It is a wine I'll never forget.
After tasting that incredible oddity, I couldn't wait to wrap my palate around some of Cornelissen's reds. All his grapes come from the slopes of Mount Etna, an active volcano in eastern Sicily. But "It's a good volcano," Cornelissen contended, and about as ancient as wine regions get. The Sotheby's Wine Encyclopedia notes that "this is the wine that Ulysses used to intoxicate the Cyclops," in Homer's Odyssey.
On the higher elevations, where The Oxford Companion to Wine says vineyards "show great promise," Cornelissen asserted it's not the stereotypical southern Italian landscape. "We've got lizards, we've got snow — it's completely different from people's idea of Sicily," he explained. And he's convinced it's one of the world's great wine regions. "To be honest, I think the greatest terroirs are in Italy," Cornelissen confided, "but people don't necessarily understand it."
He certainly has worked to understand his terroir, altering the environment as little as possible as he tends to his vineyards, eschewing even organic additives and biodynamic preparations in all but the direst circumstances. And as noted above, his hands-off philosophy continues into the winery, resulting in unusual and controversial wines absolutely packed with flavor. In addition to the Munjebel 9, we tasted three of Cornelissen's exciting reds at Autre Monde's Sicilian themed-dinner: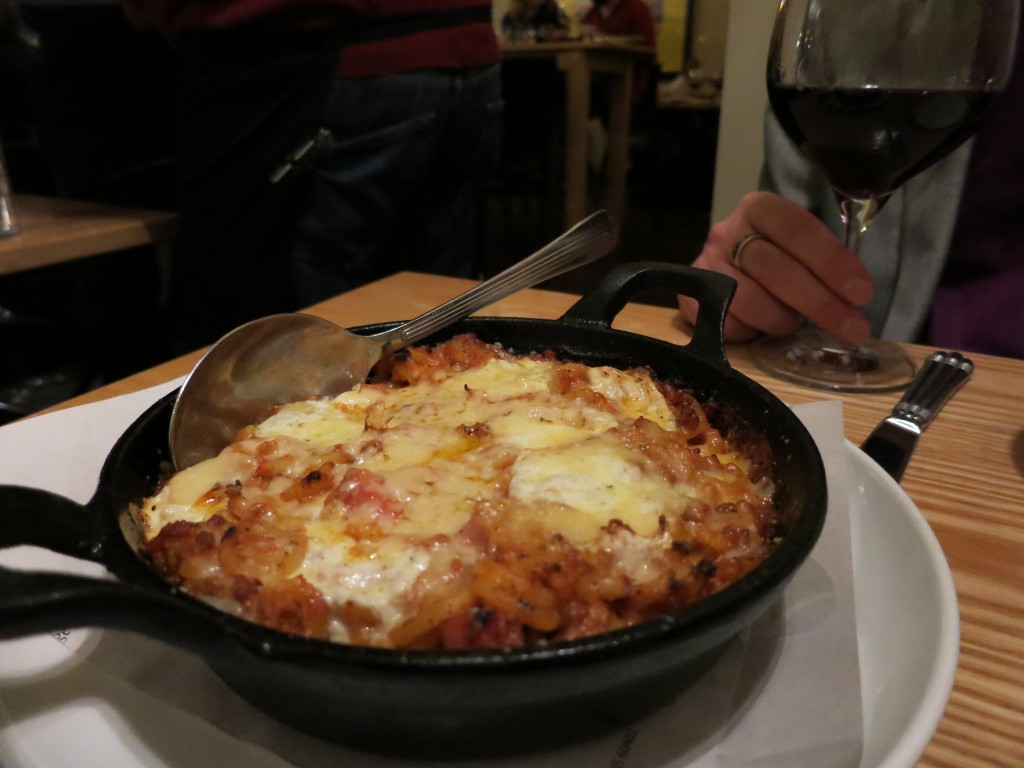 Rosso del Contadino 10: This big, barely-in-control wine blends several white and red Sicilian varieties, including Nerello Mascalese and Carricante. It smelled of enticingly of violets and tight, dark-red fruit, and my goodness, what a slap in the face of flavor: big, red, aromatic fruit; big, tart, mouth-puckering acids; big tannins. Kabam! It made for a seriously gutsy pairing with some perfectly tender octopus with potatoes, olives and sun-dried tomatoes. The touch of brininess in the dish brought out a little something extra in the wine.
MUNJEBEL 8 MC: The "MC" stands for "Monte Colla," the name of the recently acquired vineyard from which this wine comes. According to distributor Cream Wine, the steep, sandy-clay vineyard dates to 1946, and the vines produce very low yields of Nerello Mascalese (a centuries-old crossing of Sangiovese and an as-yet unknown variety). Vineyard sites are of paramount importance at Etna, according to Cornelissen, who likens the area to Burgundy. This single-vineyard Nerello Mascalese had a dark cherry aroma and appealing flavors of tight red fruit and smooth, dark chocolate, followed by a very tannic finish. We tried the Munjebel 8 MC with some savory pasta al forno (baked pasta, photo above) with tomato sauce enriched by various cheeses and mortadella. It became noticeably more powerful and intense. My dining companion remarked that "the dusty-musty Parmesan goes really well with the dusty-musty aspects of the wine."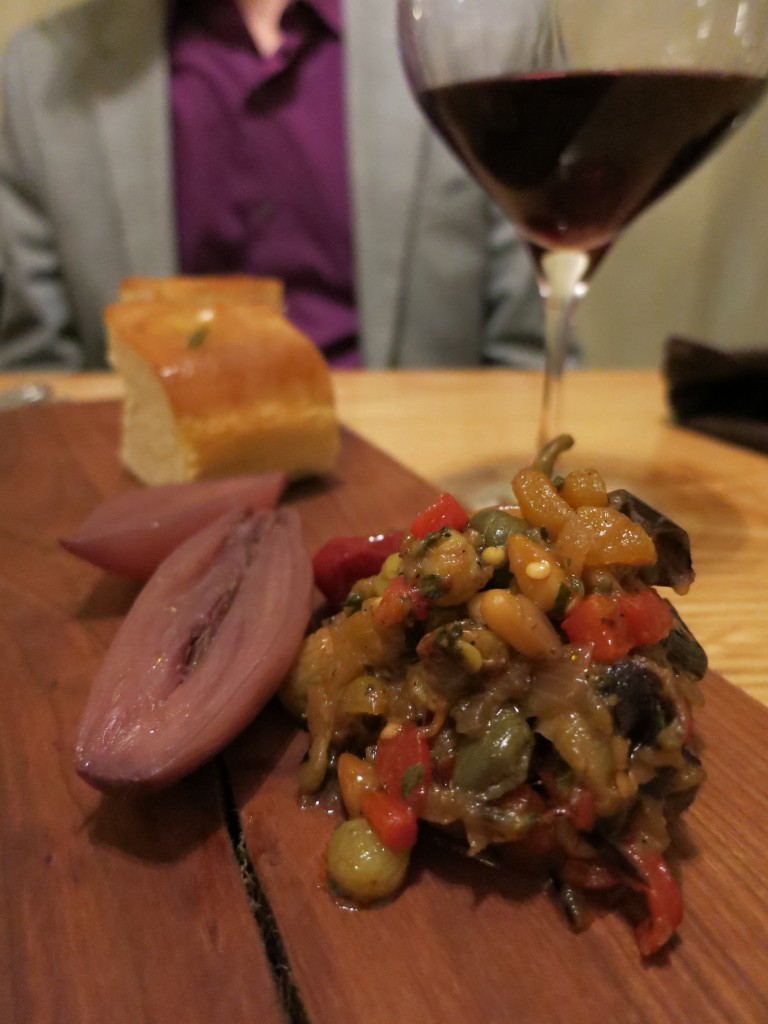 MUNJEBEL 8 VA: Another 100% Nerello Mascalese, this wine comes from four different vineyards averaging 80 years in age, according to Cream Wine. Even more unusual is that approximately 90% of the vines are ungrafted, meaning that they grow on their own rootstocks. Almost all European vines were regrafted onto American rootstocks in the wake of the phylloxera epidemic, but because of the high altitude of these vineyards, regrafting was unnecessary. This expression of Nerello Mascalese had a more subtle aroma of dark fruit, and my dining companion noted a floral quality as well. It tasted less tannic than the MC, with dark fruit, notes of mocha and big, bold acids. First we sampled it with some delicious caponata and pickled onions (photo right). "This is just what the wine needed," my dining companion remarked. "Pickled onions. It's just so much more calm." Paired with an exquisite dish of fork-tender braised lamb and pearl cous-cous, the wine became even bigger and spicier. A magnificent match.
Cornelissen's wines can be difficult to find because of the small production. Restaurants are apparently your best bet. Those in Chicago should check with Autre Monde to see if they have any in stock (or just go to Autre Monde regardless, because the food was superb). Alternatively, pizzeria Spacca Napoli is a good bet, along with Spiaggia, Trencherman and Telegraph.
If you see one of his wines on a menu, it might be a pricey by-the-glass option, but don't hesitate to order it. It's sure to be worth every penny.