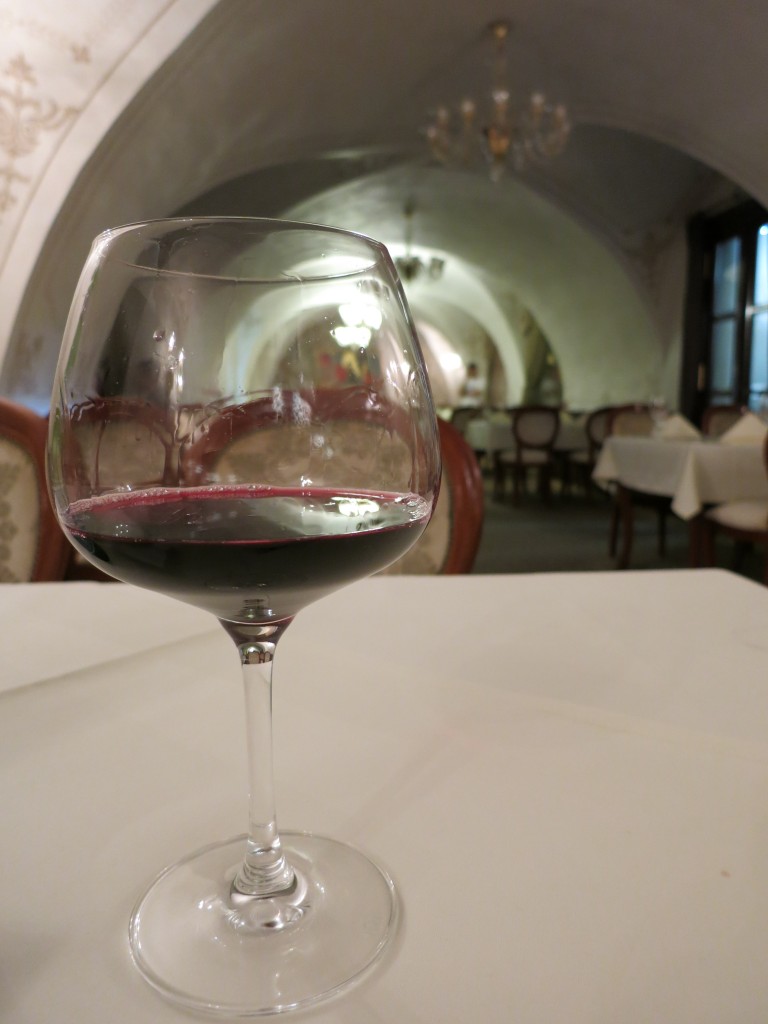 For most people, the words "Slovak wine" do not inspire visions of grand châteaux or even charming tasting rooms. Slovak wine is not something most of us (any of us?) seek out. When I mention to friends that I did a tasting of Slovak wine, they usually respond uncertainly, carefully — as if they're about to be the butt of a joke. And who can blame them?
My older wine reference books have few kind words for the wines of Slovakia. The 2006 Oxford Companion to Wine minces no words: "When [Slovakia] voted to split from the Czech Republic in the early 1990s, it failed to privatize its wine industry successfully." The 2007 edition of The Sotheby's Wine Encyclopedia is even less encouraging: "Most Slovakian wine is classified as lowly table wine, which would be a good thing if this were the result of a quality-conscious culling of the total production to produce stunning quality top wines, but that is not the case — the wines are naturally of a dismal quality."
Slovakia hadn't achieved widespread vinous acclaim even before the communists took over, and when they did, "centralized processing… obscured whatever local reputations there were and cast a gray shadow over any individual efforts, as the vineyards were replanted high and wide for mass production," Sotheby's explains.
And even if, for some reason, we still wanted to drink Slovak wine, we wouldn't be able to find any. Almost the entire production is consumed within Slovakia, except for a small amount exported to Poland and the Czech Republic. Nor does it help that the total vineyard area in Slovakia fell from about 62,000 acres to just 35,000 acres as of 2002, according to the Oxford Companion.
But now, something is happening in Slovakia. "Progress — bringing, for example, malolactic fermentation, oak aging and lees contact — is changing the picture," my 2013 edition of The World Atlas of Wine declares. Winemakers are experimenting with an array of unusual crossings bred to "ripen early with high sugar levels and full flavors," so that vineyards are less at risk for frost, the Atlas continues. There are still a handful of industrial-sized producers, the Atlas explains, and plenty of tiny winemakers who consume all they make. The real action is with medium-sized producers, which have the budget for higher-quality equipment and talent.
But really, are Slovak wines any good, even with the progress that's been made? On a recent stay in Slovakia's capital, Bratislava, I visited the Národný Salón Vín to find out. This cellar in a rococo palace assembles the top 100 wines of Slovakia, culled from a selection of some 8,000 bottlings. If fine wine is being made in Slovakia, this was the place to find it.
Find it I did. I sampled a broad cross-section of wines — white, rosé and red — from a range of different winemaking regions. Some of them were simply well-crafted and delicious, but many of them were truly surprising and unusual and even compelling. Nothing about any of the wines said "centralized processing."
2012 Skovajsa Veltlínske Zelené: This Grüner Veltliner had a fresh, spring-like aroma with notes of white flowers and fresh-cut grass. Its juicy and focused acids would surely work well with food.
2011 Janoušek Rizling Rýnsky: Located northeast of Bratislava, the Janoušek winery produced this charming Riesling, which had a powerfully spicy aroma undergirded by something savory. It exhibited ripely sweet fruit, broad lemony acids and a touch of something floral on the finish.
2012 Juraj Zápražný Pinot Gris: What a delight. Like the Riesling above, this wine comes from the Južnoslovenská region, which is surprisingly "warm and sunny," according to Sotheby's. The wine had an enticingly spicy, stony aroma and lush, full fruit on the palate. A shaft of gingery spice kept things well in balance. I could easily imagine buying this by the case, if it were actually available somewhere.
2012 Vins Winery Devín: Devín is a relatively new grape variety developed for the Slovak terroir, a crossing of Roter Veltliner and Gewürztraminer. It had a completely unexpected aroma of roses and black pepper. Floral overtones continued on the palate, which had notable spice and a pop of sweet fruit, followed by a dry finish. If you like Viognier, you'll probably like Devín.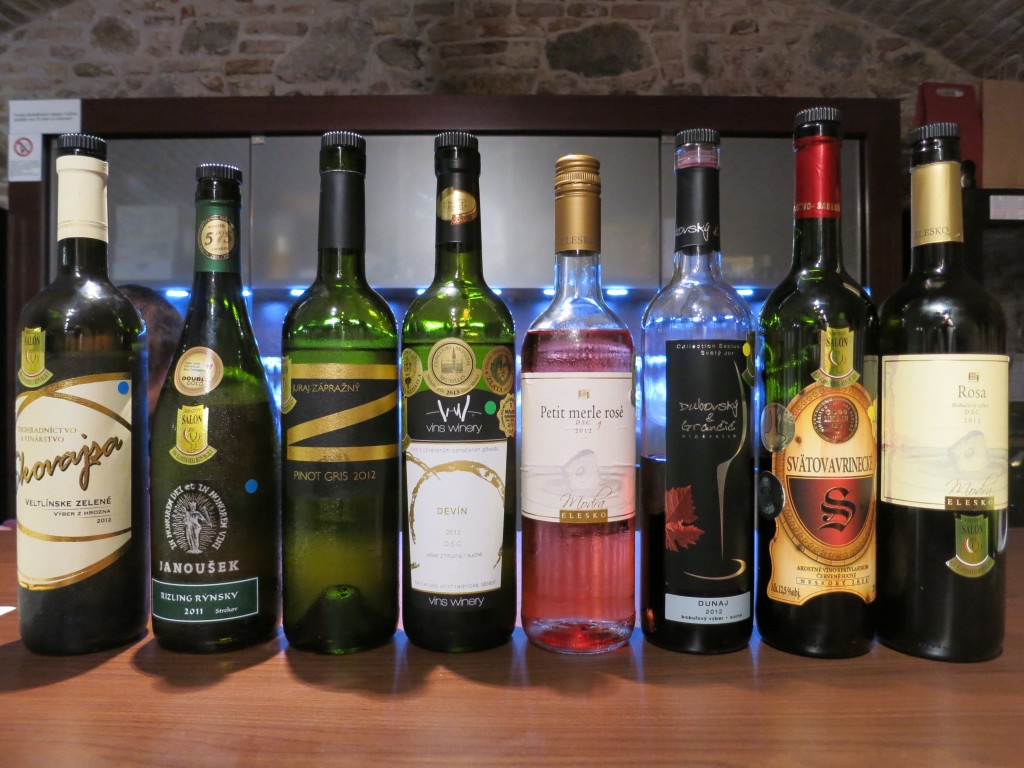 2012 Modra Elesko Petit Merle Rosé: A beautiful watermelon color, this rosé of Merlot had everything I like in a pink wine — ripe strawberry fruit, a perk of white pepper and some chalky minerals on the finish. Fruity, but well-balanced and dry. This is what I would bring to a picnic on the bank of the Danube.
2012 Dubovský & Grančič Dunaj: Named after the Danube River, Dunaj is a red crossing of Muscat Bouchet, Portugieser and St. Laurent (called Muškát Bouchet, Oporto and Svätovavrinecké in Slovak). A lovely dark magenta color, this wine had aromas of deep raspberry jam. I loved its round, ripe fruit, elegant tannins and spicy black-pepper finish. Focused and powerful, this wine would likely please fans of Zinfandel.
2009 Michal Sadloň Svätovavřinecké: Svätovavřinecké is better known (and more easily pronounced) as St. Laurent, a grape variety capable of making some truly sexy red wines. This expression had a tight, savory aroma marked by earth and green wood. On the palate, its red fruit was mixed with notes of vanilla, tobacco and green peppercorn spice. Controlled, velvety, and indeed rather sultry.
2012 Modra Elesko Rosa: Another uniquely Slovak grape, Rosa is a new crossing of Picpoul Noir, Blaufränkisch (Lemberger) and Gewürztraminer. The resulting wine is, as you might expect, quite unusual. Although it's a clear cherry red, it has a highly perfumed nose redolent of heady flowers like lilacs and lily of the valley. Smelled with my eyes closed, I would have guessed it was white! Its cherry blossom flavor focused into a dry finish, which, along with some subtle spice, helped it to maintain balance. If dry, floral whites are what you typically enjoy, this is the red for you.
As I said, you're almost certainly not going to find any of these wines unless you go to Slovakia.* Which is something I highly recommend you do. Bratislava is an absolutely enchanting city, and it's only an hour by car, train or river ferry from Vienna. Stroll its pedestrianized old quarter, dine in the retro-futuristic UFO restaurant perched above the Danube, and visit Národný Salón Vín. That's the best place to discover the exciting and delightfully unusual wines now being crafted in Slovakia.
*Centeur Imports will soon be bringing some Slovak wines to New Hampshire, and then hopefully the rest of the U.S. See the comments below.