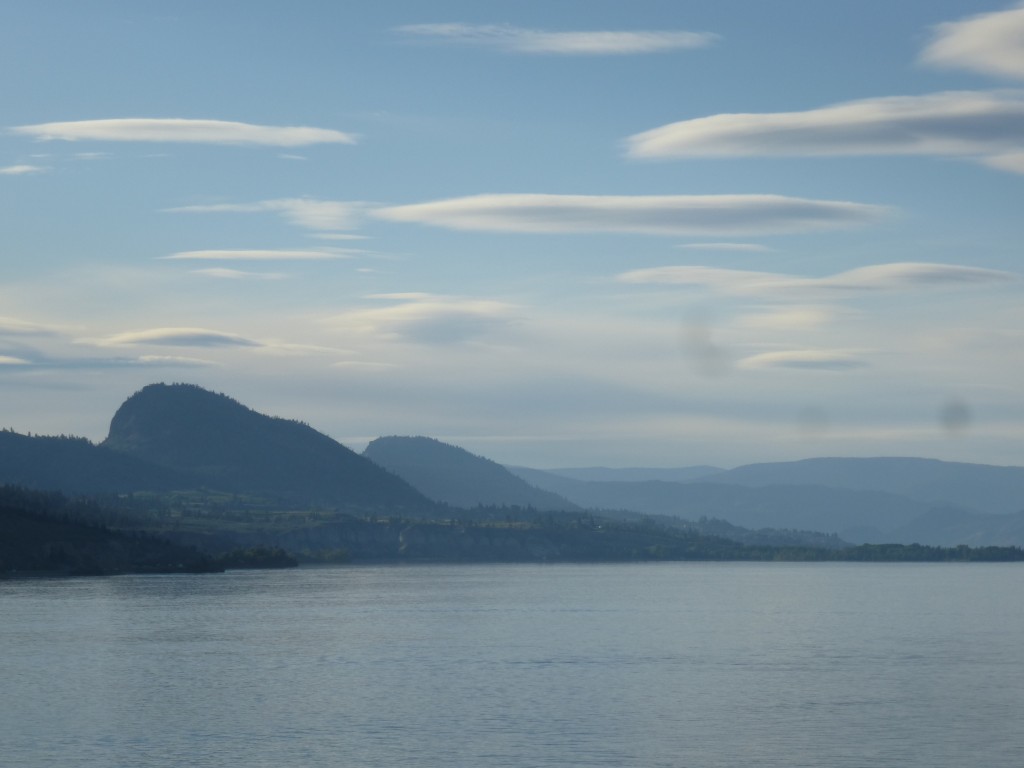 1. Waking up each morning to this view of Lake Okanagan.
2. Dinner with Tsillan Cellars' owners Mr. & Mrs. Bob Jankelson. The hillside setting of Tsillan presents panoramic views of Lake Chelan, and the well-crafted wines — available only in the tasting room or through the wine club — provide yet more incentive to visit. The Chardonnay tasted rich but balanced and focused; I enjoyed the tight and earthy Sinistra (a Sangiovese-based blend); and about the fruity and full-bodied Bellissima Rossa, I wrote "Yes." The company was just as good as the wines. My favorite part of the evening came when Mrs. Jankelson asked, with disarming frankness, "So, can you tell me, what is wine blogging? And why is it important?"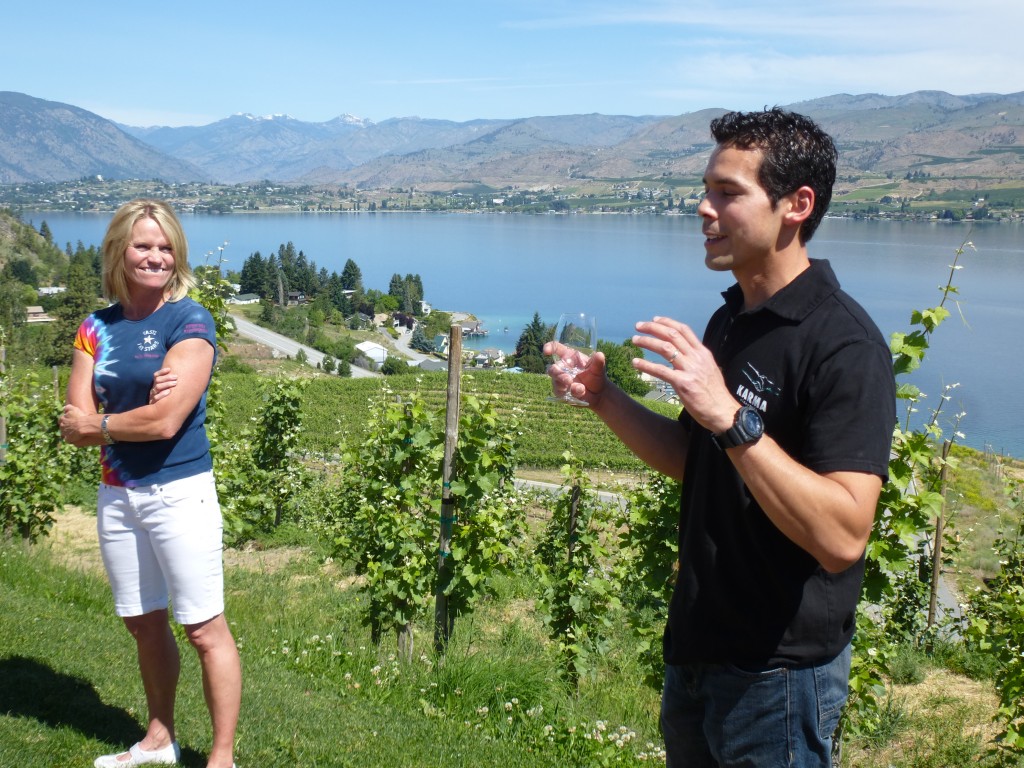 3. Sparkling Wine Brunch at Karma Vineyards. This winery convinced me, along with quite a few of my fellow bloggers, that Lake Chelan's specialty might well be sparkling wines. Each of the wines we tasted had impressively small, pointy bubbles and bright acids, ensuring that they pair well with a range of foods. My favorites were the 2010 Karma Brut, which had rich apple fruit and balanced lemony acids, and (despite the unfortunate name) the 2011 Hard Row to Hoe "Good in Bed" Blanc de Noir, with its beautiful texture, pronounced berry flavor and juicy, orangey acids.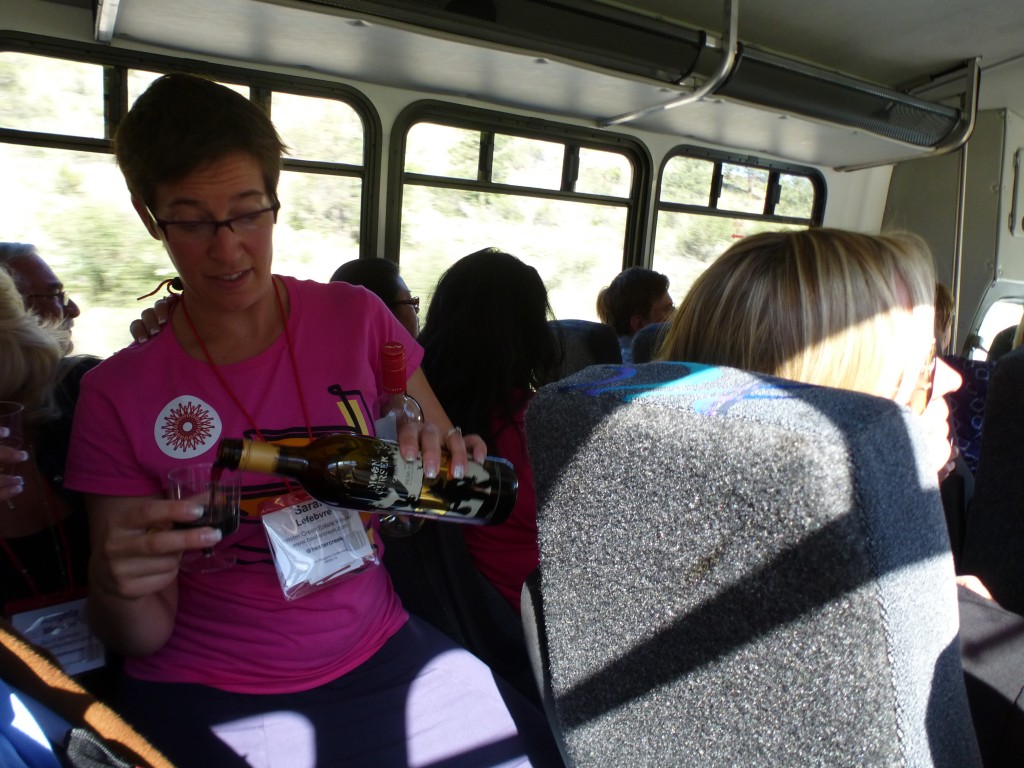 4. Bus Tastings. We spent a lot of time on buses at the Wine Blogger Conference this year, for better or worse, and the conference organizers had no intention of wasting that time. Why just sit there when you can be drinking wine? The best bus tasting culminated with a 2011 Moon Curser Petit Verdot, a variety which appears in Bordeaux-style blends far more often than in a varietal wine. It had a gorgeous mocha aroma, dark fruit, rustic tannins, a zing of acids and an aromatic finish. Delicious. The winery takes its name from local gold smugglers, who would curse the full moon as they tried to sneak their booty across the border at night.
5. 2010 Hainle Vineyards Estate Winery Gewürztraminer Ice Wine. Kristof Gillese led a fascinating session about judging wine, selecting several delicious British Columbian wines for us to sample. I very much enjoyed the rich and lively 1996 Summerhill Pyramid Winery sparkling wine, the cheery and earthy 2008 Tinhorn Creek Old Field Series Pinot Noir, and the velvety and peppery 2009 Painted Rock Merlot.
But the Hainle Gewürztraminer Ice Wine was staggeringly delicious. It's rare to see a Gewürztraminer ice wine, I learned, because the fruit usually falls off the vine before the first frost, or at the very least loses its acidity. Conditions have to be just right, and with this wine, Hainle hit a home run. It had a rich but fresh honeysuckle aroma, and such verve on the palate! It started lush and sweet, as you might expect, but then startlingly zesty acids kicked in, followed by a pop of white-pepper spice. On the finish, I got a touch of orange along with an aromatic tobacco note. It was sublime. If you can find a way to get to Hainle to taste this wine, for God's sake, do it.