Most of us have at least one friend who chooses, for whatever reason, not to drink alcohol. As a host, this presents a bit of a dilemma. Do you offer them something relatively wholesome but boring, like juice or sparkling water, or do you present them with a tasty but chemical-laden soda? A fancy soda, like those made by Fentiman's, makes a good alternative, yet that still doesn't exactly feel special.
I want my non-drinking friends to feel like they're drinking something as fun as everybody else, and so I like to serve them perhaps the most unusual drink of all: The Non-Alcoholic Cocktail. These take a little extra creativity, because there isn't all that much literature devoted to them, and restaurants only rarely include examples on their menus.
Over the years, I've come up with a few that I love and even drink myself from time to time. Here are five fabulous non-alcoholic drinks guaranteed to surprise and delight your most discerning teetotaling party guests:
SPARKLING COSMOPOLITAN
–Juice of one lime
–One can of club soda
–1.5 ounces (about 1.5 shaker caps' worth) cranberry juice
–Orange slice
Pour the club soda into a large tumbler over a sizeable hunk of ice (the larger the ice, the slower it will melt and dilute the drink). Add the lime juice and then the cranberry juice (make sure it's not sugary cranberry juice cocktail, but a 100% juice blend of cranberry and apple). The garnish of the orange slice is important in this case. Besides making for an attractive drink, its orangey aroma stands in for the Triple Sec or Cointreau in a traditional Cosmopolitan.
JUNIPER & TONIC
–Juice of one lime
–20 Juniper berries
–One bottle of tonic
This drink approximates some of the flavors in a gin and tonic. Squeeze the lime into a cocktail shaker, add the juniper berries and three or four large cubes of ice. Shake vigorously for at least 30 seconds, breaking up the juniper berries and infusing the lime juice with their flavor. Take your finest metal strainer, or better yet a coffee filter, and strain out all the juniper berry particles. Pour some tonic over a little ice in a lowball glass (adding the tonic before the juice prevents too much fizzing), add the juniper-infused lime juice, and garnish, if you like, with a slice of lime.
APFELSCHORLE (I didn't make this one up — this is a classic German refreshment)
–Unfiltered apple cider
–Club soda (or mineral water, if you want to be really authentic)
I prefer club soda in this cocktail because the larger bubbles stand up better to the apple cider, but Germans traditionally use mineral water, because they seem to be addicted to the stuff. Whichever way you go, fill up a tumbler about 2/3 full with club soda or mineral water, and top off with the apple cider. If you want to get really fancy, you can garnish with a long cinnamon stick.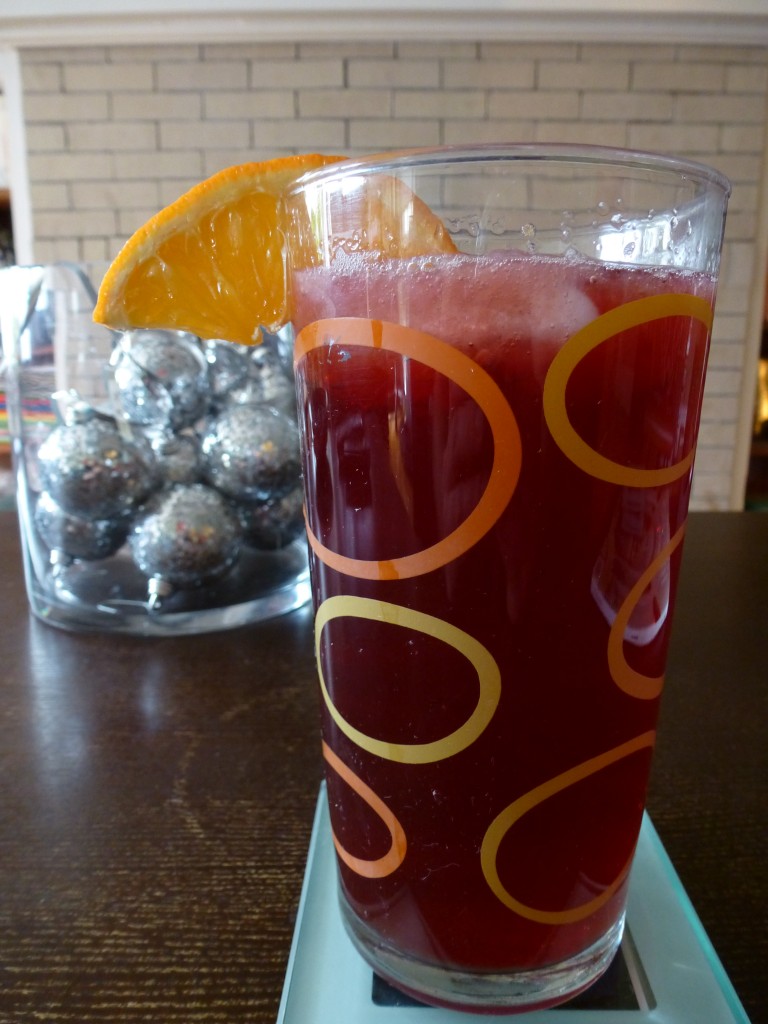 FANCY CHERRY LEMON STUFF (suggestions for alternative names are welcome)
–One can of club soda
–One lemon
–One ounce tart cherry juice
–Orange slice
Juice the lemon. Pour the can of club soda over a little ice in a large tumbler. Add in the lemon juice, and a full shaker cap (about one ounce) of 100% tart cherry juice (available at Whole Foods). This tastes complex and sweet, but not too sweet. Again, the orange garnish adds another layer, its aroma mixing beautifully with the flavors of the drink.
MOSCOW MULE
–High-quality ginger beer or ginger ale
–Juice of 1/2 a lime
–Sprig of fresh mint
In this drink, choosing a fine ginger beer is absolutely critical. Do not cut corners with some generic brand, or this will taste dreadful. I usually go for Reed's. Stand a sprig of mint in a tumbler and add in a two or three large cubes of ice. Rattle the glass to bruise the mint and release its oils. Pour in the ginger beer followed by the lime, and garnish, if you like, with a slice of lime. Delicious.
Cheers, and happy not-drinking!