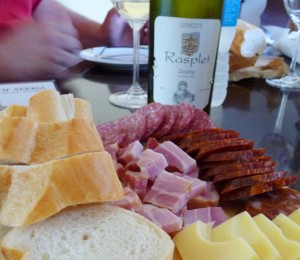 After tasting two unique and delicious Serbian varieties, I was excited to see what some of this country's most thoughtful winemakers could do with more well-known grapes. Could they hold their own on the international market?
The 2009 Botunjac "Rasplet" Reserve Riesling certainly could. It seemed hardly believable that this dry, character-rich wine came from the same variety that ends up in Schmitt Söhne. A very pale gold, this Riesling had a rather alcoholic nose of apples, and rich, musky-dusky flavors of pear with a touch of resin and a whisper of yeast. I have never visited Serbia, but I have to imagine the rich, dry and stylistically unusual Rasplet to be very expressive of its terroir. It worked wonderfully with smoky, slightly spicy Serbian sremska sausage.
The vintner, Kosta Botunjac, certainly takes great care making his wines. He comes from a family of dedicated winemakers; while in a German POW camp in 1942, his grandfather Dragomir managed to send a postcard home with instructions for making the Pinot Noir. Mr. Botunjac continues to follow these directions today, "combining them with science, tradition and the golden rules of nature." (Source: Vino et Spiritus.) On his five-acre hillside estate, he prunes at least 50% of the berries to concentrate flavor in the remaining fruit.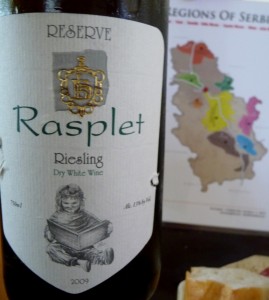 Goran Sevic of importer Vino et Spiritus called Mr. Botunjac his "G.I. Joe guy." Apparently he's quite a "fitness guru" as well as an artist; Mr. Botunjac drew the sketch of his daughter for the Rasplet label. (Rasplet translates to "conclusion," referring how his daughter is the conclusion of his love for his wife.)
But could this fitness guru/artist make a decent Pinot Noir? This notoriously fickle grape can break hearts in even the world's most highly regarded wine regions. A memorable Serbian Pinot Noir seemed unlikely.
But "memorable" is exactly how I would describe the 2008 Pino Botunjac "Cuvee Jickie" Reserve Pinot Noir. ("Jickie" is the name of Mr. Botunjac's "faithful hound," according to Mr. Sevic.) The brick-red liquid smelled of ripe red fruit, most notably maraschino cherries. On the palate, the Pinot Noir displayed ample fruit and black-pepper spiciness undergirded by some tobacco. It tasted complex, and the finish lingered beautifully. It seemed even bigger paired with a chunk of panceta (Serbian pancetta).
The wine I'd sampled so far in this tas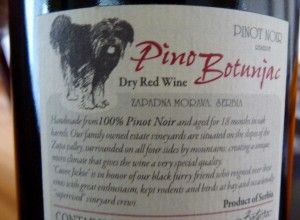 ting would surely please the most discerning dinner party guest. How have Serbian wines remained a secret for so long? During the communist years, demanding production quotas necessitated large (and therefore less flavorful) yields, resulting in undistinguished wines. But now that Serbian winemakers are free to pursue their own visions, it seems many vintners like Mr. Botunjac and the previously reviewed Dragoslav Ivanović are creating truly world-class wine, rich in local character. It's worth seeking out.
SUMMARY
2009 Botunjac "Rasplet" Reserve Riesling: Rich, dry and unique, with aromas and flavors of apples and pears. Chill in the refrigerator, but remove 15 to 20 minutes before serving.
Grade: B/B+
Find It: $15.50 at In Fine Spirits
2008 Pino Botunjac "Cuvee Jickie" Reserve Pinot Noir: Big, fruity, spicy and complex. A bit pricier, but well-worth the extra cost. Chill in the refrigerator about 15 minutes before serving.
Grade: A-
Find It: $21.00 at In Fine Spirits
Note: The website for the Botunjac winery is only in Serbian, but you can see some charming photos of the winemaker, his family and the property.
Balkans, Pinot Noir, Riesling Kosta Botunjac, Serbia, Vinogradi Botunjac, Zapadna Morava