12 July 2018
Comments Off

on A Man, A Plan, A Shiraz, Australia!
One country I routinely avoid in both wine shops and on wine lists is Australia. It's a flaw of mine. I'm still scarred from insta-hangover Yellowtail and the ark of critter quaffers that followed in its wake. An all-too-brief visit to Australia a couple of years ago helped set me on the road to recovery, however. I loved the wines, especially from the continent's cool-climate regions. And my recovery continues apace after a sensational lunch at Chicago's Wollensky's Grill hosted by McGuigan Wines.
This much-decorated winery stands in Australia's Hunter Valley, a region just north of Sydney that The World Atlas of Wine calls "a far from ideal place to grow grapes" because of its subtropical climate. Nevertheless, the book praises "a strip of weathered basalt" in the foothills of the Brokenback Range, as well as "red volcanic soils on higher ground, such as those of Pokolbin…" McGuigan stands in the heart of that region, just east of the Brokenback Range. It has vineyards there, but the winery also sources fruit from a number of other regions, including some of Australia's fashionable cool-climate spots.
Although popular in Britain, McGuigan has only recently become available in the United States. Look for McGuigan's black "The Plan" label, which can be Chardonnay, Shiraz, Cabernet Sauvignon or a Bordeaux-style blend. What sets these wines apart is the the company's dedication to cleanness and freshness in the wine, according to CEO Neil McGuigan. He's not interested in making jam bombs:
Food culture [in the U.S.] has grown logarithmically, and where there's a food culture, a wine culture follows. To go with the food, you need wines that are bright, flavorsome and fresh.
When I hear the words "Australian wine," the first word that comes to mind is not "fresh." I love that McGuigan is working on changing that.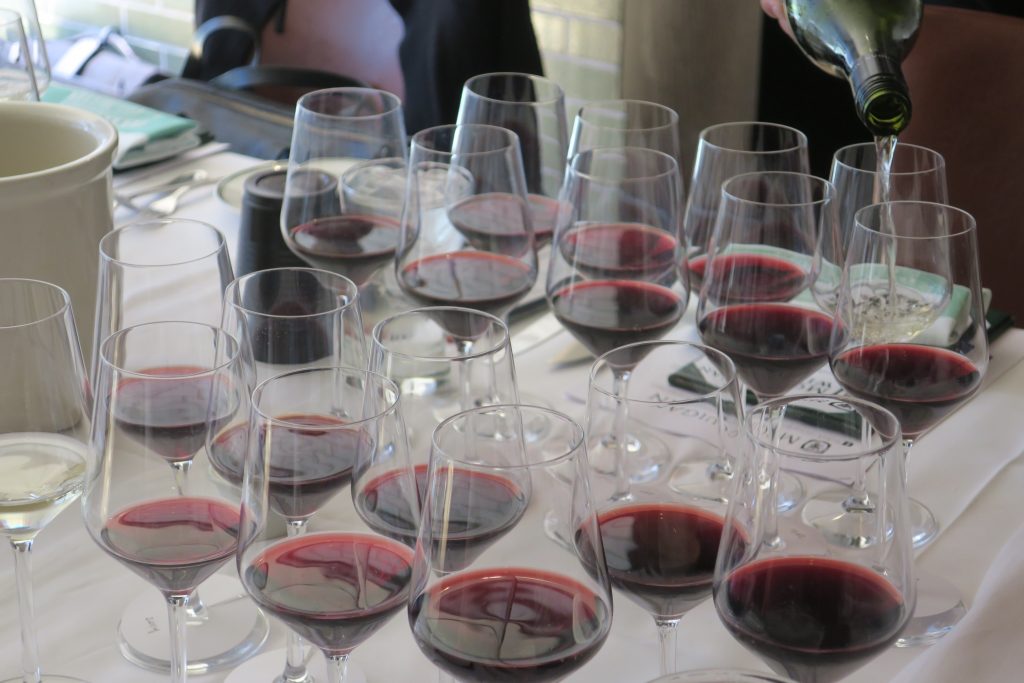 We started our lunch with the 2016 "The Plan" Chardonnay, and it certainly got things going on the right foot. It had firm, juicy acids balanced by a touch of creaminess, and some refined Sichuan peppercorn-like spice. It's a fantastic value for about $12 a bottle. I have trouble thinking of too many other Chardonnays at that price that have the balance of The Plan.
The red McGuigan "The Plan" wines also punched above their weight. The 2016 Red Blend had cheerful notes of vanilla and dark cherries balanced with a spicy lift on the finish. I felt momentarily skeptical of the 2016 Shiraz, which started with jammy fruit and plenty of sweet vanilla, but it maintained balance by finishing fresh and dry. It went in a totally different direction than I was expecting. And I quite liked the plush and plummy 2016 Cabernet Sauvignon, which moved slowly from fruit to vanilla to black pepper spice. Each of The Plan wines ranges in alcohol content between 12.5% and 13.5%, which shows admirable restraint in an era when 15% is not uncommon.
We also sampled several vintages of McGuigan "Hand Made" Shiraz, made from grapes grown "just outside Langhorne Creek" in South Australia, not far from Adelaide. Much farther south than the Hunter Valley, and therefore cooler, Langhorne Creek is known for "soft, gentle, mouth-filling Shiraz and succulent Cabernet Sauvignon, according to The World Atlas of Wine. A nearby lake helps keep things fresh: "The so-called Lake Doctor, a reliable afternoon breeze off the lake, slows ripening here so that grapes are usually picked two weeks later than those of McLaren Vale."
The 2014, 2012, 2010 and 2008 vintages were all delicious, and all different. The 2014 is still young and brash, but the 2012 has settled in, with a more obviously fruity aroma marked by an additional savory note. Its tannins felt more fine-grained and the wine moved from moment to moment more slowly. My favorite was the 2010, which had developed even more of a savory quality in its aroma. The wine had excellent balance and control, with big fruit and big, refined, slow-moving spice. Because it was a drought year, 2008 is something of an anomaly, but it too had wonderfully integrated flavors of dark fruit, oak and spice.
The star of the tasting was the 2013 McGuigan "The Philosophy," a blend of 56% Cabernet Sauvignon and 44% Shiraz that costs about $125 a bottle. McGuigan has a smart managerial reason for producing this sort of flagship wine. "When you make a $150 bottle," he explained, "it creates a culture of excellence at the winery, so that a $10 bottle starts to taste like a $12 bottle."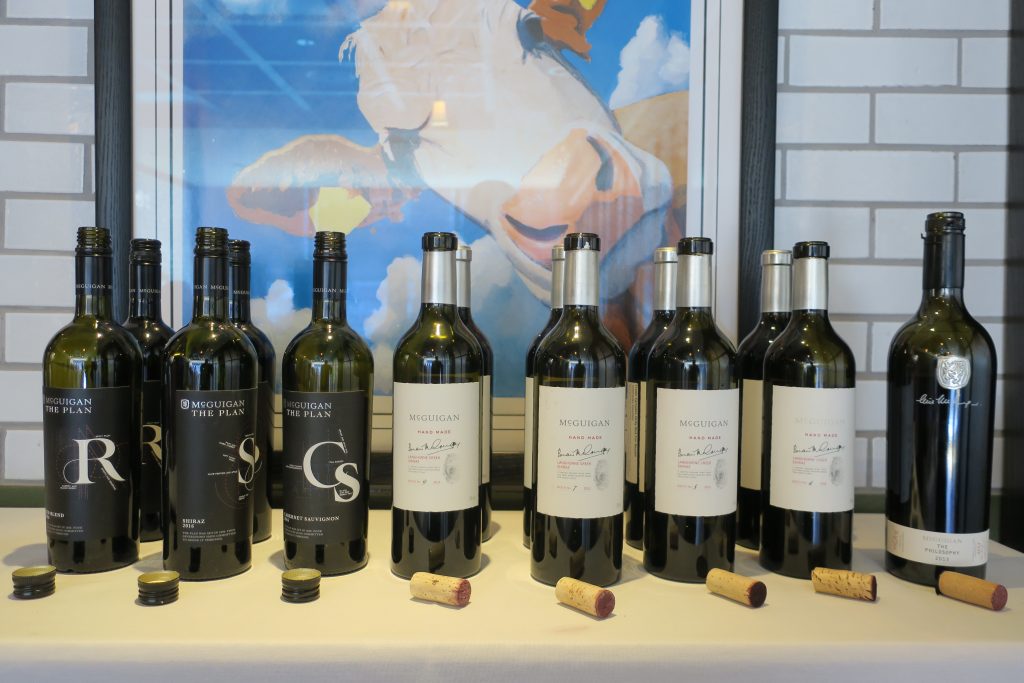 Is a $125 bottle 10 times as good as a $12 bottle? The short answer is no. The longer answer is that a $125 bottle (ideally) offers something different from a $12 bottle — it offers control, refinement and elegance that require a lot of expensive winemaking technique to achieve. For most of us, a $125 wine won't be worth the money. But if you want to splurge on such a bottle, "The Philosophy" would be a beautiful choice. It had a dark fruit aroma with a savory undertone, and it developed with confident evenness on the palate. The wine moved with grace from opulent fruit to big oak (the fruit was rich enough to take it) to refined spice to very fine-grained tannins.
It was a joy to drink.
Note: This lunch and the accompanying wines were provided free of charge.