After visiting Lodi, California, about a month ago, I can confirm that it's hot. Hot, sunny, dry and flat. The soils range from sandy loam to loamy sand, and both types feel, more or less, like glorified dust. Zinfandel, famous (infamous?) for producing jammy fruit bombs, is the signature grape.
I've also had the fortune to visit German wine regions such as the Rhein and Mosel valleys, and I can confirm that they are cool, wet and frequently quite steep. Slate permeates the Mosel's soil and some of the Rheingau's vineyards, with loess and marl also appearing in the latter. Riesling, the best examples of which display steely nerve and focused acids, is the signature grape.
In short, the terroirs of Lodi and Germany have about as much in common as avocados and schnitzel. Lodi is one of the last wine regions on Earth I would expect to find German grapes.
And yet, there they were in the Mokelumne Glen Vineyards, growing in tidy, defiant rows. The appeared to be flourishing, in fact, like German tourists on a permanent holiday in Mallorca. Even I, someone who regularly seeks out the unusual wines, felt flabbergasted at the sight of Dornfelder grapes ripening happily in Lodi's semi-desert.
Vineyard co-owner Bob Koth, a former winemaker and paratrooper, explained how he grew to love German wines while visiting his daughter, who lived there for a time as a Fulbright Scholar. He came back wanting to grow German grapes, and that's exactly what he did, sun and loamy sand be damned. He and vineyard co-owner May Lou Koth eventually converted a pear orchard into Mokelumne Glen Vineyards, where they now grow some 48 different German and Austrian grapes.
Most of the varieties, including true oddities such as Oraniensteiner and Affenthaler, are grown on an experimental basis. So far, nine grapes — Bacchus, Gewürztraminer, Kerner, Rieslaner, Riesling, Weissburgunder, Blaufränkisch, Dornfelder and Zweigelt — have done well enough to justify larger plantings.
Unlike in Germany, ripening the grapes is never a concern. The trick is to pick them after they fully ripen but before the juice turns flabby.
Still, the whole idea struck me as frankly insane. Could wines from these grapes possibly be any good? I sat down in a shady glen near the vineyards with a dozen fellow wine bloggers for a tasting. Winemakers from four different wineries poured (Mokelumne doesn't produce its own wine).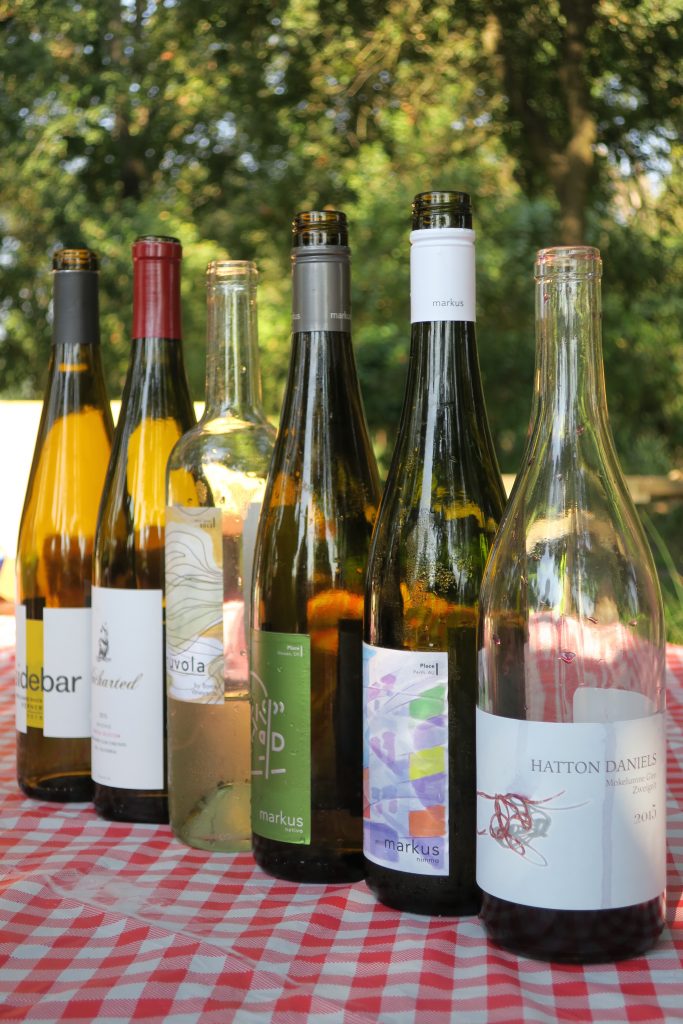 2015 Sidebar Cellers Kerner Mokelumne River: As we tasted this wine, Bob exclaimed, "This is the only place west of Michigan that grows Kerner!" I believe it. The Oxford Companion to Wine mentions plantings outside of Germany in England, Japan and South Africa, but says nothing about Kerner in the U.S. (you can read more about Kerner in this post). This example had a green, spicy aroma. There was a sense of richness, with its ripe fruit balanced by grapefruity acids and plenty of spice. Delightful, and priced well at $25.
2015 Holman Cellars "Uncharted" Bacchus:  I started this blog in 2011, and yet this was my first time tasting its namesake grape, Bacchus! This cross of Müller-Thurgau with a cross of Silvaner and Riesling doesn't often appear as a varietal. According to The Oxford Companion, "Unlike the more aristocratic and more popular crossing Kerner, however, the wine produced lacks acidity and is not even useful for blending…in poor years since it needs to be fully ripe before it can express its own exuberant flavors." The Companion also notes that warm-climate examples can be "flabby."
Lodi Bacchus should by all rights be a real Jabba the Hutt of a wine, but this example had ample lemon/orange acids to balance the rich fruit. I got notes of fresh herbs, like bay and sage, and even some minerality on the finish, both of which also contributed to the balance. Against all odds, I really liked this wine. It offers a lot of flavor for its $25 price tag.
2013 Borra Winery Markus "Nuvola" Gewürztraminer: The name of this wine comes from its winemaker, Swiss expat Markus Niggli, and the Italian word for "cloud." A warm-climate Gewürz sounds like a terrible idea. As The Oxford Companion notes, "Many wine regions are simply too warm to produce wine with sufficient acidity, unless the grapes are picked so early… that they have developed little Gewürztraminer character." That character is unmistakable — perfumed and spicy, commonly with a strong note of lychee.
Some Gewürztraminers are too perfumed for my taste, in fact, and if you agree, this is the Gewürz for you. The aroma had more of an undertone of flowers — lily of the valley, to my nose — along with notes of dried herbs. The fruit tasted quite peachy, and it even veered into caramel territory, but balance was restored by a shaft of ginger/white pepper spice. The finish felt sweetly chalky. I'm not sure this qualifies as a classic Gewürztraminer, but I liked that the perfume didn't slap me in the face. A good value for $19.
We also tasted two blends of Kerner, Bacchus, Riesling and Gewürztraminer by Borra Winery, the 2015 Markus Nativo, which tasted delightfully cool and clean, and the 2014 Markus Nimmo, which included a higher proportion of Gewürztraminer. It tasted creamier — almost buttery — but refined spice and a long mineral finish kept it balanced. $19 and $22, respectively.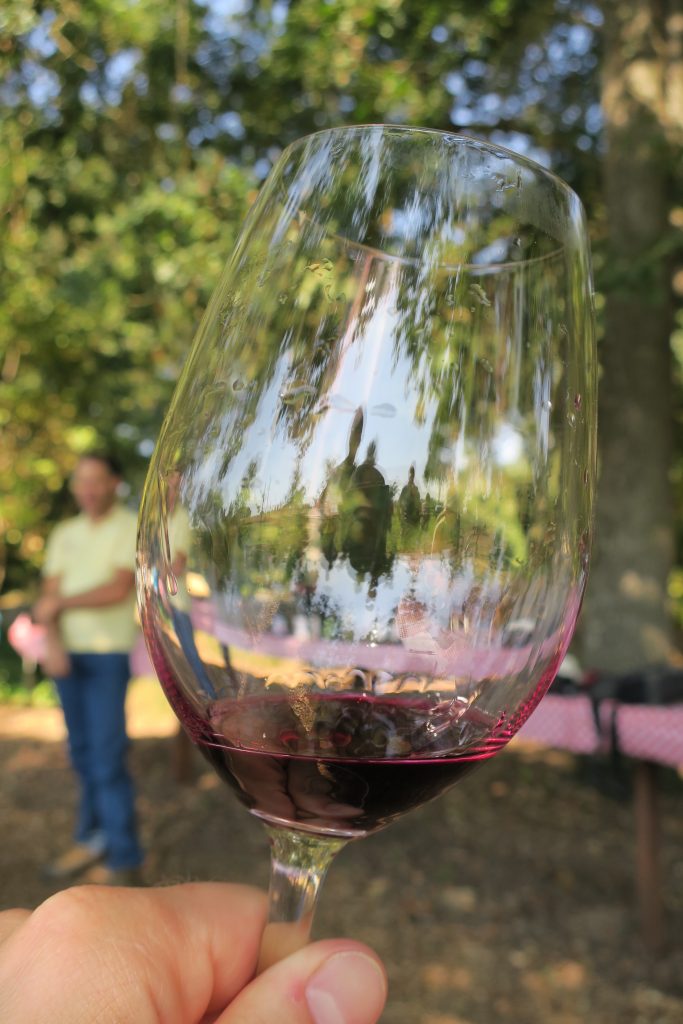 2015 Hatton Daniels Zweigelt: You may not have heard of this dark-skinned grape, but as The Oxford Companion explains, "It is widely grown throughout all Austrian wine regions and can increasingly make a serious, age-worthy wine, even though most examples are best drunk young." This Lodi example had a classic Zweigelt aroma of ripe red fruit and earth. I wouldn't call this light-bodied wine "age-worthy," necessarily, but I liked its cherry fruit, notes of leather and meat, and the quick burst of acids. Some tannins on the finish kept things grounded. $25
I suppose that 50 years ago, it would have seemed crazy to the people of Cahors, France, that their Malbec would grow exceedingly well — dare I say even better — in Mendoza. Now Argentine Malbec is in every corner liquor store. So perhaps we shouldn't be shocked to discover perfectly lovely examples of Kerner and Gewürztraminer in the wilds of central California. The grapes behave differently there, to be sure, but that doesn't mean they don't make tasty wine.
I'm sure people thought Bob Koth was crazy when he said he wanted to grow German grape varieties in Lodi. Some people probably still do. But the proof is in the pudding.
These tastes were provided free of charge as part of the 2016 Wine Bloggers Conference.