27 October 2018
Comments Off

on Walla Walla Speed Blogging: The Whites
Complaints about Speed Blogging seem to be more common than usual this year, though it's always been a bit of a controversial event at the Wine Bloggers Conference. Speed Blogging is, simply put, controlled chaos.
The organizers like to call it "Speed dating for wine," which is a fairly apt description, except that each winery has a five-minute date with a table of 10 bloggers, not just one. When that five minutes is up, they move on to the next table, and we bloggers receive our next "date," ready or not.
As I described in my previous post, there tends to be a lot of shouting. "What's the retail price?" What's your Twitter handle?" "Who are you? What? The winemaker? Spell your name. I said SPELL YOUR NAME." This is not the genteel, vaguely aristocratic atmosphere most people picture when they hear the words "wine tasting."
People complain that this format doesn't do justice to the wines, that it's impossible to taste and listen and take notes and take photographs in the allotted time, and basically that this isn't they way they usually taste wine.
Fiddlesticks. Unless you're in a seminar setting, most wine tastings are louder and more chaotic than people — even wine professionals — seem to realize. A walk-around tasting, the most common wine-tasting format, tends to be crowded and noisy. Tasters jostle to get to the most popular tables, pourers are trying to talk about the wines — often several at once — and everyone is sharing tasting notes and impressions with each other. Even a very hotsy-totsy "Silent Tasting" I once attended in Bordeaux was surprisingly loud.
It's far more common to be surrounded by distractions while wine tasting than not, unless you prefer to drink at home alone, of course. Speed Blogging has helped me to focus on a wine and form an impression of it quickly, in spite of what's happening around me. It's an important skill that's served me well over the years.
And so, to the white wines. Whites aren't nearly as popular to produce in Washington as reds, but the ones they do make tend to be quite good. There was only one wine I really didn't care for in this round of Speed Tasting, and it came from elsewhere.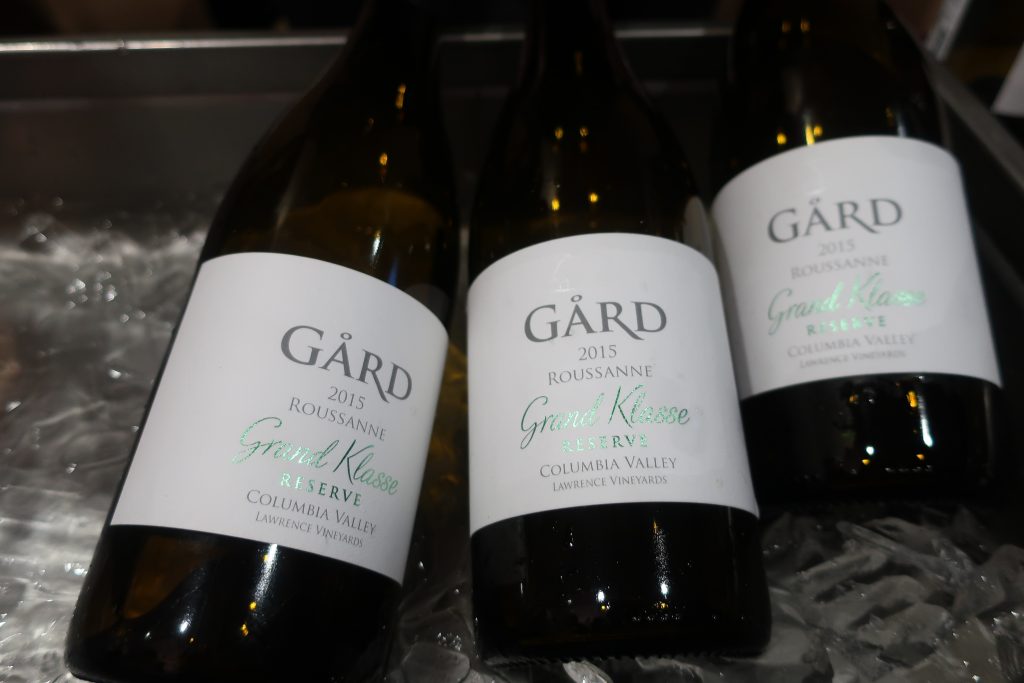 2015 Gård Vintners Roussanne: Washington winemaker Aryn Morell told us that this Rhône variety tends to be "oily and full, and there's no reason to hide that." And he does not. This Roussanne has heft! I love it. Pear/apple fruit, balanced oak and cream, lightening into acids, white-pepper spice and a touch of eucalyptus freshness… It's right up my alley. This Norwegian-owned winery made its first vintage just 12 years ago in 2006, but they know what they're doing. A great deal for $24.
2017 Otis Kenyon Wine Roussanne: Like the Gård, this Roussanne comes from the Lawrence Vineyards, but it's a very different wine. It has a more savory aroma, rather than fresh and heady. "Our Roussanne is definitely meant to be crisp," owner Muriel Kenyon explained. It had cool and clean pink-lady apple fruit, and focused acids that, interestingly, had a darker feel than the Gård's. Excellent balance. This is your summer Roussanne, and the Gård is your winter Roussanne. Another very fine buy at $23.
2016 L'Ecole No. 41 Semillon Columbia Valley: Winemaker Marty Clubb was in the middle of his 36th harvest when he poured this Semillon for us. Talk about dividing your focus! I'm very glad he took time out to present his wine, a Bordeaux-style blend of 76% Semillon and 14% Sauvignon Blanc. It had an unexpected and enjoyable note of rosemary in the aroma, and lightly honeyed fruit followed by white-pepper spice and a dry finish. It was clear how this sort of wine can become Sauternes. Clubb told is that "Semillon is the most underappreciated white grape on the planet," and I'm inclined to agree (though Furmint is also up there). This is an absolute steal for $15.
2018 Peter Yealands Sauvignon Blanc:  One sniff gave this wine away as a New Zealand Sauvignon Blanc. "It's like you're mowing a lawn in a lime orchard," exclaimed Aspiring Wino Jeff Colden. I also noticed a little b.o. funk in there as it warmed and opened, adding interest. It's a very fresh and bright and juicy wine, but it's a bit of a grass and grapefruit bomb for my taste. You won't catch me spending $20 on a bottle any time soon, but if you like grassy New Zealand Sauvignon Blancs, this wine won't disappoint.
2017 Desert Wind "Heritage Series" Chardonnay:  Desert Wind purchased a vineyard parcel on a south-facing hillside of Washington's famous Wahluke Slope in the 1990s, and I guess the 1990s means "heritage" nowadays? Yikes. In any case, this wine kept me in suspense. It started very creamy, and it felt at first like it was totally unbalanced. But then, just before all was lost, some focused acids and a perk of white pepper kicked in, followed by a touch of tannin on the finish, drying the tongue. Would I buy it for $28? I just might.
2017 Bodega Bouza Albariño: An Albariño from Uruguay! Now we're talking. "I think this is one of the whites with the best potential in Uruguay," the presenter said as she poured. The family of the winery's owner was from Galicia in Spain, the original home of Albariño. They brought back cuttings and planted them in Uruguay 18 years ago. The wine had dry herbs on nose, with straw and something surprisingly dark underneath. A very appealing and unusual aroma! But when you drink it, it's bright, with broad granny smith apple acids, some serious freshness, and a delightful mineral note on the finish. An excellent value at $20!
2017 Hard Roe to Hoe Dry Riesling: Who would have guessed that the innocent-looking rowboat depicted on the label of this wine was a Lake Chelan shuttle service from Lucerne to a brothel? The winery tasting room has a bordello theme, "so keep in mind, it's not kid friendly," we were warned. I quite liked the unexpected note of butterscotch in this Washington Riesling's aroma, with some freshness giving it a lift. It tasted of ripe appley fruit, balanced with lots of sharp, focused spice and prickly acids. If you think all Riesling is sweet, try this one — there is nothing sweet about it, except perhaps for a whisper of a butterscotch deep in the finish. I wouldn't hesitate to buy a bottle for $19.
2016 Rodney Strong Vineyards Chalk Hill Chardonnay: This California Chardonnay comes from Chalk Hill, part of the larger Russian River Valley AVA (Chalk Hill has volcanic ash soils distinct from rest of the AVA). It moved from lush fruit — creamy pear and peach — to ample spice and a lift of freshness. And did I mention oak? OAK. There's a bunch of it. That won't please everyone, but since the wine ends spicy and fresh, it felt balanced, and I quite enjoyed it. I would love to try it with food. The price tag of $22 seems about right.
2016 Cadaretta SBS: Oak-phobes should try this wine instead, aged entirely in stainless steel. A blend of 67% Sauvignon Blanc and 33% Semillon, it also has no malolactic fermentation, which means you also won't find much creaminess. This wine is the only white this Washington winery makes, so it had better be good, right? And it was. It had a fresh, warmly spicy aroma, along with an ample citrus note. The wine was delicate and perfumed, with a grounding savory note and a lift of bright, focused acids at the end. Wow, it's a real value at $23! I would have guessed it was some sort of Alsatian something or other.
2016 Frank Family Vineyards Carneros Chardonnay: Made from Napa's Lewis Vineyard, this Chardonnay presented lots of fresh hay and straw in the aroma, along with some overripe apple. Big ripe apple flavors moved gracefully to acids to oak to white pepper spice, to some freshness and minerality on the ringing finish. It's pricey at $38, but it's still a real value. A great finish to Speed Blogging!
For more Speed Blogging action, check out this post about the reds!