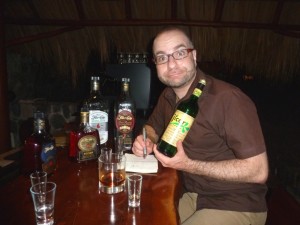 I've been a little off my usual posting schedule this week, while I've been investigating the natural and cultural treasures of Nicaragua. Currently, I'm overlooking a little boulder-strewn horizon pool at Jicaro Lodge, a gorgeous eco-lodge on its own islet in Lake Nicaragua.
I dutifully sampled the local "Jicor" jicaro liqueur, distilled from jicaro pulp and mixed with sugar and water (jicaro trees produce hard, coconut-like fruits). It was not particularly to my taste, with a flavor of medicinal bananas.
In the lodge's El Jicaro cocktail, a mix of Jicor, club soda, sugar syrup, grama tea and lime served in a jicaro nut with a bamboo straw, it overpowered absolutely everything.
In the unlikely event you enjoy medicinal bananas and also come across a bottle of jicaro liqueur, by all means, go for it. But I think I'll keep to the superb local Flor de Caña rum instead.