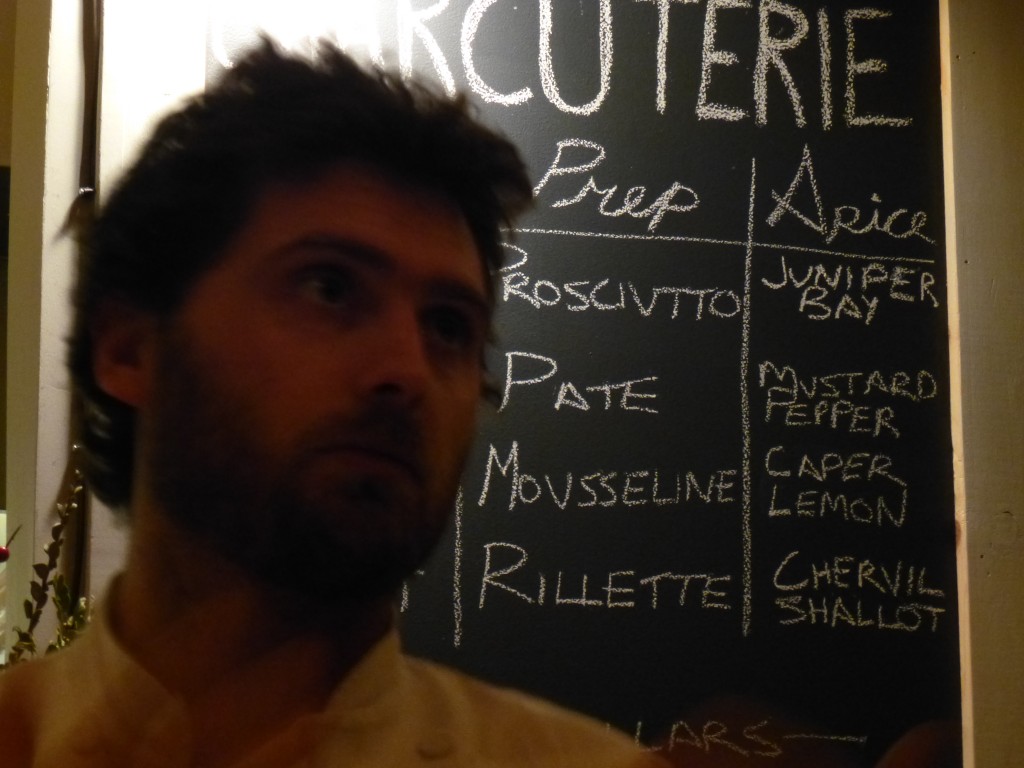 Every now and then, an invitation to attend a special dinner will waft my way, and though I do my best to avoid overindulgence (ahem), I feel it is my bloggerly duty to accept whenever possible. And so,  immediately following my office's Christmas party, at which much pasta and red wine was consumed, I headed to Chicago's Little Italy neighborhood, home to cozy and stylish Urban Union.
A handful of other food/wine bloggers gathered at the communal Chef's Table, "where diners are served customized and unique creations, along with expertly selected wine pairings by the two sommeliers on staff," according to the invitation. I felt a bit apprehensive, hoping that the pairings would be unusual enough to suit this blog, but as soon as I walked in, I knew it would work out just fine. A large chalkboard listed the "Wines on Tap," starting with a Greek Moschofilero and a Californian Arneis. Yeah!
We started with a relatively conventional but undeniably delicious pairing of sake and ahi tuna sashimi with ponzu, basil and almonds. The Narutotai Ginjo Namagenshu, an unpasturized, unfiltered sake that continues to condition in its can, tasted fruity and a bit yeasty before driving to a clean, spicy finish. Paired with the sashimi, it seemed surprisingly less spicy; it became smoother, duskier. (You can read more about sake here.)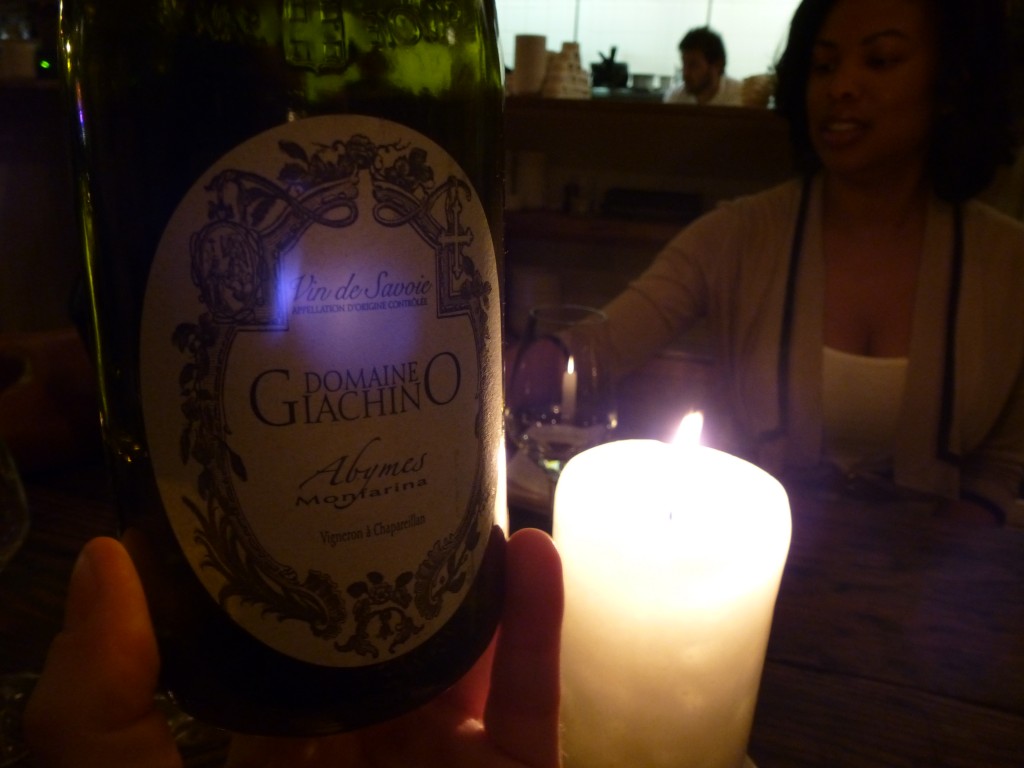 Things started to get more unusual and exciting when General Manager and Sommelier Andrew Algren brought out the next bottle, a 2009 Domaine Giachino Abymes "Monfarina".Very little wine escapes from France's Alpine Savoie region, so I always feel delighted when I have the chance to taste one. This wine comes from the Abymes cru, about 100 kilometers south of Geneva, Switzerland, and it's made with Jacquère, a white variety obscure to us but relatively common in Savoie. The wine smelled of rich green apples, and it tasted light-bodied and rather tart. The acids cried out for food, and a delightful winter beet salad with pancetta chips mellowed them nicely.
Chef de Cuisine Joshua Marrell kept things seasonal with his next course, a lush sunchoke purée topped with roasted sunchokes and sunchoke chips. Its deeply satisfying flavor worked marvelously with Algren's most daring pairing yet: A 2011 Tikveš Rkaciteli from the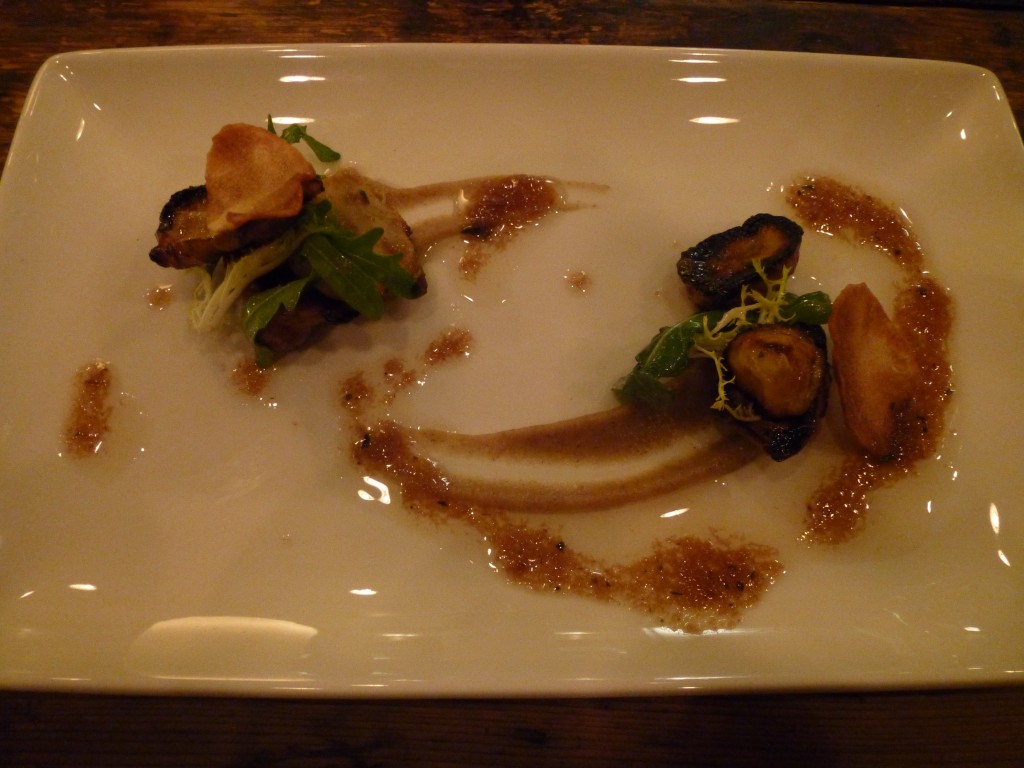 Republic of Macedonia (not to be confused with the Greek region of the same name). If you've encountered the incredibly ancient Rkaciteli variety at all, it was probably spelled "Rkatsiteli" and it probably came from Georgia (the country) or perhaps New York. It's the most widely planted variety in the ex-Soviet republics, which isn't necessarily a ringing endorsement, but it can make some excellent wines.
Macedonia, for its part, has a climate "extremely favorable to vine cultivation," according to The Oxford Companion to Wine, and I was excited to see what this little country would do with one of the world's oldest wine varieties. The Tikveš Rkaciteli fascinated me with aromas of bright pear and a bit of tar. It proved to be very acidic, oily and minerally, which sounds terrible, but I found it oddly enticing. The rich sunchoke dish balanced out the acids, making the wine rounder and fuller.
Up Next: The meal continues with an unexpected rosé and a wine that tastes like "grabbing a handful of the French forest floor and chowing down."