17 October 2012
Comments Off

on Door County Discovery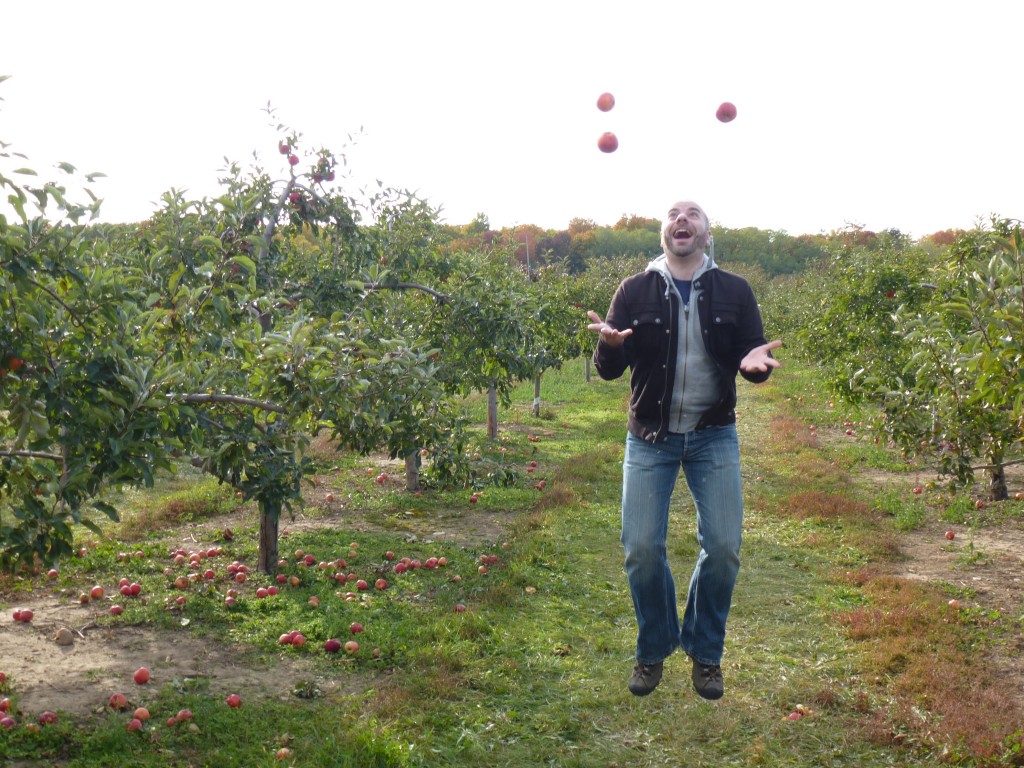 I recently vacationed for a week in Door County, Wisconsin, which is that lovely peninsula that sticks into Lake Michigan. Autumn there is particularly fine, when the trees put on a magnificent display and orchards allow you to pick your own apples. We did just that at Lautenbach's Orchard outside Fish Creek, and it was there I discovered the joys of tart cherry juice.
You might be able to find cherry juice at your local grocery, but tart cherry juice, made from Montmorency cherries, seems to be more of a specialty product. This year it might be especially difficult to find, because the cherry crop in Wisconsin and Michigan was damaged by the frost which followed March's string of 80-degree temperatures. If you do see tart cherry juice (100% juice is best), for heaven's sake, buy it. Lautenbach's Orchard sells it in its refrigerated case, and you can also purchase it online.
UPDATE: I just discovered Whole Foods carries tart cherry juice as well.
It's worth the trouble to find. The juice from Lautenbach's Orchard tasted like rich cherry pie in a glass, which makes some sense, since the juice comes from the same cherries used for pies. But though the juice is sweet, it is by no means cloying or syrupy. Since Lautenbach's adds no sugar to the juice, it retains its tart punch. For a simple fruit juice, it's remarkably complex, and I love drinking it on its own.
But of course, I couldn't just leave it at that. I had a feeling that a juice this delicious couldn't help but make a delightful cocktail, and indeed it does. I tried it with whiskey, brandy, tequila, vodka… All these combinations, using about two parts juice and one part spirit, worked beautifully. I shared the juice with my friend Scott, a great connoisseur of cocktails, and after one sip, he exclaimed, "Oh… Yes. We are going to make a Cherry Pie Martini with this." And who was I to say no?
I knew that vodka and tart cherry juice worked well, but it felt a little pointy. Some fresh-squeezed lemon juice rounded out the texture, but it still seemed a little bright. To enhance some of the low notes, we added a couple dashes of Angostura Bitters. Perfect. The result looked enticingly cherry-red, but it was no sugar bomb. This was a strong, serious cocktail, with a most pleasurable balance of flavors:
CHERRY PIE MARTINI
2 parts vodka (I use Sobieski, the best vodka value I've found)
1 part 100% tart cherry juice
1/4 part fresh-squeezed lemon juice
2 or 3 dashes of Angostura Bitters
Add all of the above to a cocktail shaker filled with ice and shake vigorously. Strain into chilled martini glasses. If you must, garnish with a fresh cherry.
And that's it! Easy as pie, and a great cocktail to serve around Thanksgiving.
(And if you have any non-drinkers at the party, they'll be delighted by this alternative: 4 parts club soda, 1 part 100% tart cherry juice, a healthy squeeze of lemon, and, if you have it on hand, a healthy squeeze of lime as well. Delicious!)