"You'll never see big-time production in the Finger Lakes — it's boutique production," explained sommelier Christopher Bates at this year's Wine Bloggers Conference in Corning, New York. "We're like the Mosel," he continued, "where there are small spaces where grapes can grow and a lot of spaces where they can't."
Reviewing my notes from the conference got me thinking that perhaps Bates' analogy was just a bit too far to the northwest. Most of the Finger Lakes wines I liked best — Riesling, Grüner Veltliner, and Lemberger (Blaufränkisch) — all grow exceedingly well in Austria. According to The World Atlas of Wine, the Wachau, for example, is "…a rich mosaic of different soils and rocks," where "There are plots of deep soil and others where a mere scratching finds rock…" The description reminded me of the Finger Lakes soil map Bates displayed, which looked like a pointillist fever dream.
The climates of Austria and the Finger Lakes have something in common as well. In Austria, large rivers and lakes mitigate the otherwise rather tough continental climate, just as in the Finger Lakes, where vineyards cluster along sloping shorelines. There, summer warmth stored in the lakes helps prevent the vines from freezing during the extreme winters.
Lettie Teague's 2013 Wall Street Journal article about the region bore the subtitle, "Where Riesling Rules." The spectrum of Rieslings I tasted during the course of the conference gives me no cause to disagree with her. The 2014 Lamoreaux Landing Red Oak Vineyard Riesling, for example, exhibited impressive finesse while shifting from ripe fruit to exotic spice to a dry finish. A languid 2013 Fulkerson Estate Semi-Dry Riesling offered lush fruit balanced perfectly by orangey acids and gingery spice. And in the 2013 Wagner Vineyards Riesling Ice Wine, sumptuously rich, sweet fruit mixed with zesty grapefruity acids and warm cinnamon spice — what a delight.
It's tempting to go on and on about the beautiful Rieslings I tried. Ravines Wine Cellars, Heron Hill, Barrington Cellars, Keuka Spring Vineyards, Vineyard View and McGregor all make exciting examples marked by ripe fruit, balanced acids and often something exotic, like jasmine, incense and/or ginger. And the prices! Most of these Rieslings cost less than $20 a bottle, a magnificent value for the money.
But Riesling isn't the whole story in the Finger Lakes. Another one of Austria's most popular grape varieties grows exceedingly well here: Grüner Veltliner. It does well in Austria but rather less well in Germany, because it ripens too late to be successful in vineyards that far north. But the hot summers of the Finger Lakes seem to agree with Grüner Veltliner. John Mansfield of Three Brothers Wineries and Estates agreed, going so far as to argue that "Grüner — it's going to take over. Take the best parts of Riesling, Sauvignon Blanc and Gewürztraminer, smash 'em together, and you get Grüner."
His 2014 Stony Lonesome Estates Grüner Veltliner proved to have great personality, with a rather sultry, humid, greenhouse-like aroma, round fruit, tight acids, orange-peel spice and some minerality on the almost bitter finish. Other Grüners were equally as refreshing and exciting. I especially liked the 2014 Dr. Konstantin Frank Grüner Veltliner, which had an aroma of fresh green hay and dewy fruit undergirded by taut, racy acids. These are wines worth paying attention to.
In addition to fine Rieslings and Grüner Veltliners, Austria also produces a number of delicious red wines, including Blaufränkisch. The Finger Lakes is right on Austria's heels with this variety, which goes by the synonym of Lemberger in New York (I find "Blaufränkisch" to be a little sexier than "Lemberger," but I'm a sucker for umlauts). As The Oxford Companion to Wine notes, Lemberger produces "wines of real character, if notably high acidity, when carefully grown."
I'd argue that Finger Lakes Lemberger is capable of standing toe-to-toe with Austrian Blaufränkisch. The 2012 Goose Watch Lemberger proved particularly striking, with ripe cherry fruit and juicy acids. Its white-pepper spice slowly grew in intensity through to a big finish. It felt light but powerful. Just as memorable was the 2012 Fulkerson Estate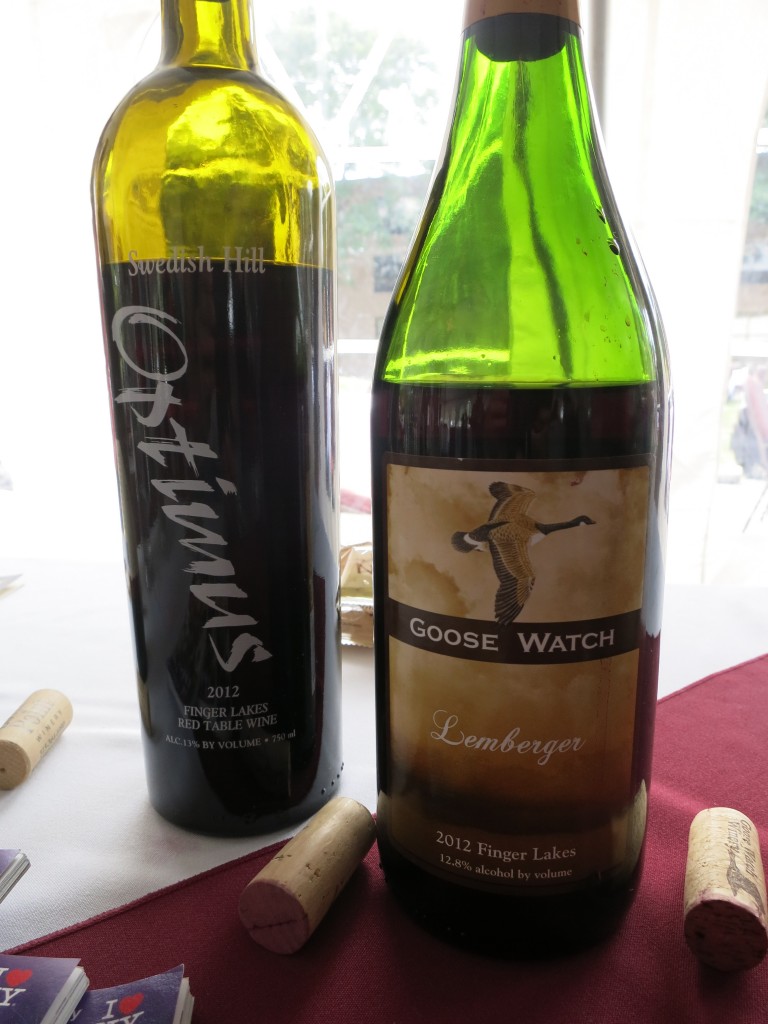 Lemberger, with its surprising combination of cheerful freshness, ripe dark fruit and tart acids. And I loved the 2013 Lemberger by Element, the winery owned by Christopher Bates, which had a sexy aroma of dark fruit and violets, a light body, big fruit and big spice.
If Riesling, Grüner Veltliner and Lemberger do so well in the Finger Lakes, I've been thinking, why not other noble Austrian varieties? I would be especially excited to try a Finger Lakes St. Laurent. This grape, though still not very well-known, produces velvety, sexy red wines, of which I dearly wish more were imported into the United States. I would love to have a local source.
Austrian wines, especially Grüner Veltliner, have become very popular with sommeliers because of their food-friendly acids. You may have noticed that all the wines above have ample acidity, making any of them a fine addition to a restaurant wine list. Finger Lakes wines can't be found in every corner wine shop, but if I were a New York sommelier fond of Austrian bottlings, I would be sure to include at least one or two choices from the Finger Lakes on my menu. And if I were a traveler fond of wine, I'd put the more-than-usually picturesque and friendly Finger Lakes region on my bucket list.