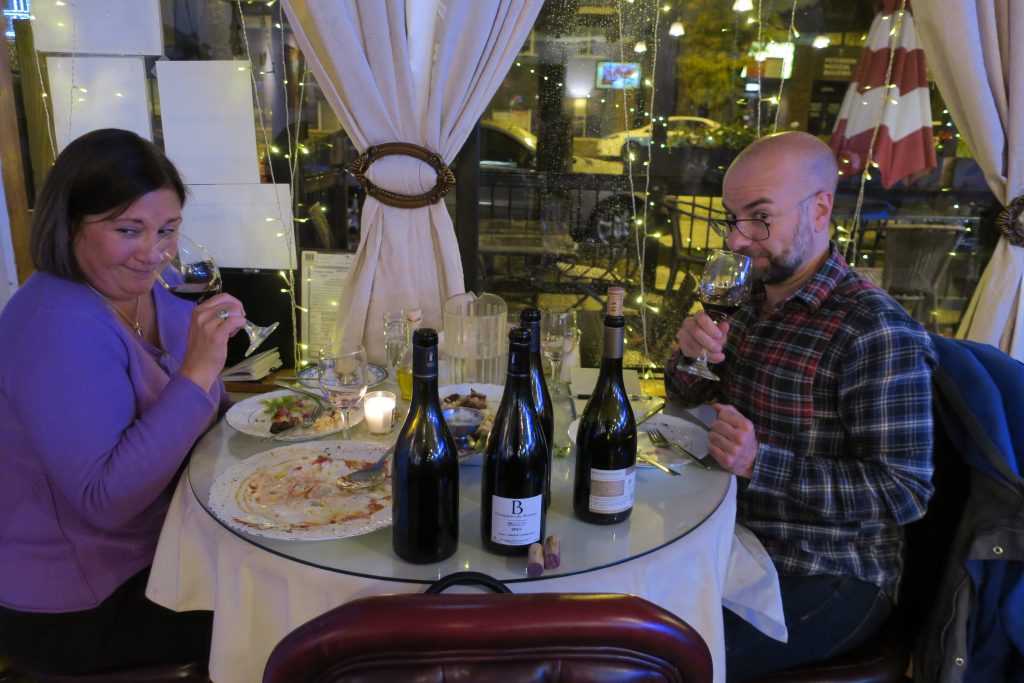 Poor Beaujolais. Who drinks it anymore? There must be people who pay attention to the release of the new Beaujolais Nouveau vintage each November 16, but I don't know any of them, and I'm a wine blogger. The last time I had a Beaujolais Nouveau in my wine rack was in May of 2006. I remember the moment very clearly: A wealthy couple attending my 30th birthday party presented me with a 2005 Beaujolais Nouveau as a gift. Mm, Beaujolais Nouveau in May… yum. Merci beaucoup.
Honestly, I can't imagine why anyone would buy Beaujolais Nouveau, at least in the U.S. It often costs more than $15 a bottle, which is insane for a wine that's supposed to be simply fruity, cheerful and gulpable. The last time Beaujolais Nouveau was stylish was in the 90s. I know this because The Oxford Companion to Wine tells me that consumption of it peaked in 1992, when "nearly half of Beaujolais AC was sold in this youthful state." And also because I was flipping channels a couple of months ago and came across an old "Frasier" episode in which the titular character offered his sophisticated date a glass of the stuff.
Nowadays, if Frasier were attempting to impress a date with his wine sophistication, he would likely present something from Jura, or at least Alto Adige. Beaujolais is simply not chic.
This is a shame. Beaujolais still squirts out far too much overpriced and overhyped Nouveau (which would be an OK value for $10 or $11 a bottle), but it also produces thoroughly charming and sometimes quite intense wines. These wines are "compulsively drinkable," as the cliché goes, and usually very food-friendly. But many of the best, problematically, don't even have the word "Beaujolais" on the label, except perhaps in fine print on the back.
What Beaujolais should you buy then, if not the famous Nouveau? Skip over basic Beaujolais and start with Beaujolais-Villages. As The World Atlas of Wine says, "It is almost always worth paying more for a Villages wine for its extra concentration." Beaujolais-Villages wines have more oomph because they come from hillier vineyards in the north of the appellation, as opposed to the flatter sites in the southern half.
I recently received a bottle as a free sample from the Vignerons de Bel Air, a cooperative of some 250 wine growers in Beaujolais. Its Beaujolais-Villages comes from 50- to 60-year old Gamay vines in vineyards around the southern edge of the region's hilly northern section. The Gamay variety, which tends to be frankly boring almost everywhere else, for some reason flourishes in the granitic soils of Beaujolais, where it can make wines of real interest.
Certainly the 2016 Beaujolais-Villages was a pleasure. I sampled it over a delightful dinner with one of my favorite tasting partners, the inimitable Liz Barrett, at an underrated restaurant on Chicago's North Side: Turkish Cuisine (the owners aren't the euphemistic sort). I liked the wines aroma of dark fruit with a touch of vanilla, and its juicy, mouthwatering acidity. The acids shifted to warm spice, and together they provided a through-line, ensuring that the wine never sagged. It didn't quite stand up to the yogurt-rich sauce on our manti (little lamb-filled raviolis), but it worked beautifully with our next course of roasted lamb. Interestingly, this wine was labeled "Natural," indicating, according to the press materials, that it experienced softer filtration and has less sulfites.
The other three wines I received as free samples from the Vignerons de Bel Air were from Beaujolais' best vineyards, classified as Cru Beaujolais. These are the Beaujolais wines really worth seeking out, and these are the wines that often lack the word "Beaujolais" on the label. There are 10 Beaujolais Crus: Saint-Amour, Juliénas, Chénas, Moulin-à-Vent, Fleurie, Chiroubles, Morgon, Régnié and Brouilly and Côte de Brouilly. They all have distinct characters, but for brevity's sake, I'll concentrate on the three Crus of the samples.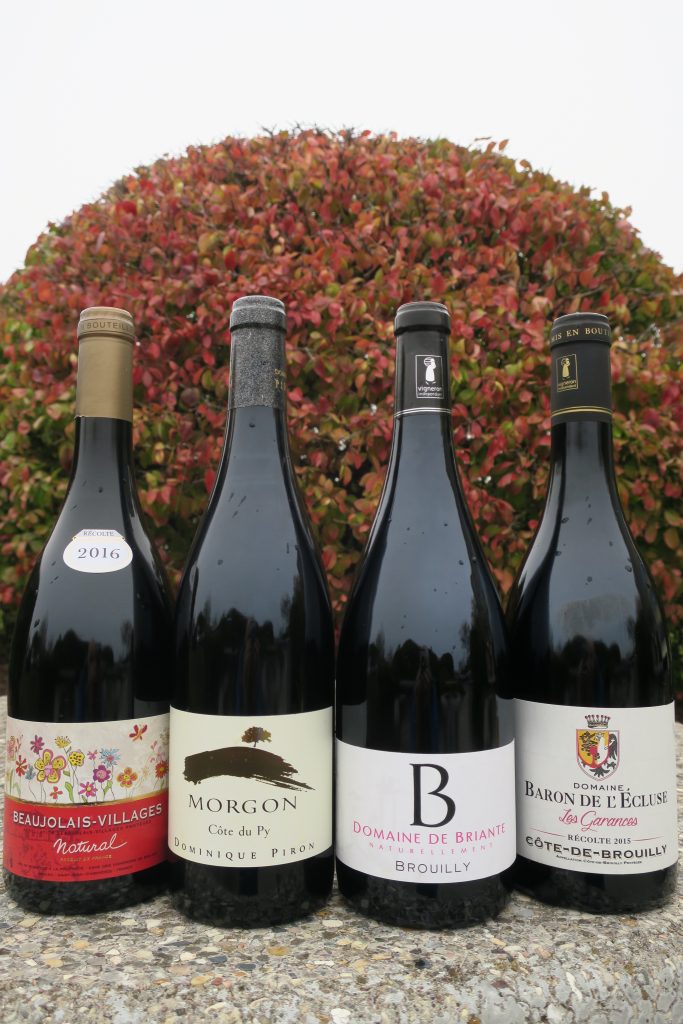 First, we tried what proved to be my favorite of the four wines, the 2015 Domaine Baron de l'Écluse "Les Garances" Côte de Brouilly had a tighter-grained, more expensive-seeming aroma than the Beaujolais-Villages, with notes of prune and a meatloafy savoriness, as well as a whiff of violet that Liz first detected. It looked quite dark and concentrated, but it proved to be light on its feet, with ample dark fruit, warm spice, juicy acids and an iron tang on the finish. It felt well-integrated and refined, and it stood up well to the manti, with enough heft to punch through the yogurt. It also paired wonderfully with all the roasted meat we tried (chicken, lamb, spiced ground lamb and gyro).
According to The World Atlas of Wine, bottlings from the large Brouilly Cru "can vary enormously. Only those grown on the volcanic slopes of Mont Brouilly in the much smaller Côte de Brouilly Cru are really worth ageing." I believe it — I'm sure this wine could have easily handled several more years in the bottle.
The 2015 Domaine de Briante Brouilly, another "natural" wine like the Villages above, had an earthier character, with an aroma of blackberry fruit, mushroom and sausage. I liked how the wine started with clean, clear fruit and then mussed it up with those wonderful juicy acids and some forceful (but well-integrated) tannins. It didn't manage to cut through the yogurty manti, but it paired perfectly with the chicken kebap and became even spicier with the lamb. This wine proved to be Liz's favorite, and I certainly wouldn't hesitate to drink it again myself, given the opportunity.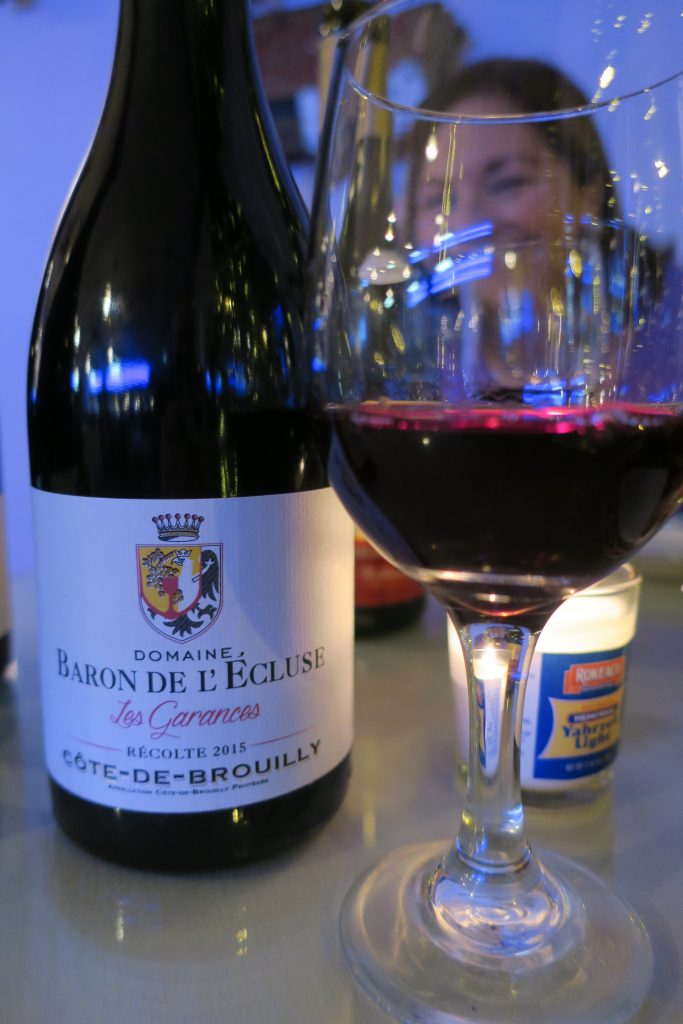 Finally, we tried the 2015 Dominique Piron Côte du Py Morgon. The World Atlas tells us that "Morgon is the second-largest Cru, associated with its famous, volcanic Côte du Py, whose wines are particularly strong, warm and spicy." Liz called it on first sniff, noting the wine's distinct tart cherry aroma. I thought it smelled rather like sweet barbecue. "Yes, cherry wood-chip smoke," she agreed. There were those characteristic juicy acids again, leavening the ample black-cherry fruit. The wine felt lighter-bodied, but with plenty of spice and supple tannins. It was heavenly with the chicken, but it also worked well with the lamb, which brought out more of a violet note in the wine.
What a joy of a tasting. I had to be careful not to consume too much — we had four bottles between the two of us — because these Beaujolais were such fun to drink. Each had ample fruit and juicy, mouthwatering acids, ensuring that even the most concentrated of them remained lively and light on its feet.
The Beaujolais-Villages was good, but I fell in love with the Cru Beaujolais. These wines would be perfect for a dinner party, because they're food-friendly and easy to drink, yet they also offer a sense of refinement. Best of all, because they're unfashionable, Cru Beaujolais wines are not expensive. I see on the Binny's website that Morgon starts at just $16, Brouilly can be had for as little as $17, and Côte de Brouilly for $24. The wines we had tasted far more expensive than that.
Yes, Beaujolais Nouveau est arrivé! But it is the "vieux" Beaujolais, the Cru Beaujolais, that has now truly arrived.
For additional perspectives about Beaujolais in general and these wines specifically, check out these #Winophiles blog posts: