27 November 2013
Comments Off

on Bitter Is Better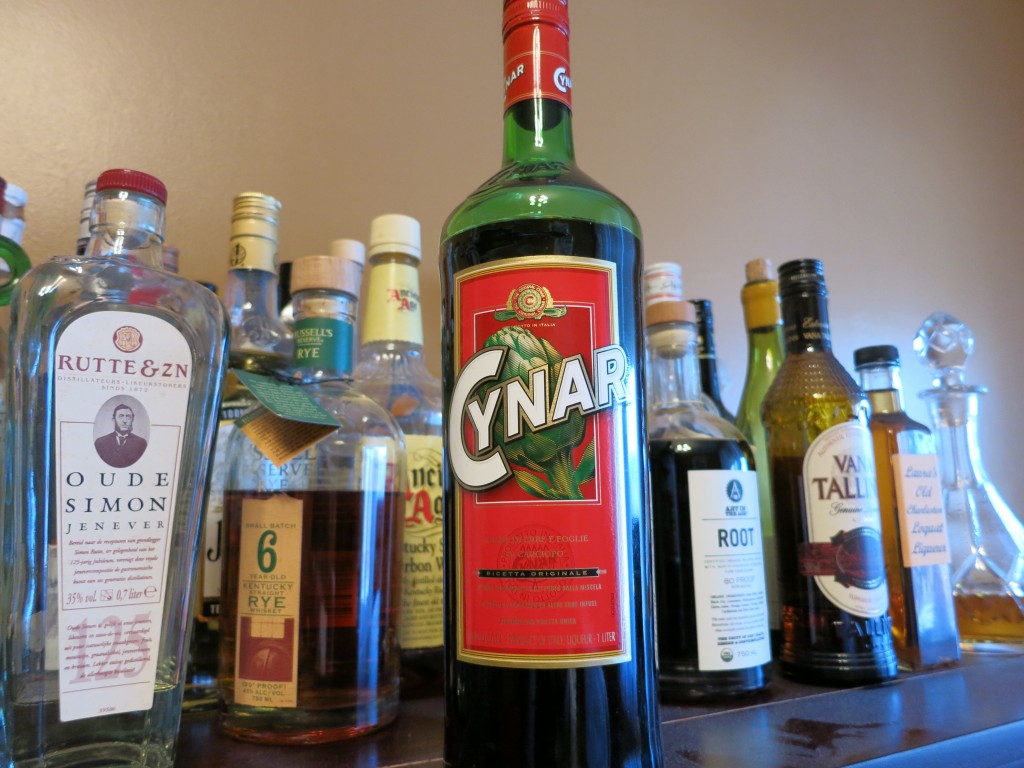 I distinctly remember the first time I tried Cynar, an artichoke-based liqueur from Italy. About 10 years ago, a friend and I were in some small-town café in Umbria, and I spotted the bottle behind the bar. Even then I was interested in trying unusual spirits, and the idea of an artichoke liqueur proved irresistible. With no idea what this thing could possibly taste like, I ordered a glass. It was not to my liking. Aghast at Cynar's bitterness, I discreetly carried the small snifter to the men's room and poured the remainder down the drain.
I therefore felt a little apprehensive, as you might imagine, when I recently received a free sample of Cynar to review on this blog. But what a difference a decade makes. This time, my palate was prepared.
Tasted straight and well-chilled in the refrigerator, the Cynar had a pleasantly bittersweet aroma and a very bitter, intense flavor profile leavened with a strong dose of caramelly sweetness. It doesn't taste at all like artichokes — it's made with 12 other herbs and plants, according to its website — and I certainly didn't want to pour it down the drain this time. Despite Cynar's relatively low 16.5% alcohol content, it tasted powerful, bracing and surprisingly balanced.
Although it makes a fine digestif on the rocks, Cynar can add some wonderful depth to cocktails as well. My mixology buddy and I first tried it with some rye, but that proved to be too one-note and Robitussiny. We actually liked it better with gin, the aromatic and spicy notes of which worked wonderfully with Cynar's bitter and sweet characteristics. Add a little lemon, and you have a cocktail that's well-balanced and aromatic, with a fascinating underlying savory note. The citrus gives the drink the proper texture and keeps it from becoming too medicinal:
CARCIOFO (that's "artichoke" in Italian)
–2 parts gin (we used Death's Door)
–1 part Cynar
–1/2 part fresh-squeezed lemon juice
Combine the above in a shaker with a few large ice cubes, and shake vigorously. Strain into a martini glass, and garnish with a lemon or orange twist if you're feeling fancy. If you're making a bigger batch, use a pitcher instead, and stir for a minute or two instead of shaking to achieve an even smoother texture. I don't usually reach for the gin at this time of year, but this complex cocktail felt perfect for a cold autumn evening.
You could also use Cynar to make a wonderfully refreshing aperitif, an ideal way to get your Thanksgiving or Christmas party started:
CYNAR SPRITZ
–1 part Cynar (chilled)
–4 parts club soda (chilled)
–1/4 part fresh-squeezed lemon juice
Pour the soda over a large ice cube or two in a lowball glass. Top with the lemon juice and the Cynar, and garnish with a lemon or orange twist if you like. This well-balanced cocktail is relatively low-alcohol, yet it packs a serious flavor punch. And though I associate spritzes with the summer, this version has enough depth to make it appropriate for the colder days now upon us.
Happy Thanksgiving all, and Cheers!