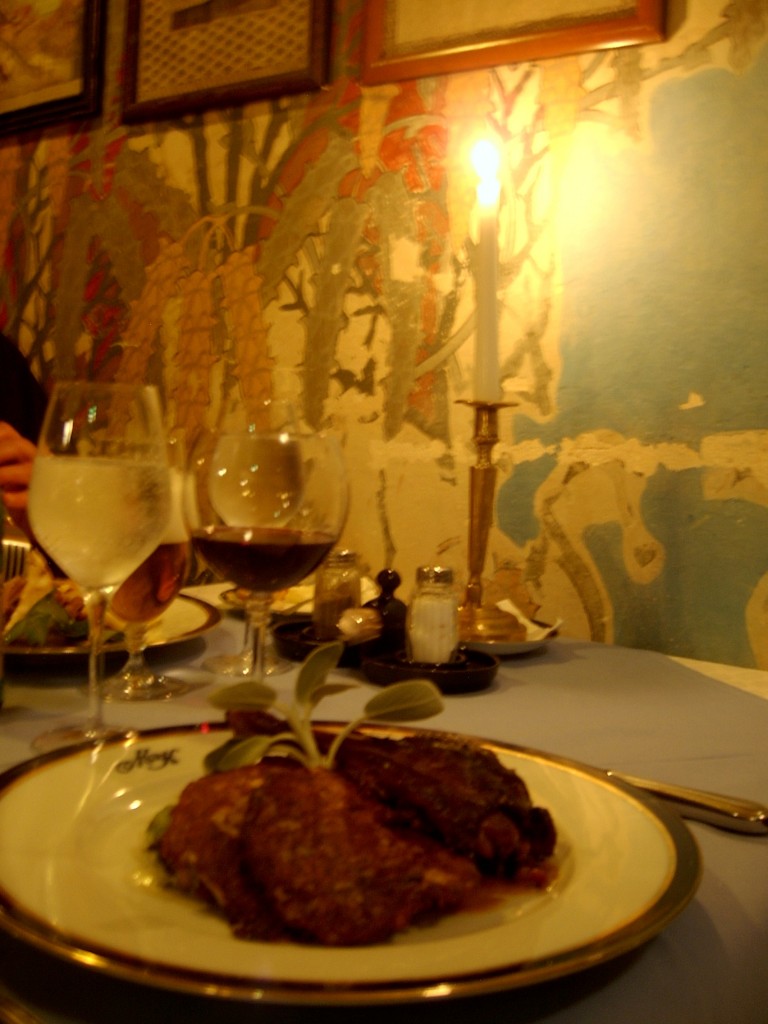 It wasn't until my third visit to Prague that I tried my first glass of Czech wine. That is partially because in 1998, when I first set foot in this jewel of a Central European city, the country's wineries had yet to shake off the depredations of communism. And it's partially because large glasses of local beer could be had for about a quarter.
By the time of my latest visit in 2007, the city had been overrun by British stag parties, beers cost $5, and sizeable sections of restaurant wine lists were devoted to Czech bottlings. We had our first dinner of the trip at the atmospheric U Modré Kachničky (The Blue Duck), in the relatively quiet Malá Strana neighborhood on the castle side of the river. I ordered duck in plum brandy sauce with potato pancakes, and after consulting with the waiter, a glass of Svatovavřinecké to pair with it. I memorialized the meal with the blurry photo to the right.
I still can't pronounce Svatovavřinecké (St. Laurent), but I remember that dinner — the worn frescoes of wisteria glimmering in the candlelight, the savory duck with crispy skin, the surprisingly rich St. Laurent. Moments like that stay with me.
It will doubtless surprise some readers that the Czech Republic makes wine, let alone wine of quality. Most of its best vineyards are in Moravia, immediately north of Austria's Weinviertel. As The Oxford Companion to Wine explains, "Because of their position north of the Danube, most of the slopes face south and are protected by higher land in the north." And just as important, "Winemaking techniques have fully recovered from the communist era," the Companion goes on to say.
That's all well and good, but quality aside, it remains quite difficult to find Czech wine outside the country, as The World Atlas of Wine notes: "Little [Czech wine] is exported yet, but the potential is there." Very, very little Czech wine crosses the Atlantic. I never spotted one until about a year ago.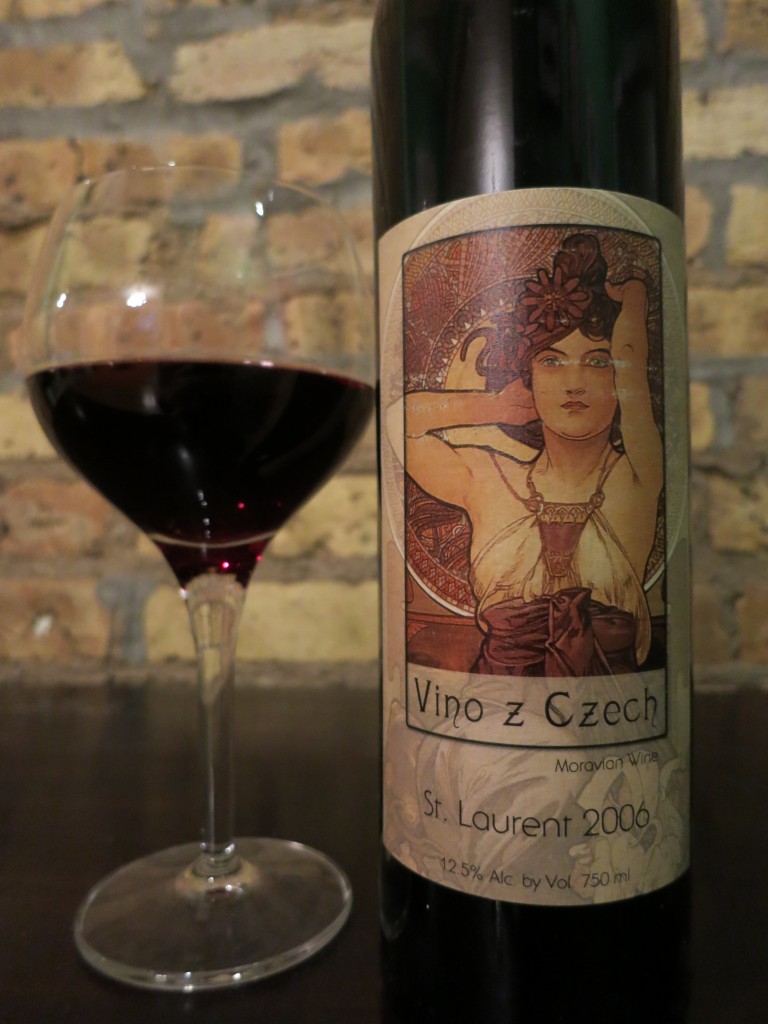 I was browsing the egregiously disorganized wine section of Gene's Sausage Shop & Delicatessen, which never fails to irritate me. But sometimes I unearth a gem before my patience wears out. As my eye drifted along the jumble of wines on the shelves, a label with an Alphonse Mucha print caught my attention. "Vino z Czech" were the words beneath, and for the first time since 2007, I found myself purchasing a Czech wine.
I assumed Vino z Czech, which translates as "Wine from the Czech Republic," was the rather uncreative name of the winemaker. It actually encompasses an entire collection of wines made by different Moravian vintners and assembled by Czech Wine Imports for sale in the United States. "Most of these wines are from small wineries," according to the Vino z Czech website. "Annual production of our varieties range from 180 cases to just under 2200 cases."
This particular wine, a 2006 St. Laurent, comes from Vino Marcinčák, the Czech Republic's largest organic winery, headquartered in the Mikulov region of Moravia. Its vineyards "…have excellent locations in the warmest region of the Czech Republic," if Vino Marcinčák's website is to be believed, and the winery seeks to produce "…wines with character, intended for the most discriminating wine lovers."
It all sounded very promising, but I did have some concern that this 10-year-old wine might be past its prime. The Oxford Companion asserts that St. Laurent is "…capable of producing deep-coloured, velvety reds with sufficient concentration — provided yields are limited — to merit ageing in oak and then bottle." Even so, I poured a glass for myself with more hope than confidence.
Before my nose arrived at the rim of the glass, I could detect the wine's enticingly dark, purplish aroma. I loved the generous fruit flavors of plum and prune, overlayed with a floral, violet note. The wine moved from cool, dark fruit to rather rustic acids, which morphed into a low-grade but lengthy hum of white-pepper spice. There was a pleasant duskiness throughout, likely because of its age.
My husband decided not to drink that evening, and I managed to finish only half the bottle. I used some inert gas in an attempt to prolong the wine's life, and put it in the fridge. Two days later, it was time to cook Sunday dinner, and I uncorked the bottle, fully expecting the fruit and acids of this decade-old codger to have flattened or disappeared altogether. It was quite a shock, then, when I took a sip and found the wine to be perfectly lively. I happily finished off the other half of the bottle as we prepared some white bean soup with kale and kielbasa. For $17, this wine struck me as a very fine value.
You won't find Czech wine in most wine shops, regardless of the extent of their selection. But Vino z Czech does distribute its wines in New York, New Jersey, Rhode Island, Connecticut, Washington D.C., Texas and Illinois (see a full list of stores and restaurants here). If you live in one of these states, by all means, visit an establishment that sells these wines and try one out.
And if you go to Prague, which I still recommend doing in spite of the crowds, don't limit yourself to beer, as I did on my first two visits. The local wines may be difficult to pronounce, but they certainly aren't difficult to enjoy.
If you prefer cocktails, this Czech concoction is one of my favorites.