17 August 2013
Comments Off

on A Romantic Sparkler From The Traisental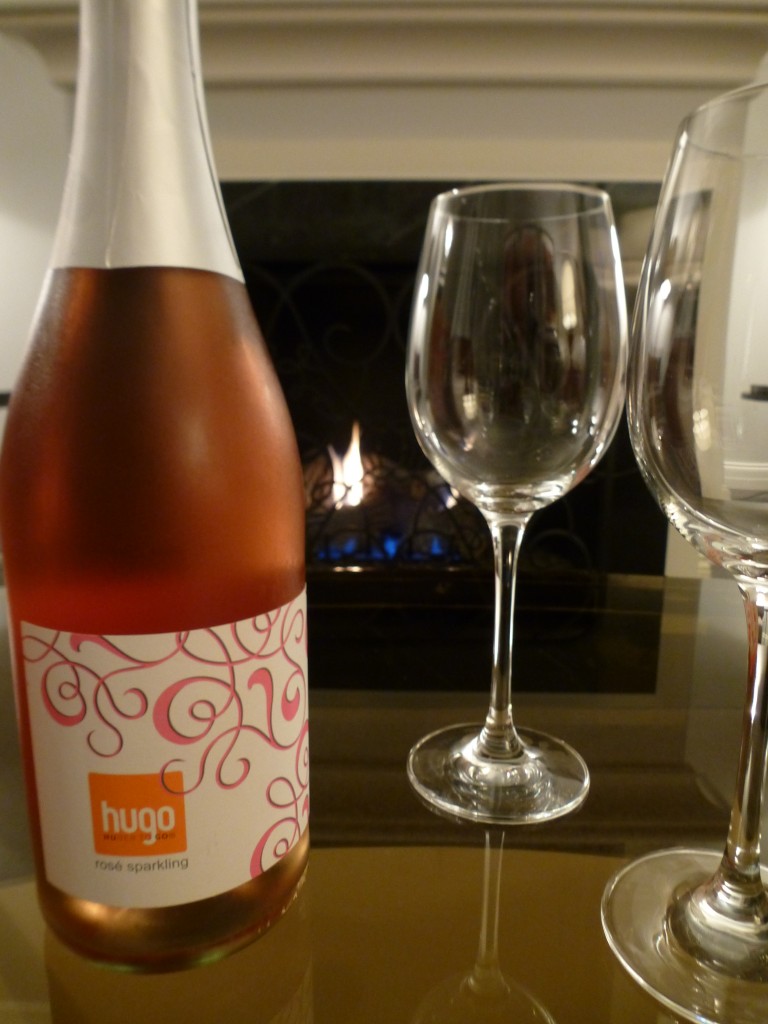 On a cool late-summer evening, is there anything more romantic than popping open a bottle of fine sparkling rosé? I love sparkling rosés, and I don't drink nearly enough of them. It was with some excitement, then, that I discovered a bottle of sparkling rosé not from Champagne (which can be ruinously expensive), but from Austria.
This little central European country is known by American wine drinkers, if at all, for its zippy and food-friendly Grüner Veltliners, not its sparklers. Upon further inspection, I noticed that this bubbly was a blend of Pinot Noir (commonly used in Champagne) and Zweigelt (most definitely not used in Champagne). How could I resist? I snapped up a bottle of the 2012 Weingut Huber "Hugo" Sparkling Rosé.
I could find little general information about Austrian sparkling wine in any of my wine books. It was usually but a footnote, and The Sotheby's Wine Encyclopedia was positively dismissive. Here is its summary, in full, of the state of Austrian bubbly: "Austria's best-known sparkling wine is the bottle-fermented Schlumberge, produced in Vienna, but it seldom exceeds in quality." Well, I must respectfully disagree — the Austrian sparkler I see most often is Szigeti's sparkling Grüner Veltliner, which is actually quite delicious.
Zweigelt, also known as Blauer Zweigelt, is one of the most popular red varieties in Austria, a country which does indeed make delicious red wines (for more about Austrian reds, see this post and this post). This popularity belies Zweigelt's relative youth — this cross between St. Laurent and Blaufränkisch was created less than a century ago, in 1922. Capable of "serious, age-worth wine" according to The Oxford Companion to Wine, Zweigelt can now be found in every wine region of Austria.
Huber's Hugo, a blend of Zweigelt and Pinot Noir (the wine's fact sheet omits the proportions) comes from the Traisental, a wine region of just 1,730 acres straddling the Traisen River. The soil of the vineyards here is a limestone mix, according to the Huber website, which made me think of the chalky soil of Champagne — an encouraging parallel.
Even so, I didn't get all that much minerality out of the Hugo Sparkling Rosé. It had aromas of berries, wood and yeast, deliciously juicy acids, and a dry finish with strawberry notes. Although this wine was not bottle-fermented, the ample bubbles felt impressively small — even pointy. Paired with a decidedly un-Austrian chicken burger, the juicy acids felt broader and more orangey, and the strawberry notes became clearer. Not too shabby for a $15 bottle of bubbly.
Austrian sparkling wine may have long been rather dire, but if the Hugo and the Szigeti are any indication, I'd say Austrian bubbly is worth another look.