11 April 2012
Comments Off

on Lighting A Fuse In Lebanon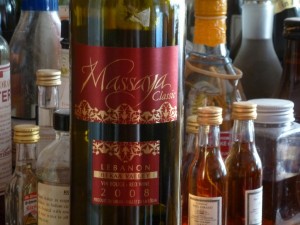 I was about to leave a wine tasting at Rogers Park Fine Wines & Spirits, when I noticed that half the people in line to check out had at least one bottle of Massaya Classic in their hands. Recently, I saw the Massaya Classic appear again, this time in In Fine Spirits' "tasting tournament." It made it to the final four, at least. This obscure Lebanese red blend seems unlikely to remain obscure for long.
I wisely bought a bottle of the 2008 at the Rogers Park tasting, and I finally decided to open it and see what the fuss was about. The nose of red fruit, red meat and black pepper seemed promising, and indeed, it won me over at first sip with big, fruity flavors of cherries and plums followed by a peppery finish. I could see why this wine was so popular.
We paired it, perhaps in error, with some homemade pork tacos topped with guacamole, salsa, black beans, rice, cilantro and cheese. The wine became almost overpoweringly spicy, the black pepper kicking into overdrive. (I'm still working on a good red to pair with spicier dishes — if anyone has had any success beyond Lambrusco, please let me know.)
So what's going on here? Is Lebanon poised to become a real player in the international wine markets? Although nowadays it's associated more with Hezbollah and war, Lebanon has produced quality wine for thousands of years. Most of the vineyards (including Massaya's) grow in the Bekaa Valley, where the ancient Romans erected a temple to Bacchus. Even then, this was major terroir.