12 October 2018
Comments Off

on Walla Walla Speed Blogging: The Reds
People don't have shorter attention spans nowadays, according to the Wine Blogger Conference's keynote speaker, Lewis Perdue. They're just more impatient. That's good news for those of us who write overlong blog posts about wine minutiae. Ahem. And it's good news for my favorite event at the Wine Bloggers Conference: Speed Blogging.
The conference organizers like to call it "speed dating for wine." In case you're too young to remember what speed dating was — does anyone still speed date? — speed dating involved spending a few minutes per person with several different potential matches. I can speak from experience when I say that "eight-minute dating" was about five minutes too long. Nevertheless, I met my husband at a speed dating event, so obviously the format has some merit.
I also love Speed Blogging because, in this era of supposed shorter attention spans, it demands total focus for the hour of its duration. We bloggers, sitting at tables in a big ballroom, have only five minutes each with 12 different wine presenters. They're trying to tell us about the wine, we're shouting questions at them, they're trying to give us carefully produced press kits, we're tossing them on the floor because we don't have time to read them… And, through it all, we're trying to pay attention to the wine so that we can say something intelligent about it. It's mass chaos, and it's a joy.
You might reasonably think that we have no business evaluating wines in such a setting. But it's precisely because of the noise and the speed that Speed Blogging works. I focus intensely on my first impression of the wine, often more intensely than when I'm sitting in my silent living room with no distractions. It's a challenge to assess wine in these circumstances, and like a vine under stress, the fruit of it can be richer and more concentrated.
On to the reds, mostly from Washington, in the order in which they were presented!
2014 Woodward Canyon "Artist Series #23" Cabernet Sauvignon: The vineyard producing this Cabernet dates back to 1976, making it "old" by Washington State standards. Each label of the Artist Series wines, started in 1992, features a different Pacific Northwest artist's work (rather like Mouton Rothschild). Composed of 92% Cabernet 6% Cabernet Franc and 2% Petit Verdot, this wine had a rich, dark fruit aroma with cassis and some vanilla. Very enticing! My mouth filled with fruit, followed by white pepper spice and supple mocha tannins. Oo, that's a big boy, but with plenty of grace as well — not an easy balance to strike. It's $59 at retail, and in this case, definitely worth it. "I kind of wish one of you had a steak in your pocket right now," friend and fellow blogger Liz Barrett told Sager Small, the son of the winery's owners and its viticulture and production assistant. Alas, he did not.
2015 Mullan Road Cellars Red Wine Blend: Founded by Dennis Cakebread, Washington-based Mullan Road is the "family's first foray outside of California."  This blend of 49% Cabernet Sauvignon, 34% Merlot and 17% Cabernet Franc had a very appealing aroma of ripe dark cherry, with a bit of chocolate and a touch of green peppercorn spice. Another rich beauty, with full fruit, focused acids and well-integrated, big mocha tannins. Through it all, a shaft of white-pepper spice held everything together. I would pay the $45 retail price for this wine, no question.
2014 Maryhill Winery Malbec: This wine wasn't the only Washington Malbec that caught my attention at the conference. "We like to consider ourselves representative of the potential of the Columbia Valley; we work with 35 different varieties, and make 50 different wines," according to Cassie Courtney, marketing director. That's a lot of wines to keep track of, but certainly they didn't give the Malbec short shrift. It had delightful fresh plum and prune fruit aromas. Flavors of deep, dark fruit were buoyed by a shaft of green peppercorn spice. Nice, even development, with focused acids and spice — what a deal at $26!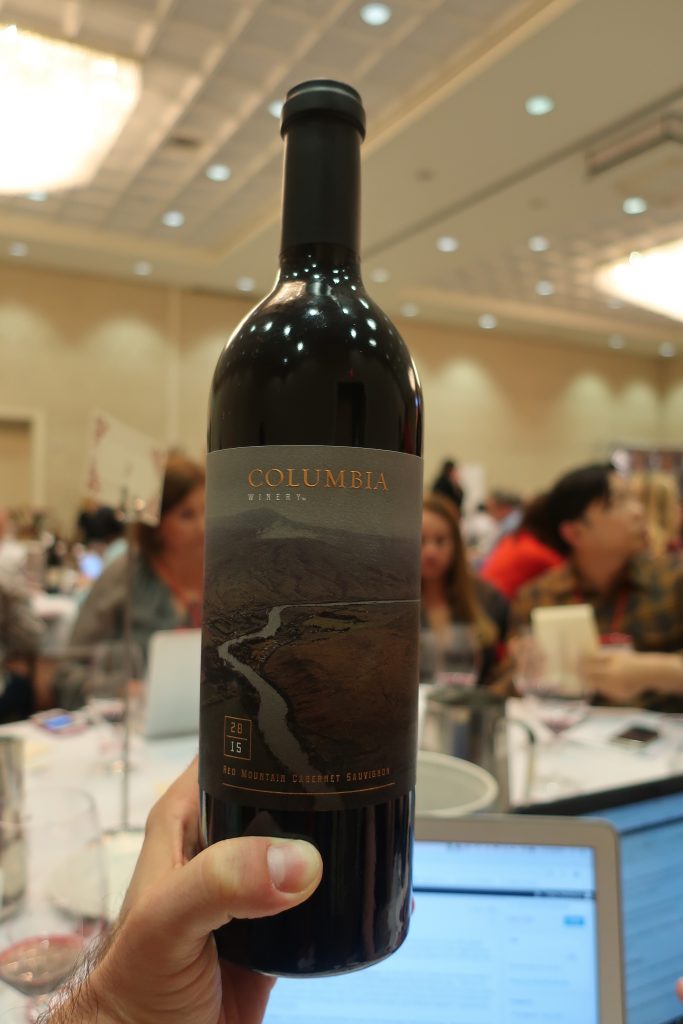 2015 Columbia Winery Red Mountain Cabernet Sauvignon: Columbia was the first to produce Syrah and Pinot Gris in Washington, but today, they poured their Cab. I liked its plummy aroma, with more of that deep, dark, ripe fruit so many Washington reds seem to have! It developed with grace on the palate, moving from fruit to focused acids and spice to tannins, which get bigger and bigger. The tannins get pretty darn serious by the end, so I would love to try this wine again in a few years. This wine is available only in the tasting room, "So come and see us in Woodinville." Not at all a bad value at $38.
2015 Domaines Barons de Rothschild "Légend" Pauillac: "I'm in," as my neighbor said when she saw this wine, and who could disagree? "A wine for every day" produced by the same winery that makes Lafite Rothschild, Légend is intended to make Bordeaux accessible to consumers. This blend of 70% Cabernet Sauvignon and 30% Merlot had a fresh plum aroma with some blueberries, and even a touch of cinnamon in the nose. It felt light on its feet, with bright, ripe cherries, some eucalyptus freshness and rather rough-and-ready tannins. They weren't yet as well-integrated, or as graceful on the finish as I might have hoped for the $50 price. And though I realize that $50 is crazy cheap when compared to Lafite Rothschild, I'm not convinced that price is what most of us are looking to pay for an "every day" wine!
2015 Frank Family Vineyards Napa Valley Cabernet Sauvignon: "I love this wine, with its cassis and black raspberries," said Marisa McCann, who handles sales and events at the winery. Please don't give me tasting notes! Now all I'm smelling is cassis. Well, and a touch of mocha. It's awfully appealing, I must admit. She said something about Disney and Pretty Woman, but I was too distracted by the wine's opulent fruit leavened by super-sharp acids and spice, followed by plush mocha tannins. I love it. "That's a quintessential Napa Cab," a fellow blogger remarked. Yes. $58
2015 J. Bookwalter "Chapter 8" Cabernet Sauvignon: This Washington wine comes from vines planted in 1988, which apparently counts as an "old" vineyard. Good Lord! Bookwalter restricts the yield for its Chapter 8 to about one bottle per vine, ensuring impressive concentration. Most vines yield two or three bottles of wine. It smelled of mocha and green peppercorn, and tasted of fresh plum with dark chocolate. I loved the wine's confident, slow development from fruit to green peppercorn spice and mocha tannins. What a joy! Concentrated, yes, but with real freshness to balance. Sensational. If you can spend $100 on a bottle of wine, you'll get your money's worth with this one.
2015 J. Christopher Dundee Hills "Volcanique" Pinot Noir: Dr. Loosen is most famous for its fantastic Mosel Rieslings, but it also partners Chateau Ste. Michelle in Washington and Dundee Hills in Oregon. And anything the Doctor has his hands on is bound to be good. Clifford Robben, CFO for Dr. Loosen USA poured this Pinot, which had a bright cherry, cough syrup aroma, leavened with a bit of dust and vanilla. (That's a very enticing aroma, if you're in doubt.) It's a cherrypalooza to start with, moving to white pepper spice and some soft, supple tannins on the finish, with no sag in the middle, as sometimes can happen with lighter-bodied wines. Great balance, and I would certainly pay the $30 price.
2013 G. Cuneo Ripasso Red Wine: I had a little trouble hearing owner and winemaker Gino Cuneo, but I believe he said he dries the grapes for three and a half months on mats, before crushing them. Ah yes, he's pouring a Walla Walla ripasso, similar in style to an Amarone! I am IN. This blend of Barbera, Sangiovese and Nebbiolo was quite a transparent ruby-red, and wow, it's nimble, with big cherry fruit, bright and juicy sour-cherry acids, and supple tannins. It's lighter and less raisiny than I would have expected, but nevertheless, it's beautiful. A very good deal at $45 a bottle.
2016 Artesana Tannat Merlot Zinfandel: This winery is a project of three girlfriends, according to the presenter, who is foolishly trying to present two wines. In speed blogging, that immediately makes me hate you. This blend incorporates the first and only Zinfandel produced in Uruguay. It has a heady, dark red-fruit aroma, and it's really lovely, but the chatter about the other wine is driving me crazy. It's a full, ripe, tannic blend, with sparkling spice and acids keeping it balanced. I rather love it, especially at the $20 price — that's a great deal. They should have just focused on this wine, since it's so good. I've had mixed experiences with Uruguayan wines in the past, but if this bottling is any indication, they're making some delicious stuff down there these days.