11 October 2014
Comments Off

on Ancient, Rare And Californian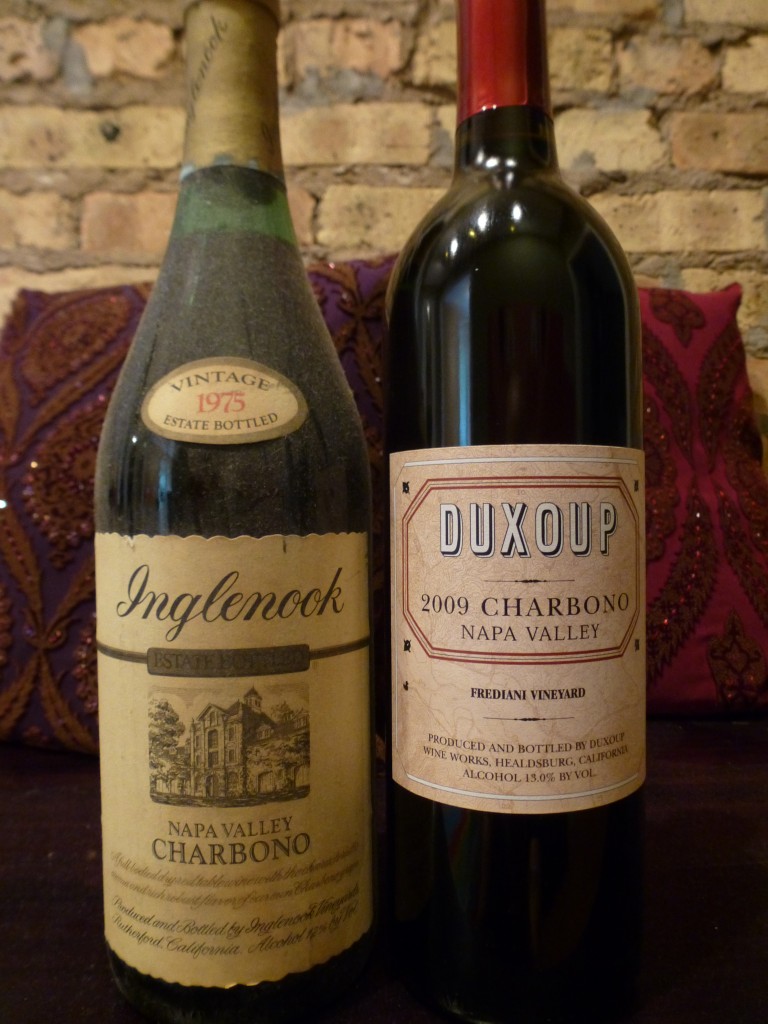 I only ever kept perhaps three or four bottles of wine in my home at a time, until one day, when I was about 25, my father acquired some cases of 1975 Inglenook Charbono. In an act of great generosity, he gave me one, and quite suddenly and unexpectedly, I had a wine collection. Lacking a cellar, I lovingly stored the bottles in my studio apartment in the cinder blocks forming my bookcase, saving them for special occasions. These old bottles were what started my wine collecting habit, and the thought of Charbono still gives me a tingle.
Charbono also stirs my soul because of its rarity and age. Plantings of Charbono predate Cabernet and Pinot Noir in France, according to Duxoup Wine Works. This ancient variety was once thought to be Dolcetto, according to The Oxford Companion to Wine, but DNA profiling "established that it is identical to the virtually extinct Corbeau of the Savoie region in the French Alps."
Now, the center of Charbono production is California, half a world away. According to this 2004 article in The Wine News, Charbono arrived with immigrants from northern Italy, who thought they were bringing cuttings of Barbera with them. Since Savoie borders northern Italy, it seems some Charbono got mixed in as well, and it ended up in California vineyards.
Inglenook was the first winery to make a varietal Charbono wine, according to The Sotheby's Wine Encyclopedia, but it no longer continues that great tradition. Francis Ford Coppola bought the winery in 1995, and in an act of supreme anti-romance, he had the old Charbono vines growing in front of the Inglenook chateau torn out and replaced with the more lucrative and popular Cabernet Sauvignon. Inglenook produced its last Charbono vintage in 1998.
Fortunately, other winemakers in California still produce Charbono varietals, and approximately 89 acres of Charbono vineyards remain, according to this 2013 Wine Country Getaways article.
Duxoup makes some of the best. The winery sources its fruit from the Frediani Vineyard, comprising 10 acres of old Charbono vines along the Silverado Trail: "The most sought-after Charbono on the planet," according to The Wine News. A couple of years ago, I spotted a bottle of 2009 Duxoup Charbono at In Fine Spirits, and despite its price tag of about $20, I couldn't resist. Here was the first Charbono I'd encountered since I received the case of Inglenook in 2001.
I took the bottle to 42 Grams, an upscale BYOB restaurant tucked away in Chicago's Uptown neighborhood. It was a delight, with aromas of rich, dark berries and plum. Forceful and big, it tasted of ripe, dark, dusky fruit, and I was impressed by its focused acids and well-balanced tannins. I don't often spend $20 on a bottle of wine, but for something so rare, ancient and well-crafted, $20 seems like a steal. You can purchase the 2011 Duxoup Charbono from the winery's website.
I still have one bottle of the 1975 Inglenook left. I opened my second-to-last bottle last year — I brought it to a beautiful lunch at the Terlato mansion-headquarters in the northern Chicago suburbs. The lunch wasn't about this wine, so I only took brief notes: "Raisins, iron, earth — a bit of structure left, by God!"
Yes. That's exactly how I remember it.