21 March 2017
Comments Off

on Terroir, Schmerroir: Dave Phinney's "Locations" Wines
I can think of no buzzier buzz word in the wine world than "terroir." How often do we read something about how a wine reflects its terroir or expresses its terroir? The phrases describe a wine that represents where it was made, with clear influences from the local climate and soil in its aroma and flavor. Americans are relative newcomers to the concept — we tend to think in terms of grape varieties. It's the French who have developed the potential of terroir to its fullest extent, as evidenced by regions like Burgundy, where vineyard site is everything.
Nowadays, everyone is jumping on the terroir bandwagon. You can find single-vineyard wines everywhere from the Okanagan Valley to Central Otago. And the fashion for "terroir-driven wines" only continues to grow.
It takes some guts, therefore, to say screw it, I'm going to make a really delicious wine from Portugal or Argentina or wherever, but about 35,000 thousand square miles is as far as I'm going to narrow it down in terms of terroir. Even in California, most respectable winemakers restrict their bottlings to at least a single region, like Napa or Sonoma. A label that simply says "California" doesn't ordinarily inspire confidence. Unless, that is, that label is on a wine made by master blender Dave Phinney.
California-based Phinney founded a wildly popular and critically acclaimed red blend called The Prisoner (a brand he sold in 2010), as well as the highly regarded Orin Swift Cellars. Blends from both companies have appeared in Wine Spectator's Top 100 lists (and even Top 10 lists), indicating that Phinney "has a knack for mixing and matching vineyards and grapes," as Wine Spectator puts it.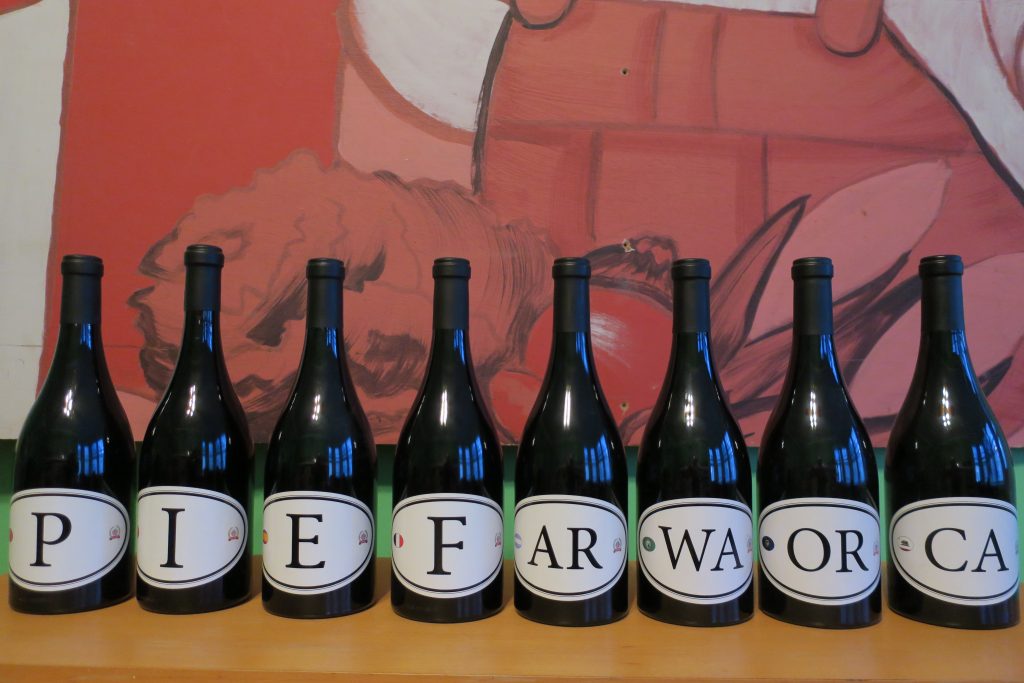 His new venture, Locations, would seem to be all about terroir, given the name, as well as the first sentence of the winery's Philosophy statement: "In the world of wine there are compelling Locations that exist where soil, climate and vines interact to produce grapes that uniquely express their Location through wine." But Phinney goes on to lament that "laws and restrictions [discouraging cross-appellation blending] make it near impossible to express true winemaking freedom." The goal of Locations is to combine grapes from top vineyards across several different regions in, say, Italy, to create a new and entirely unique blend that represents the country as a whole. So in a sense, these wines simultaneously celebrate and obliterate the concept of terroir.
With a collection of nine bottles of Locations, sent to me by the winery's PR company, I decided it was time to host a blind tasting. I lined the bottles up, turned them around, mixed them up and bagged them, so that not even I knew which bottle was which. My group, a mix of wine professionals and amateurs, had a spirited debate about which wine came from where. We only occasionally all agreed, but there was general consensus that this was one of the most consistently enjoyable tastings I've ever held.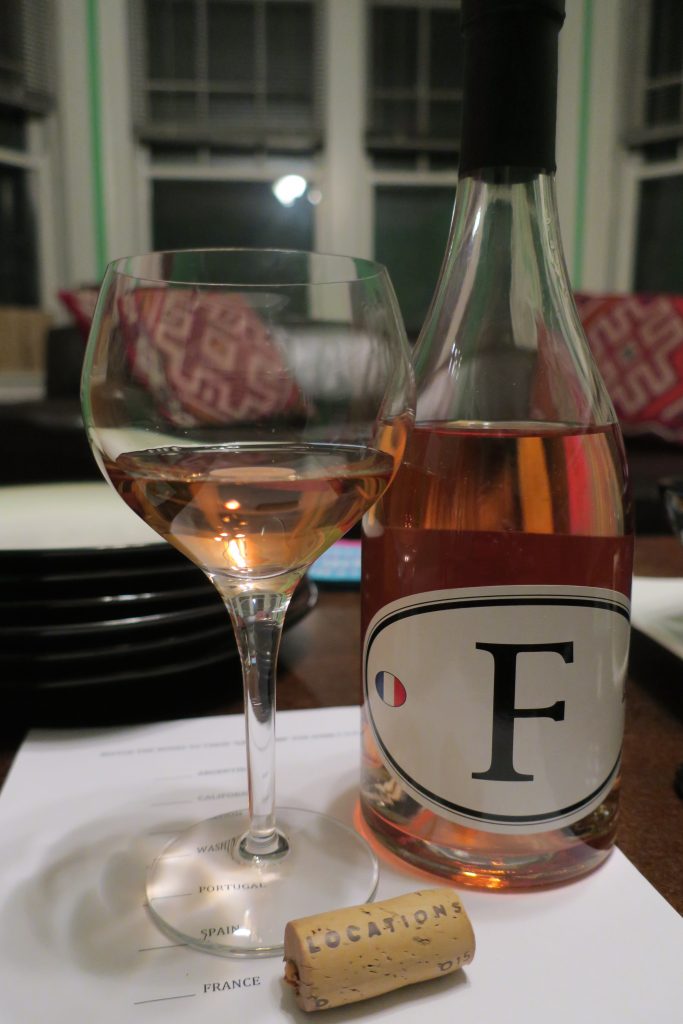 All the wines were red except one, a French rosé, which I left unbagged and served as an aperitif. This 100% Grenache from the South of France tasted full and fruity, with plenty of watermelon and strawberry notes, ample acids, a pleasingly bitter note and some minerality on the finish. My friends called it "delightful," "surprising" and "f*cking good." Its weight, one taster noted, makes it an ideal rosé for winter. In America, we think of rosé exclusively as a summer wine, but why shouldn't we drink it when it's cold outside? Rosé is delicious any time of year, and if I were in the mood to splurge just a bit, I would certainly pay the $19 price for this example.
Of the bagged wines, there was only one that everyone in the group guessed correctly: Oregon, the very last bottle we tried. Oregon made it easy because it was a varietal wine, a Pinot Noir, and because it came from just one region, the Willamette Valley. I got taut cherry fruit, baking spice and a tart, rather austerely elegant finish, but others noted some cough syrup in the aroma and even a touch of Kraft caramels. "It wants fat," one taster said, and indeed, it worked quite well with some pizza topped with bacon, onion and mushroom.
All the other wines provoked disagreement, and sometimes disbelief when the country was revealed. In the order we tasted them:
Wine #1: Big and dark, with rich black-cherry fruit, soft tannins, a meaty note and some mocha on the finish. Again, there was a touch of pleasing bitterness. "It tastes way better than it smells," one friend remarked, though I rather liked its plummy aroma with vanilla overtones. I guessed Italy, thinking of grapes like Negroamaro. Others guessed Argentina and France, but it was, in fact, a blend of Syrah, Merlot and Petite Sirah from various vineyards in Washington. Oops!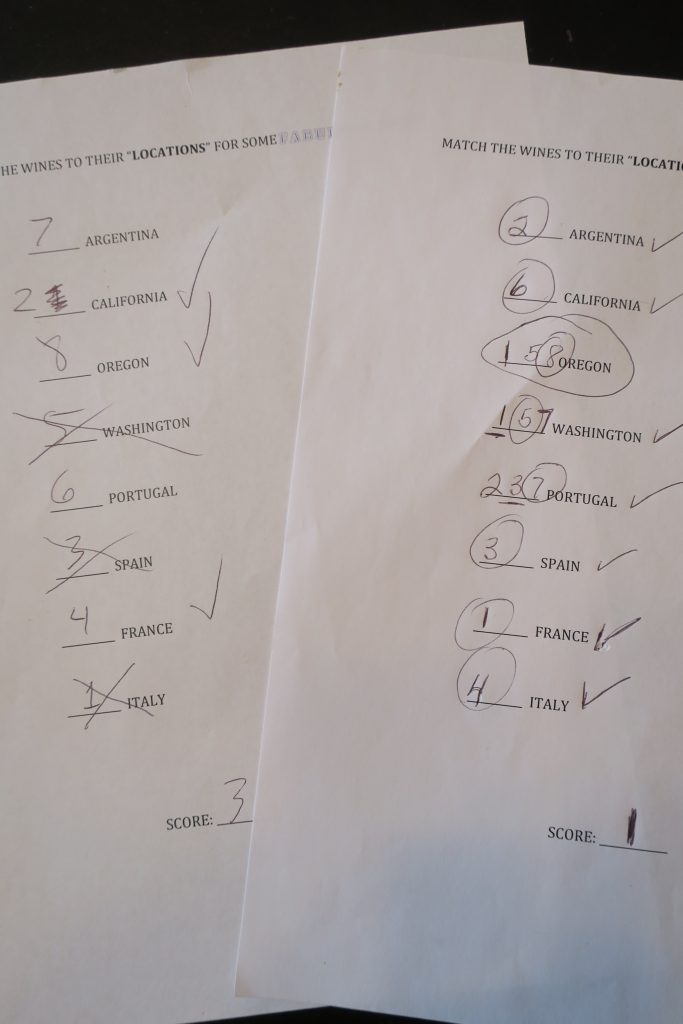 Wine #2: "Leather!" and "Cigar box!" were shouts I heard about the aroma, which also had lots of jammy red fruit.  The wine moved from ripe, ripe dark-red fruit to a big pop of spice and some rather chewy tannins. "They're flirting with my cheeks, in a good way," one taster said of the tannins. And what a fantastic pairing with that bacon/onion/mushroom pizza — big, bold and beautiful. With that kind of flavor, I guessed California, as did everyone else, except for one Argentina holdout. And California it was! A blend of Petite Sirah, Barbera, Tempranillo, Syrah and Grenache from Napa, Sonoma, Mendocino and the Sierra Foothills.
Wine #3: "Oh, that's a big boy," a taster exclaimed. I got a lot of purple from this wine — dark fruit and a tone of violets in the aroma, and on the palate, some more dark fruit (people called it everything from fresh plums to grape candy), leavened with white pepper spice and a dry, rather tannic finish. We all convinced each other that this wine was from Spain, but it was actually a blend of Touriga Nacional, Trincadeira and Touriga Franca, sourced mostly from the Douro (with a little Alentejo thrown in). So we were close: It was from Portugal.
Wine #4: A transparent garnet color, this wine had a taut red-fruit aroma marked with something savory, something meaty. "Pinot can taste like blood," one guest suggested. But the flavor made me not so sure: red fruit followed by black olive and black pepper spice, with very few tannins. Olive plus black pepper made me think of the South of France, but everyone else guessed Italy. Sometimes it pays to go against the consensus — it was indeed France! A blend of Grenache, Syrah and "assorted Bordeaux varieties" from the Rhône Valley, Roussillon (near Languedoc) and Bordeaux.
Wine #5: "Son of a bitch!" We all had trouble figuring out this one, with its hooded dark-fruit aroma, ripe dark-red cherry fruit, ample acids, pop of spice and clear, supple tannins. "Zinfandel?" one person guessed. "There's a squeaky finish on this one. On my teeth!" said another, providing one of the evening's more enigmatic tasting notes. Somewhat at a loss, we all went for Washington. The wine was from the New World, but in fact it was a blend of Malbec and Cabernet Sauvignon from the Uco Valley in Mendoza, Argentina.
Wine #6: We felt some relief when we got to this wine, with its raisiny aroma, raisiny fruit, ample spice and serious tannins on the finish. Everyone loved it, and everyone thought it was from Portugal (except for one obstinate guest who insisted on California). The raisins and tannins reminded us of Port, but unfortunately, no one was reminded of passito. Passito wines, such as Amarone, make use of partially raisinated grapes. And indeed, #6 was not from Portugal but from Italy. Argh! It was a blend of Negroamaro and Nero d'Avola from Puglia as well as Barbera from Piedmont. (I can find no evidence of passito-style drying of the grapes.)
Wine #7: "This has biting tannins, but it like it — rrrrr — it hurts so good," said one taster. "It's hot hot hot!" another exclaimed, referring to what felt like a rather high alcohol content. I got lots of dark-red fruit, black pepper, an olive note and a bit of mocha at the back of the throat. I guessed that this delicious wine came from Argentina, and others went with Portugal or France. But of course, you know that it was none of these. Instead, it was a blend of Garnacha (Grenache), Tempranillo, Monastrell (Mourvèdre) and Cariñena (Carignan) from Priorat, Jumilla, Toro, Rioja and Ribera del Duero in Spain.
All these wines retail for about $17 to $19, making them an affordable indulgence and an excellent value for the money. Different as they were, the Locations wines each had finely tuned balance and a sense of depth, enhanced by fruit that tended towards the darker end of the spectrum, sometimes leavened with something savory or briny. That's a profile I can get behind.
Dave Phinney asks, "The question is – do you break the rules, and thousands of years of history and tradition, in pursuit of expressing freedom?" There's a lot to be said for rules when it comes to wine — they're doing something right in Burgundy, after all — but Locations makes a compelling case that sometimes you should just toss the rule book into the destemming machine and go for it.
Note: These wines were provided for review free of charge.