5 December 2014
Comments Off

on Anselmi's Super Soave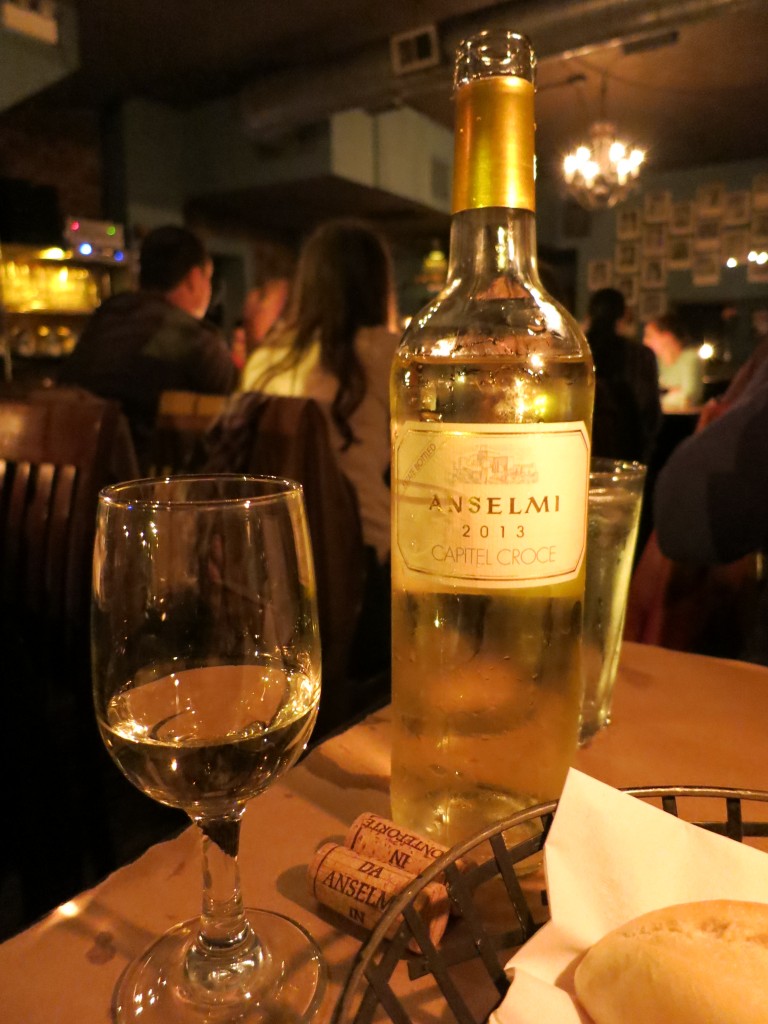 The word "Soave" does not tend to stir the heart of the oenophile. This white-wine country in Italy's northeastern Veneto region started out well, when vineyards were confined mostly to hillsides. But after Soave received DOC status in 1968, it enjoyed  "an export boom, so production flowed off the small hilly zone onto the alluvial plain of the Adige river," explains The Oxford Companion to Wine. Plains tend to produce far less interesting grapes than hills. Yields increased, leading to less-concentrated wines, and productive (but bland) Trebbiano Toscano began to invade the vineyards.
The World Atlas of Wine illuminates yet another important problem in Soave: "Almost 80% of the vineyards are cultivated by growers who deliver their grapes straight to the local co-op with no personal reputation for quality to uphold." And, in its usual laconic style, The Sotheby's Wine Encyclopedia flatly states that "Most Soave is still overcropped, thin and acidic."
It makes sense that producers devoted to quality would want to distance themselves from the Soave DOC, "…and in 2000," as Sotheby's explains, "Roberto Anselmi took his greatly admired wines out of the Soave appellation in protest." He had tried for years to reform the Soave DOC without success, and he finally had enough. He wrote an open letter to Soave announcing his break:
I'm walking out of Soave and leaving it to its fate. Let it wear out its vital cycle, good luck to it, I want my freedom. Freedom to improve, to make a great wine without inhibitions, to fly onto outstanding varieties, with better training systems, to relate to world viticulture with no boundaries, rules, bureaucracy, to create an honest market for a great white wine from my terroir, from a terroir after my own heart, where passion and imagination will no longer be obstructed. —

Roberto Anselmi, as translated on the Terlato website.
Now, Anselmi classifies his wines under the much broader Veneto IGT, making his wines akin to the Super Tuscans, which also don't necessarily follow DOC rules.
Liz Barrett, vice president of corporate communications and PR at Terlato Wines, brought two of Anselmi's single-vineyard Super Soaves to a BYOB dinner at Tango Sur in Chicago. Both vineyards, Capitel Croce and Capitel Foscarino, are high on south-facing hillsides, far from the alluvial plains disparaged in The Oxford Companion. And the wines are entirely or almost entirely Garganega, with no bland Trebbiano to intrude.
Garganega, according to The Oxford Companion, "can produce fine, delicate whites redolent of lemon and almonds which give Soave a good name." But Garganega reaches its potential only in the Soave Classico zone (in hillside vineyards), "with yields kept well in check, and where it is allowed to ripen fully." Anselmi is doing everything right, by the sound of things, and his care is reflected in his compelling wines.
We started with the 2013 Anselmi Capitel Foscarino, a blend of 90% Garganega and 10% Chardonnay from a vineyard composed mostly of volcanic tuff. The aroma had notes of grapefruit and minerals, and Barrett detected some peach. It tasted tart, but the smooth fruit and ample minerality kept things well in balance — a delicious combination. The acids ensured that this wine paired well with our appetizer.
Barrett liked the Foscarino best, but my favorite was the 2013 Anselmi Capitel Croce. This 100% Garganega comes from a vineyard with more limestone in the soil, which clearly affected the flavor. It had a sweeter aroma with some spice, and a wonderfully refined texture on the palate. I loved its creamy fruit, focused ginger spice and long finish dusted with subtle minerals. Very classy.
A quick internet search revealed that the Foscarino costs around $19-$22, and the Croce runs for $21-$25 (Barrett provided the samples to me free of charge). At these prices, such perfectly balanced and carefully crafted wines are an excellent value. I rarely pay more than $20 for a bottle, but these single-vineyard Super Soaves are now on my short list.