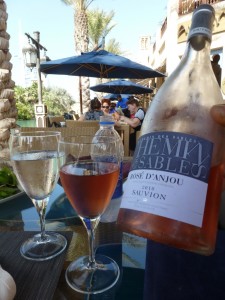 Although Allah frowns on the consumption of alcohol, so I hear, I did manage to sneak a few glasses during my trip to Dubai and Oman. In that hot, dry climate, I found myself regularly drawn to juicy rosés.
One afternoon, I sat down to a light Persian lunch of lentil-studded meatballs with pomegranate sauce and herb salad at a restaurant called Anar, set in the Souk Madinat Jumeirah. I ordered the one rosé on the menu, a 2010 Sauvion "Chemin des Sables" Rosé d'Anjou from France's Loire Valley.
Rosé d'Anjou sounded vaguely familiar, but I couldn't remember ever trying one. The color of a watermelon Jolly Rancher, it tasted fruity and fun, taking on an extra tang with the meatballs. I didn't feel moved to deep contemplation, but it was a satisfying choice for a sunny al fresco lunch.
I later went to Jancis Robinson's Oxford Companion to Wine to research Rosé d'Anjou. She doesn't pull any punches, calling it "sickly." Tom Stevenson's Sotheby's Wine Encyclopedia takes a more gracious tone, tepidly arguing that "There is nothing intrinsically wrong with a wine that happens to be pink with some sweetness." It seems Rosé d'Anjou is the White Zinfandel of the Loire Valley!