6 March 2016
Comments Off

on The Central Coast's Italian Side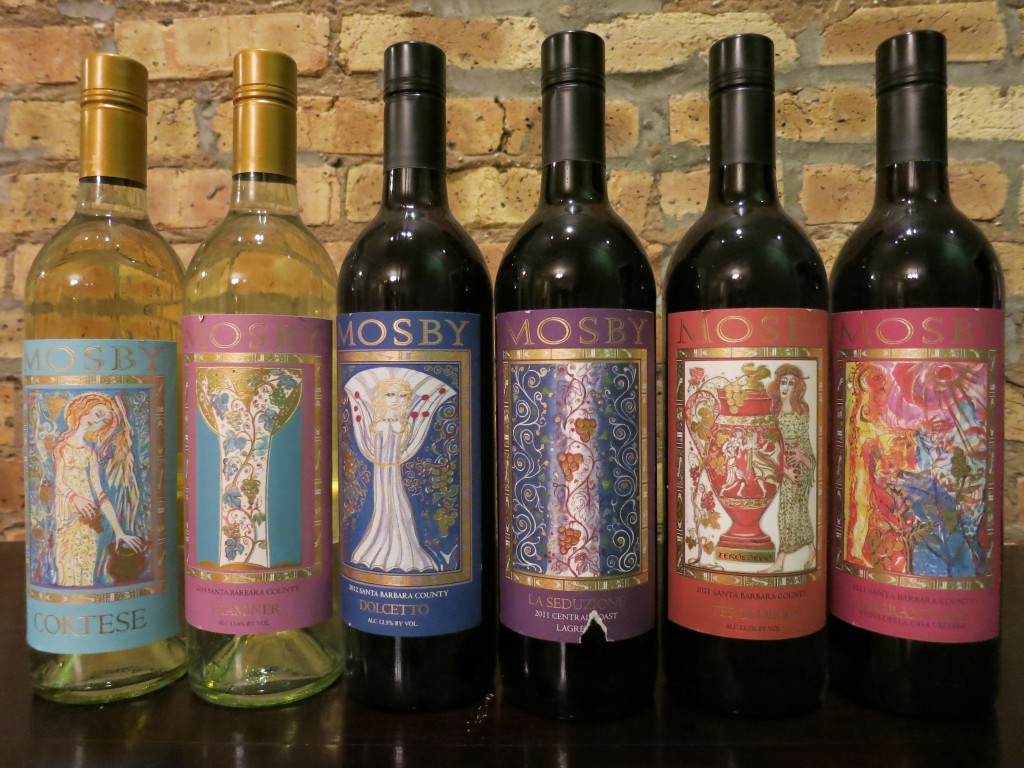 I recently mentioned to a Los Angeles resident that I write a wine blog, to which she responded, "Oh, you must get out to California all the time!" But I don't. The state produces no shortage of beautiful wines, but bottlings that qualify as unusual or obscure are a little harder to find.
That's why it was with some excitement that I read an email from a wine marketer offering to send some samples from Mosby Winery, set in the Central Coast's Santa Ynez Valley, not far from Santa Barbara. Many wineries in the area concentrate on Chardonnay and Pinot Noir, the latter made famous by the film "Sideways." But Mosby, which The Sotheby's Wine Encyclopedia describes as "interesting" and "sometimes provocative," focuses instead on a range of Italian grape varieties.
You might well wonder how grapes from sunny Italy could successfully grow near cool-climate Burgundian varieties, but Italy has its share of cool wine regions, too. Some of the country's greatest wines come from northern areas like Piedmont and Alto Adige. Nor is the Santa Inez Valley a cool-climate monolith. In fact, according to The Oxford Companion to Wine, "Although far from being the only schizophrenic AVA in California, the Santa Ynez Valley comes close to being the extreme case." Parts of it grow Pinot Noir well, but other warmer sections, Cabernet Sauvignon and Syrah are perfectly at home.
I had planned on cooking some sort of Italian feast to accompany the six wines I received, but I must admit my grand visions of fresh-made tagliatelle with porcini and osso buco with polenta never quite came to fruition. Instead, one of my tasting crew offered to bring a salad, and I ordered pizza. The food may have been simple, but the wines, by and large, proved delightful.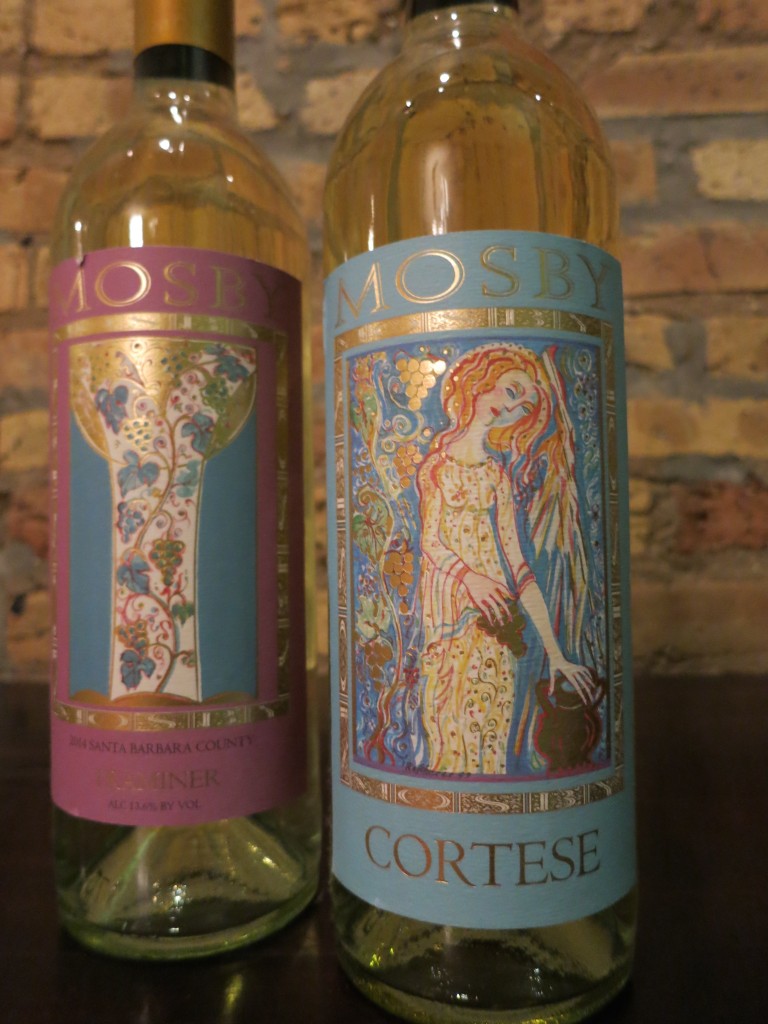 2013 Mosby Cortese: According to the Oxford Companion, wine made from Cortese — most commonly Gavi from Piedmont — is, at its best, "clean and fresh." This example had a heady, rather sweet nose of honeycrisp apple, but it tasted quite dry, its ripe fruit quickly overtaken by tight acids and a hint of something smoky or even burnt. Two friends immediately dismissed the wine, but a third taster defended it. "I like it," he said, "but then, I like funky, Old World-style wines." I rather do too. In any case, this wine needs food — I wouldn't drink it on its own. With the salad of fennel, grapefruit, beets and goat cheese, it felt crisp, clean and balanced. $19
2014 Mosby Traminer: Many wine drinkers are familiar with Gewürztraminer, grown with particular success in the Alsace. Traminer is a clone of this famous variety, which quite possibly originated in the village of Tramin in Italy's Südtirol/Alto Adige region. The Oxford Companion calls it "non-aromatic," but this wine certainly couldn't be classified as such. It smelled of white flowers, like lily of the valley or jasmine. The fruit felt lush on the tongue, but the wine was essentially dry, and it finished with a pop of spice. Dry, floral wines aren't for everyone though, even when well-balanced, and the Traminer, like the Cortese, proved controversial among my tasting group. $20
2012 Mosby Dolcetto: This grape, which tends to produce relatively soft and fruity wines ("dolce" means "sweet" in Italian), grows most commonly in Piedmont. Dolcetto ripens early, and most Italians plant it in vineyards where other grapes don't tend to reach maturity. But I have a feeling that Mosby's Dolcetto grapes receive plenty of sun, because the red fruit flavors in this wine were delightfully rich, balanced by plenty of black pepper spice. Another taster exclaimed, "Asian salted plum!" and indeed, this wine had a pleasant saline note in its finish. The sausage-topped pizza tamed the black pepper notes, which had at first been too prominent for my taste. $28
2011 Mosby Teroldego: Unfamous Teroldego grows mostly in Trentino, a region in Italy's far northeast near Slovenia. The Oxford Companion makes it sound like an Astor or Rockefeller of the wine world, describing it as an "old, well-connected grape variety." In the hands of Mosby, it produced a wine universally popular with the group. "Teroldego is the winner so far," one taster remarked, and I can't deny that I loved this wine. It had an inviting aroma of dusky, dark cherries. The dark red and purple fruit flavors were very ripe and round, shot through with focused white pepper spice. Soft tannins gave the wine an elegant finish. Superb. $32
2011 Mosby "La Seduzione" Lagrein: Most commonly found in Alto Adige and Trentino, little-known Lagrein has quite the pedigree as well. According to the Oxford Companion, this grape is "a progeny of Teroldego, a grandchild of Pinot, and a cousin of Syrah." That heritage qualifies as royalty in my vine peerage. The wine smelled of ripe dark fruit and mocha, and it tasted rich and full. Lots of up-front fruit gave way to a chocolate note and slow-building spice, with a finish of supple tannins and a raisin tone. It felt even bigger when paired with some pizza. I certainly was seduced by this thoroughly delicious wine, and I was left wondering why more people outside of northeastern Italy don't produce it. $32
2011 Mosby Sagrantino: Mosby claims to have produced the first domestic Sagrantino in 2006, and the winery is surely still one of the very few outside of Umbria growing this variety. It appears mostly in wine from Montefalco, where "the overall level of viticultural and oenological sophistication… is not high," argues the Oxford Companion. But the variety "shows promise," it says, and Mosby's version illustrates that fact. The wine had an enticing, rather brooding aroma of dark fruit. It felt beautifully balanced, with ripe blueberry jam notes leavened with sharp, persistent spice, leading to a dry and softly tannic finish. $38
As evidenced by the polarized reactions of my friends, Mosby's white wines aren't for everyone. Buy them only if you're a fan of Old World-style whites. The reds, however, were quite popular with everyone, including me. Mosby may be provocative, but its wines have real substance to back up their novelty.