9 August 2014
Comments Off

on Postcard From Mexico – Sotol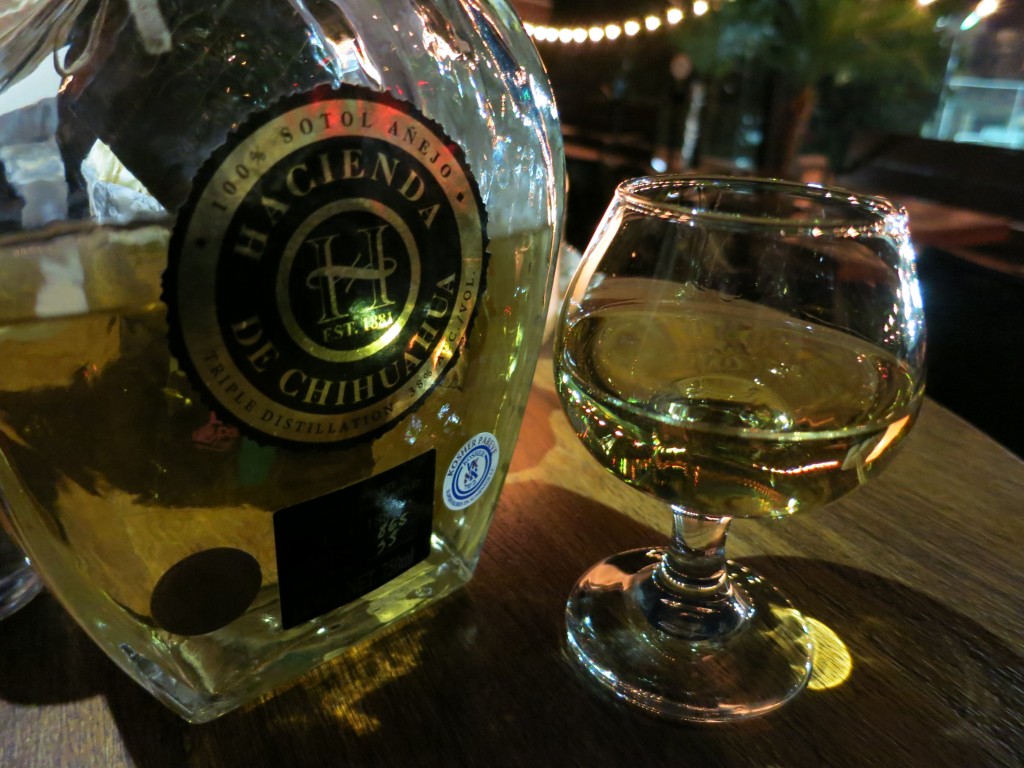 Few drinkers are unfamiliar with tequila, that famous Mexican spirit distilled from blue agave which makes its way into margaritas and tequila sunrises. Smoky mezcal, which can be distilled from a range of different agave species, has also become relatively famous in recent years. I even had a delicious Negroni in faraway Vienna recently, in which the creative mixologist had replaced the gin with mezcal. But I had certainly never heard of sotol, a sister spirit to mezcal and tequila.
Sotol comes primarily from the desert spoon agave (Dasylirion wheeleri), though according to the menu of La Tequila in Guadalajara, other varieties such as duranguensis, palmeri and acrotiche agave can be included as well. Each desert spoon agave takes about 15 years to mature, if Wikipedia is to be believed, and each plant yields only one bottle of sotol. So it's no surprise that shelves in liquor stores aren't overflowing with the stuff (blue agave plants can yield up to 10 bottles of tequila or even more).
Because sotol is produced in a manner similar to mezcal — smoking the hearts of the agave plants in an open pit and then fermenting the juice before distillation — there are similarities in flavor. The desert spoon agave, however, makes sotol unique in the same way that blue agave gives tequila its own special flavor.
I tried a Hacienda de Chihuahua Añejo (like tequila, añejo sotol must be aged at least one year in oak), and it was a delight. A light green-gold color, it looked like it could have been a Sauvignon Blanc. The lovely vanilla aroma along with notes of smoked paprika indicated otherwise, however! When I took a sip, I thought it was going to hit me with a bang, but it proved to be quite smooth. The sotol started lush and rich, with some sweet flavors that slowly developed into gentle smoke and red-pepper spice flavors.  Very elegant, and surprisingly easy to drink neat.
Sotol comes from the northern Mexican states of Chihuahua, Coahuila and Durango, but bottles filter down to specialty bars such as La Tequila, and I found at least one or two shops in the U.S. offering bottles. But it's rare, so if you do happen to see a bottle, don't miss the chance to snap it up.