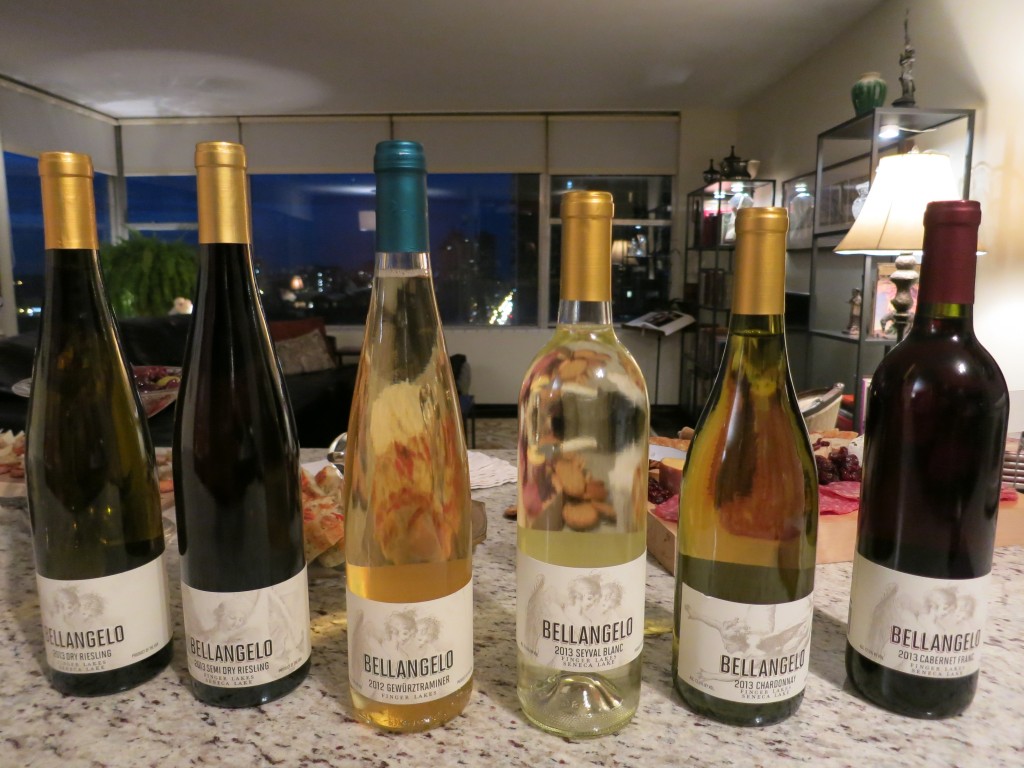 Although New York makes more wine than any other state except for California, it's far easier to find bottles from Washington and Oregon than the Empire State. A characteristically grumpy Sotheby's Wine Encyclopedia explains why:
As New York has just one-tenth of Washington's vinifera area, yet makes twice as much wine, the bulk of New York's production can only be from native grapes. Only a bigot believes it impossible for native grapes to ever make a fine wine, but they are few and far between — certainly not even half of one per cent; it is the 99.5 per cent of New York's native grape wines that are ruining the efforts of this state's best vinifera wineries to create an international reputation for New York wine.
One might reasonably wonder how vinifera grape varieties (classics such as Chardonnay, Cabernet and Riesling) could even survive — let alone thrive — in New York, a northern state subject to harsh winters. In the case of the Finger Lakes region, the answer lies in a lucky stroke of geography.
Glaciers carved deep lake beds with steep banks of slate-rich soil. The lakes, notably Cayuga, Seneca and Keuka, store heat and help warm the surrounding landscape. "…Cold air sliding down the steep slopes is warmed by the lake and rises," as The Oxford Companion to Wine explains, "permitting more cold air to drain from the hillside." This satellite photo, also found in The World Atlas of Wine, shows how the land adjacent to the larger lakes has less frost than land farther away. The steep banks also drain water well, important for healthy vine roots.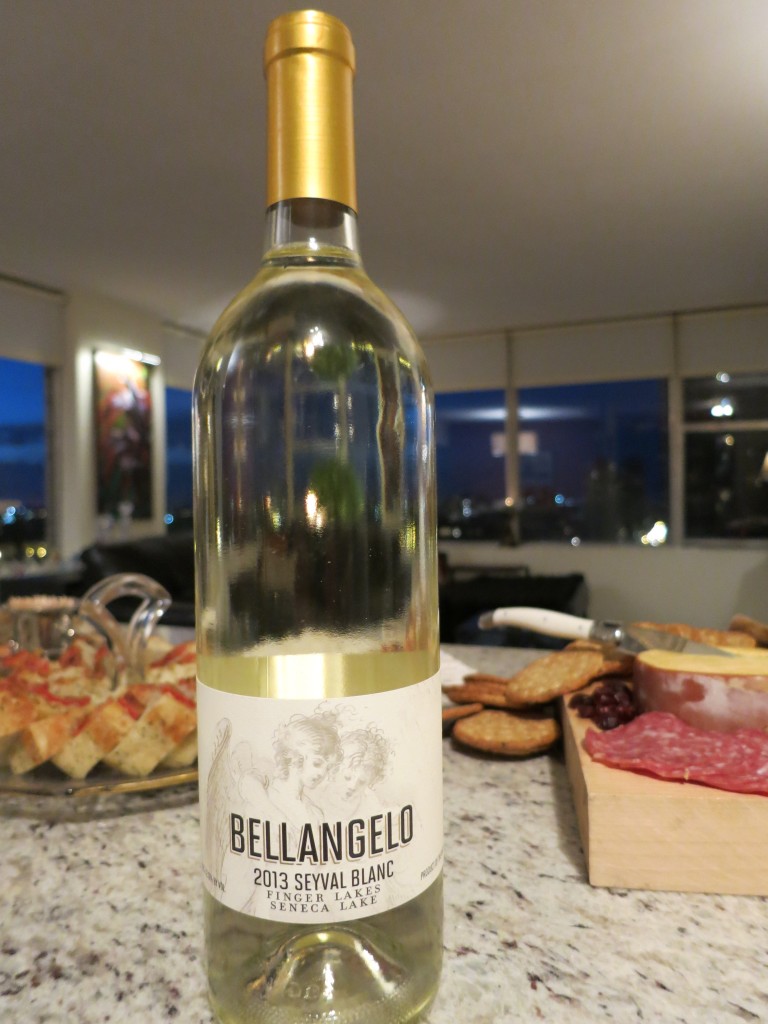 Wine growing in the Finger Lakes region dates back to the 1820s, according to the Oxford Companion, and one of its newest fine vinifera wineries is Villa Bellangelo, set in a prime location on the west shore of Seneca Lake. The current owners of the winery, the Missick family, discovered the property on a wine-tasting tour following a 2009 wedding nearby. When it went up for sale in 2011, the Missicks acquired it and initiated extensive renovations, including installing new stainless steel fermentation tanks and a new crush pad.
Christopher Missick recently sent me free samples of six Villa Bellangelo wines, mostly from the 2013 vintage. I assembled a small group of friends to try them, and we were all impressed by the quality, especially considering that these wines represent the Missick's third vintage ever. Here's what we discovered:
2013 Seyval Blanc: This variety is a French hybrid well-suited to cool climates, according to the Oxford Companion. Although this hybrid has some non-vinifera genes, it can make a very pleasing wine, as evidenced by this example. We noted aromas of green apple, dried herbs and light honeysuckle, and tasters liked its "Rieslingly flavor." It had taut white fruit, smooth white-pepper spice, a hint of sweetness and enough acids to keep it balanced. The acids became more prominent and orangey with some caramelized onion and Parmesan crostini. Not too shabby for $16.
2012 Gewürztraminer: A "very perfumy" wine, as one tasting companion noted, this Gewürztraminer had a delightful aroma of honeysuckle. It feinted briefly towards honeyed fruit, but moved almost immediately to warm, gingery spice and some hay. The finish had a not-unpleasant bitter note, punctuating the dryness of this floral and fruity wine. One fellow taster remarked, rather distressingly, that this wine "tastes like [his] grandmother's neck." Now there's a tasting note you don't hear every day. $20.
2013 Chardonnay: The grapes for this wine come from the Sawmill Creek vineyard on the east side of Seneca Lake, opposite the winery. I smelled a light caramel aroma, and another taster detected "something burnt — but in a nice way." Others smelled wet stone and dried pasta, and I would concur. It had a buttered popcorn flavor, but this was no butter bomb. The wine was quite lively and balanced, with judicious oak, notable spice and a long finish. It worked especially well with olives, which brought out more of a vanilla note. An excellent value for $20.
2013 Dry Riesling: The soil composition came through clearly in this wine, which had a slatey aroma with something rich underneath (some also described the nose, not unfavorably, as "shower curtain" and "Band-Aid"). It tasted very juicy, with green-apple fruit, lemony acids and a very dry finish. Paired with bleu cheese, it felt richer and rounder. I liked its austerity, as did about half the group, but one taster called it "the least compelling so far." $19.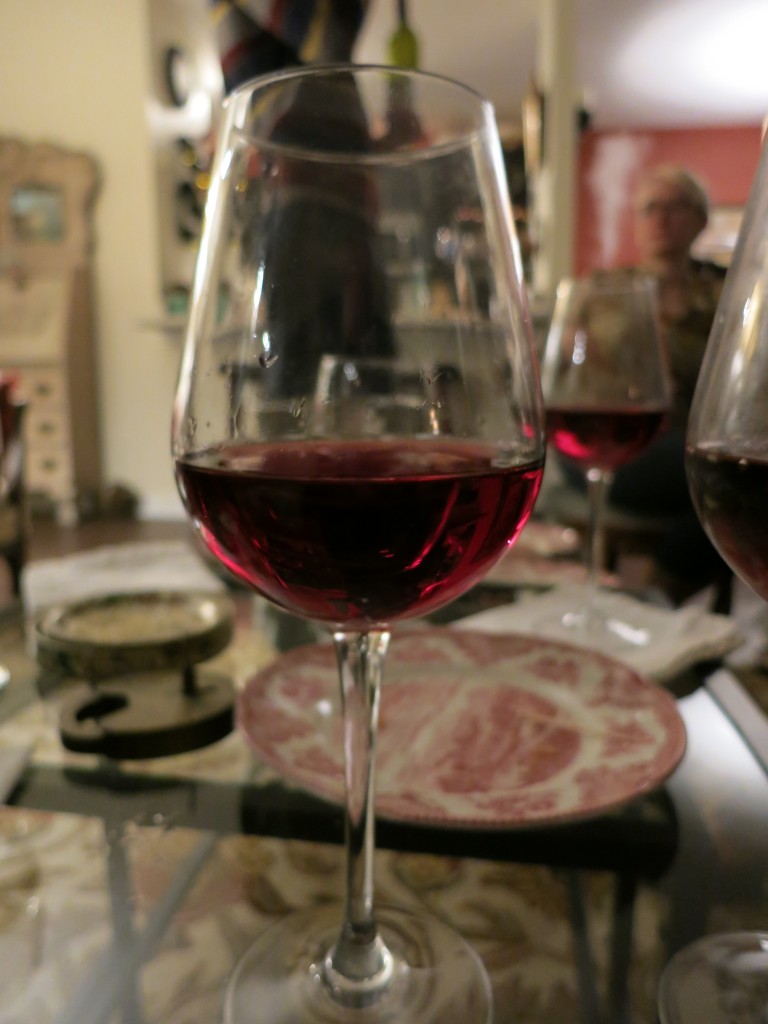 2013 Semi-Dry Riesling: The surprise hit of the evening, this wine had appealing aromas of honeyed red apple overlayed with some bright freshness. I liked its appley fruit and orangey acids, which balanced out the light sweetness. The entire group was enthusiastic about this wine, exclaiming, "This is by far the best," and, "I don't usually like Riesling, and I like this," and even, "This is the wine I would like to go home with." Very fun, and a very good value for $18.
2013 Cabernet Franc: As The World Atlas of Wine notes, "some very fine Cabernet Franc is made in the most benign years" in the Finger Lakes. This example smelled of ripe red fruit and vanilla, and on the palate it had cherry fruit, black pepper spice and an aromatic almond note. "Maraschino cherry pits!" exclaimed a fellow taster. I liked its ample fruit and rustic texture, but the wine again divided the group. $18.
Although some of these wines were controversial, each was clearly crafted with care. I especially loved the floral but dry Gewürztraminer, the rich Chardonnay and the well-balanced Semi-Dry Riesling. These wines leave no doubt in my mind that exciting things are happening in the Finger Lakes.
I can't wait to discover more of what the region has to offer when I head there in August to attend this year's Wine Bloggers Conference. I have a feeling we'll all be pleasantly surprised by what we'll find.