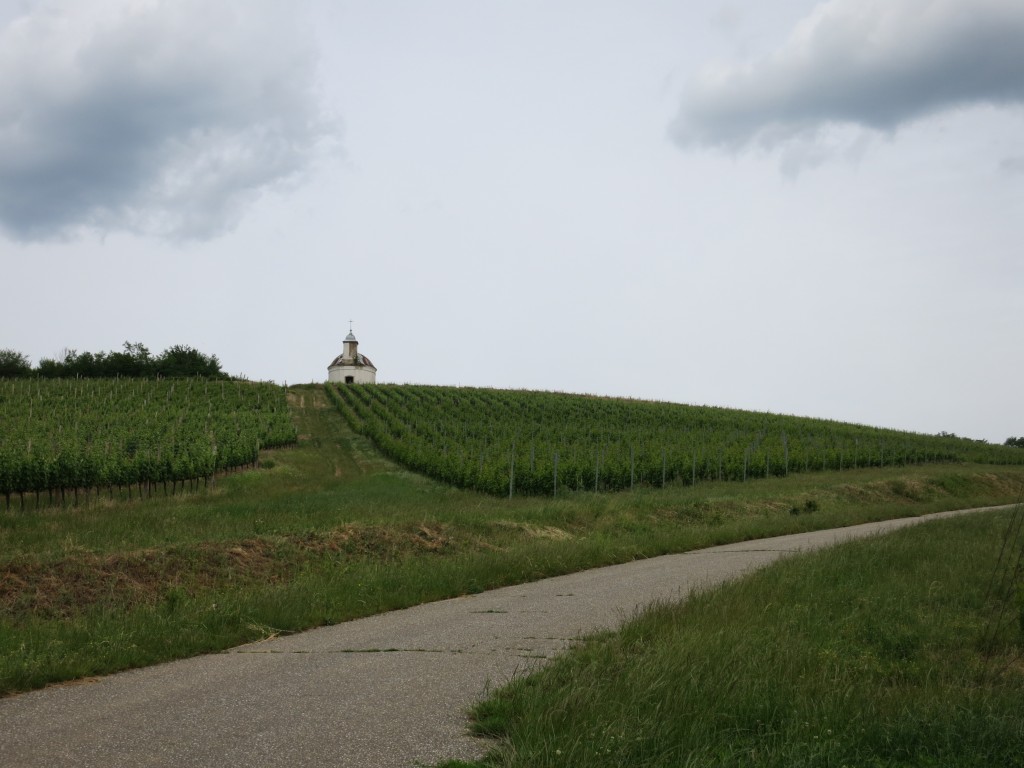 Eastern Europe has only one historically great wine region. Many parts of Eastern Europe are capable of producing top-quality wine, certainly, but Tokaj in Hungary stands in a class apart. Its vineyards were classified some 150 years before those of Bordeaux, and its wines were coveted by the Russian and French royal courts for generations.
But Tokaj had a rather rough 20th century, to put it mildly. It had yet to fully recover from phylloxera when World War II hit, and when peace finally came, the communists took over, nationalizing wineries and putting quantity far ahead of quality. Fortunately, some winemakers in Tokaj stubbornly stuck to tradition, producing excellent wines against all odds and passing down their knowledge to the next generation.
Nowadays, Tokaj is no longer recovering from phylloxera, nor war, nor the depredations of communism. Tokaj has unquestionably returned to full, triumphant health. If I learned anything during my two-day stay in Tokaj, I learned that. Tokaji wine is no longer the "legendary" wine of the czars. There's nothing legendary about it anymore. The wine exists. It is there, in all its regal glory, ready to be tasted by anyone willing to visit.
Wine lists in Budapest typically have several options from Tokaj, but nothing compares with going straight to the source. I started with a winery named for Czarina Elizabeth, Erzsébet Pince.
Its cellars, built into a hillside in the town of Tokaj itself, date back to at least 1743, but just five houses down, the cellars bear an inscription dating back to the 16th century. They smell of sweet, old wood and are caked in layers of beneficial black mold, which helps maintain a constant level of humidity, explained owner Hajni Pracser. Her parents started work for the state wine company in 1974, and they founded Erzsébet Pince in its current form in 1989 (its first vintage, however, was not until 1993). They now produce about 10,000 bottles per year, and plan on working up to a maximum of 20,000.
If you can find an Erzsébet Pince wine, don't hesitate to buy it. We sat down to a tasting on the terrace of Pracser's winery/home, and each of the wines I tried was a delight:
2012 Lunée: This cheerful 100% Muscat Blanc had aromas of honeydew and orange peel. There was the expected sweet Muscat fruit on the palate, but it was very light on its feet, with tart, lively acids.
2011 Zafir Dűlő: A blend of 60% Hárslevelű and 40% Furmint, which are classic blending partners in Tokaj — the Hárslevelű adds perfume and softness to the spicy, fiery Furmint. Its name refers to the Zafir vineyard (dűlő), set on a south-facing hillside near Tarcal. This privileged location yielded a predictably excellent wine with a nose of fresh wood and peach pie. It had honeyed fruit, focused acids, some white pepper and notes of oak. I wrote, "Scallops, please!"
2012 Zafir Dűlő: The following vintage had more of a pie-crust smell topped off with citrus, and the flavor had a more distinct orangey note. Again, balanced and zesty.
2012 Estate Furmint: This brilliantly light-gold 100% Furmint comes from the top-quality Zafir and Király vineyards. There was that lovely citrus in the nose again, along with brioche and something floral. It felt very elegant, with notes of bread and fresh white fruits. Sharply focused acids kept everything tightly in balance.
2011 Betsek Dűlő: The Betsek vineyard outside Mád is very stony, in contrast to the clay-heavy Király vineyard. That minerality appears clearly in the finish of this wine, a blend of 90% Hárslevelű and 10% Kabar, a new crossing of Hárslevelű and Bouvier. It smelled rich and round, with an unusual note of caramel. Aromatic and fruity, the wine felt round and juicy, with lemony acids, a bit of funk and something that reminded me of a baked good, like a danish. The stony finish left no doubt, however, that this is essentially a dry wine.
2012 Király Dűlő: Király is one of Tokaj's top vineyards, and it shows in this 100% Furmint. It had a light brioche and lime aroma, and notes of white flowers and honey. Bright acids maintained strict balance, and the finish kept going and going. A delight.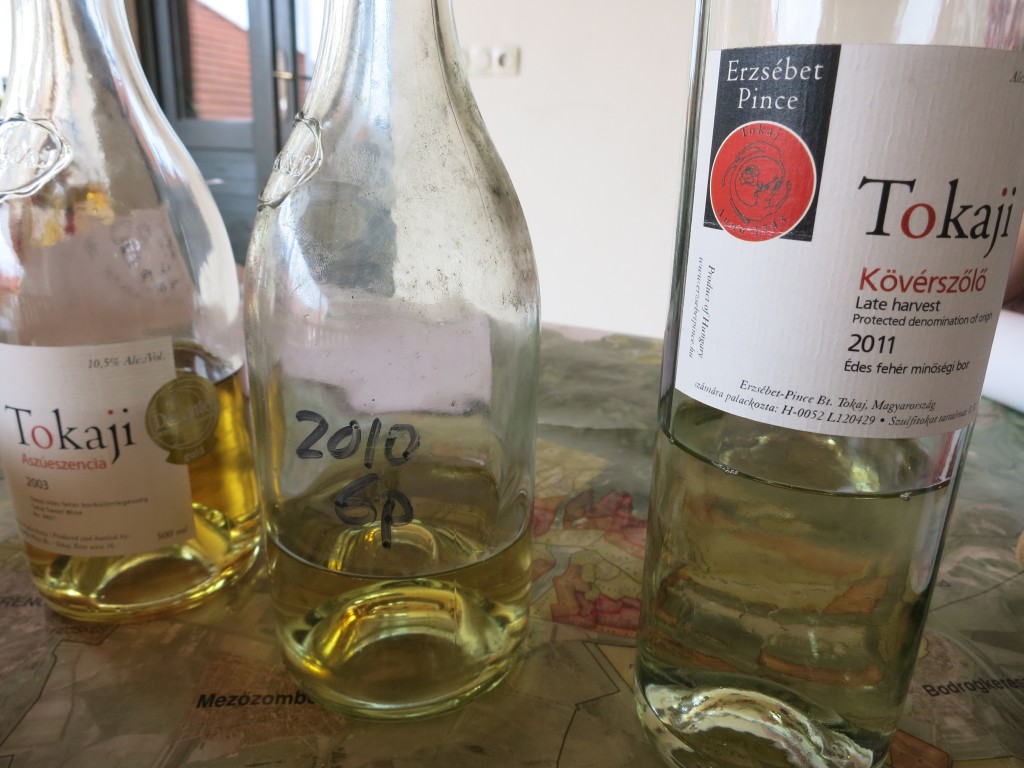 2011 Late-Harvest Kövérszőlő: This variety, also known as Grasa de Cotnari, almost died out in Tokaj during the phylloxera epidemic. But it was revived in the late 1980s and 90s, and a few wineries like Erzsébet produce varietal wines from it. It had a fresh honeyed aroma, but despite its high sugar content, it did not feel at all syrupy. And not because of powerful acids — instead, there was a wonderfully light, ethereal quality to this wine. 
2004 Szamarodni: Aged for four years in a 500-liter oak barrel, this wine takes on an oxidized, sherry-like character. It smelled of honey and wood but tasted very dry, with lemony acids and more notes of wood. Woodsy, yes, but balanced nevertheless.
2010 Tokaji Aszú 6 Puttonyos: Very simply, the more puttonyos in a sweet, Sauternes-like Aszú wine, the higher the sugar content and the richer the flavor (see more specifics here). Six is the maximum, and as of very recently, five is now the minimum (you can still find three- and four-puttonyos wines from past vintages, however). This wine saw two years in new oak, but it retains a very light color and most important, an underlying freshness. It had the classic green honeyed aroma, and richly honeyed fruit balanced by orangey acids. Even so, as Pracser noted, "Your palate is left dry." No mean feat, considering the sugar content. If you think you don't like dessert wine, this one might just convert you.
2003 Tokaji Aszú 6 Puttonyos: A vibrant amber, this vintage had a darker honey aroma, but it was leavened by some freshness underneath. Thick and rich, the wine had notes of butterscotch, cream, tropical fruit and apricots, kept somehow in balance with prickly acids. Fantastic.
1999 Tokaji Aszú 5 Puttonyos: At this age, the wine had turned a shiny caramel color, and the aromas had turned towards brown sugar, burnt caramel and molasses (Pracser also pointed out leather and plum jam). Flavors, too, became more complex — orange marmalade, tobacco, even mint. The wine felt rich and deep, yet still very light on its feet. What a joy to drink.
1993 Tokaji Aszú 5 Puttonyos: This wine, from Erzsébet Pince's very first vintage, had mellowed in its age, with dark, dusky flavors of caramel and candied orange. Yet it was still quite lively, with round acids and some soft tannins on the finish. Even after 21 years, the wine still felt wonderfully alive.
Wine writers who discuss Tokaj love to relate how the czars defended their shipments of Tokaji wines with special detachments of cossacks. But really, when you've got wines like these, is it any wonder?