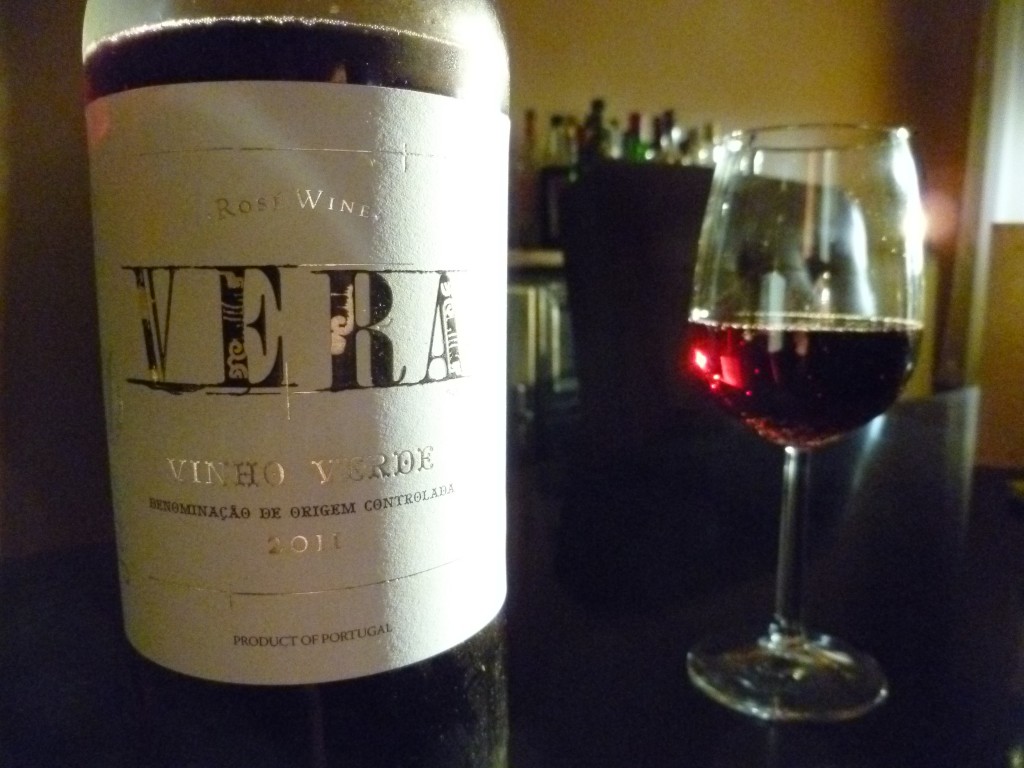 I'm not usually a fan of Vinho Verde, which translates as "green wine," so-called because it's typically consumed very young. Portugal's famous low-alcohol, semi-sparkling wine usually tastes too tart for me. It's been years since I've bought a bottle of the stuff. But my dry spell finally came to an end when I came across a bottle of 2011 Vera Vinho Verde at Binny's. It's not white (or green) at all — it's rosé.
A semi-sparkling Portuguese rosé might bring back memories of Mateus, but this wine from the northerly Minho region looks nothing like that mass-market precursor to White Zinfandel. Though called "rosé," the Vera's cherry-red color could barely qualify as pink. A red Vinho Verde? And with 11.5% alcohol, no less? I was most intrigued, and I snapped it up.
There's a reason I had never seen a red Vinho Verde on the shelves before. According to The Oxford Companion to Wine, "Foreign palates struggle with these deep-coloured, rasping reds, and although it is still prized locally, little red Vinho Verde leaves the north of Portugal." I suspect foreign marketers also struggle with varieties such as Vinhão and Rabo de Anho, which make up 60% and 40% of the Vera, respectively.
Vinhão, at least, is in the Companion. Also known as Sousão, this variety is "widely planted in northern Portugal, where the wine is notably high in acidity as well as colour…" The label on the bottle translates Vinhão as "big wine."
But the Vera label declares that Rabo de Anho "does not translate at all," and it may be right. I can find precious little about this variety, the first variety I've encountered which doesn't have an entry in the Companion. According to Wikipedia, it shouldn't be confused with the white-skinned Rabo de Ovelha, a variety the Companion also notes as white. But the website vinhoverde.pt regards Rabo de Anho and Rabo de Ovelha as synonyms. So I don't know what the heck is going on.