28 January 2017
Comments Off

on Lodi's Most Important Winery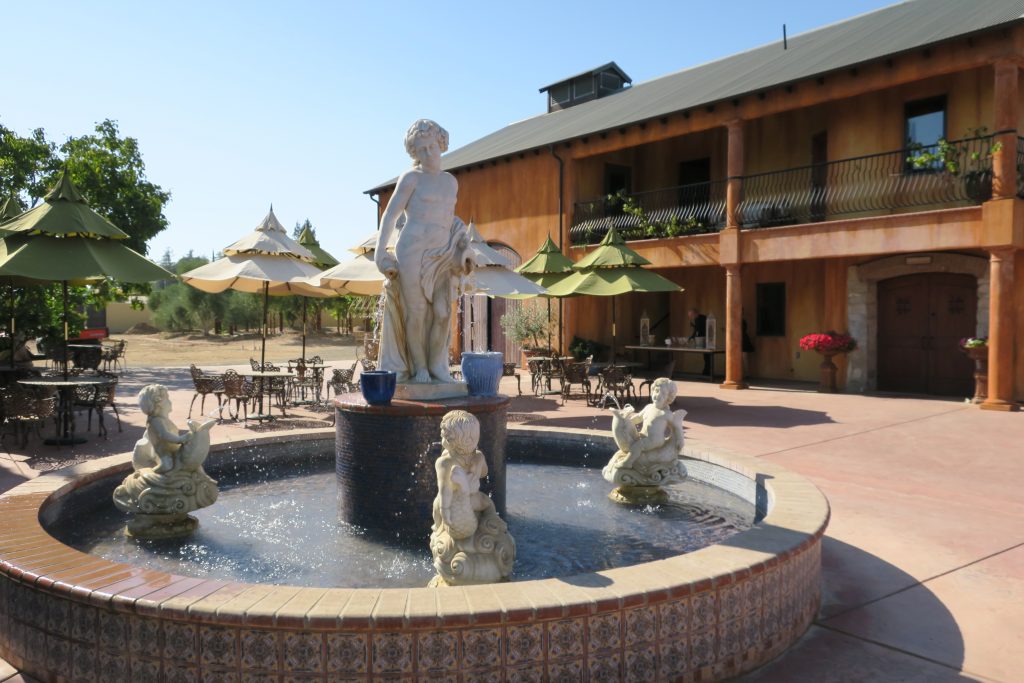 I had no idea where the excursion I'd chosen would lead. The Wine Bloggers Conference organizers kept the excursion titles enigmatic, but "Souzãoberry Fields Forever" was clearly meant for me. I signed up, and I discovered Lodi's most important winery: St. Jorge.
Now, other wineries in Lodi may arguably make better wine, and there are certainly others that are better known. What makes St. Jorge special is its devotion to Portuguese grape varieties, and its unique willingness to bottle these varieties as varietal wines. I know of no other place in the U.S. where you can try varietals such as Souzão, Trincadeiro and Touriga Nacional — all made by the same winemaker from grapes grown in similar terroirs — on their own against each other. St. Jorge's wines are not only delicious, they offer insight into Portuguese wine that you simply can't get anywhere else, outside of Portugal itself.
But really, who cares about Portuguese wine? Port is unfashionable, Madeira is barely more stylish, and Portuguese table wines are a drop in the U.S. market, representing about 1.1% of American wine imports. This is all true. It is also true that there are two kinds of wine drinkers in this world: Those who love Portuguese wines, and those who have yet to try Portuguese wines. Semi-pronounceable grape names aside, Portuguese wines currently have one of the best flavor-to-price ratios in the wine world.
Lodi's relatively dry, sunny climate is reminiscent of certain Portuguese regions, but St. Jorge owner Vern Vierra didn't start the winery because of the similarities in terroir. He had been making beer, he explained to us, and when he went to pick up some hops, he discovered a de-stemmer someone had ordered but didn't collect. "Because I'm Portuguese, I love a deal," he said. The discount de-stemmer set things in motion, and the Vierras opened St. Jorge in 2009.
The winery and tasting room was a delight to visit. With its Mediterranean-style architecture and fountain-cooled patio, it embodied the fantasy of gracious living in wine country. The vineyards surrounding the winery appear to be thriving, too, despite the minimal use of irrigation. "I'm training the vines to go deep for water and nutrients," Vierra explained, "and you can see that the leaves are bright green, so the vines must like what I'm doing."
I like what he's doing, too, as you can see from the tasting notes below. You won't find any blends in the list — St. Jorge bottles only varietal wines. "I want the variety to have the respect it deserves, to shine on its own," Vierra told us.
If you're a wine professional, a wine blogger, or anyone with more than just a passing interest in wine, I can't recommend a visit to St. Jorge too highly. Tasting the portfolio is education you'll be hard-pressed to obtain outside of Portugal itself.
2011 Verdelho Seco Silvaspoons Vineyard: Verdelho, not to be confused with Spanish Verdejo, occupies many of the vineyards on the island of Madeira, but it also produces delightful table wine, as in this case. It smelled a bit perfumed, with notes of stone fruit and hay, and it tasted of tropical fruit and warm ginger spice. Vierra allegedly sneaked one of these vines into the country in his luggage, and it was obviously a risk worth taking.
2014 Verdelho Vierra Estate: Though this wine was younger, it was less perfumed. It smelled more of dusty orange peel and apricot. I loved the white-peach fruit and the ample minerality. A touch sweet, but balanced.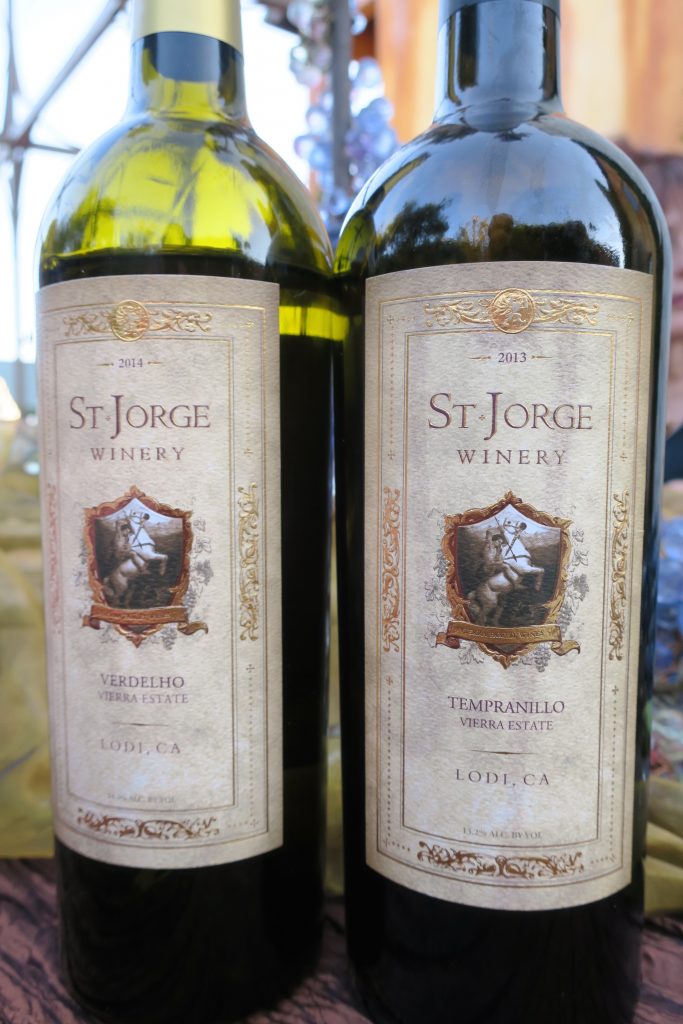 2011 "Maria" Silvaspoons Vineyard: This wine is also 100% Verdelho, but Vierra vinified it in the style of Madeira. A grape grower apparently let his grapes overripen, which meant a wine made with them would be sweet without enough acids to balance. Vierra bought the grapes at an excellent price. "I'm Portuguese, so I didn't want them to go to waste." Waste them he did not. The wine had a wonderfully caramelly aroma overlaid with fresh green tobacco. It felt big, rich and spicy, and I relished the long tobacco finish.
2014 Trincadeira Vierra Estate: The Oxford Companion to Wine notes that Trincadeira is particularly susceptible to rot, which means that it "only performs well in the driest of climates." It's no surprise that it's a success in sunny Lodi. This first Trincadeira vintage from the Vierra Estate looked almost inky in the glass, and it had plenty of rich purple fruit. But after a pop of spice its tannins dried my mouth right up, before lifting into a finish of baking spice.
2014 Touriga Vierra Estate: Also called Touriga Nacional, this grape variety is the one you're most likely to encounter as a varietal wine. If you've had a sip of Port, you've almost certainly sipped Touriga Nacional (at least as part of the blend). I noted a perfumed nose of dark fruit and flowers, and one of my fellow tasters called it "musky." On the palate, the cool, clear dark fruit moved with real elegance to supple tannins and spice. The spice gently built, so that it arrived without my even noticing, and it persisted in the long finish. Delicious.
2014 Souzão Vierra Estate: At last, the namesake of the excursion. The Oxford Companion notes that this grape's high acidity makes it popular in Port blends. Souzão (also spelled "Sousão") must express itself a little differently in Lodi, because this wine felt dark and dense. It had a rather raisiny, porty aroma, but I tasted dark fruit and mocha more than zippy acids. The wine dried up towards the finish, moving into a note of hay and spice. Very pretty.
2011 Vinho Tinto Doce: St. Jorge's version of Port had the classic rich, raisiny aroma and flavors of raisins and chocolate. A surprising note of exotic spice poked its head above the richness, followed by firm tannins. The spicy finish lasted a good 30 seconds. What a delight.
St. Jorge also makes wines from international grape varieties. I especially liked the sexy Sangiovese, the aroma of which reminded me of a high-end spa, and the graceful and rich Syrah, with its fragrant fruit and supple tannins. These are the icing on the Portuguese custard tart.
The Vierra family has created a truly special winery in Lodi, where it's not only possible to taste delicious wine, but also to learn about important lesser-known grape varieties hard to find outside of Portugal. And even there, the chances to try a range of Portuguese varietals all in a row are exceedingly rare.
For more insight into the wines of St. Jorge, I highly recommend reading this post from one of my favorite wine blogs, Josh Likes Wine.
Note: The wines described in this post were provided free of charge.