25 September 2013
Comments Off

on A Dark Sparkler For Fall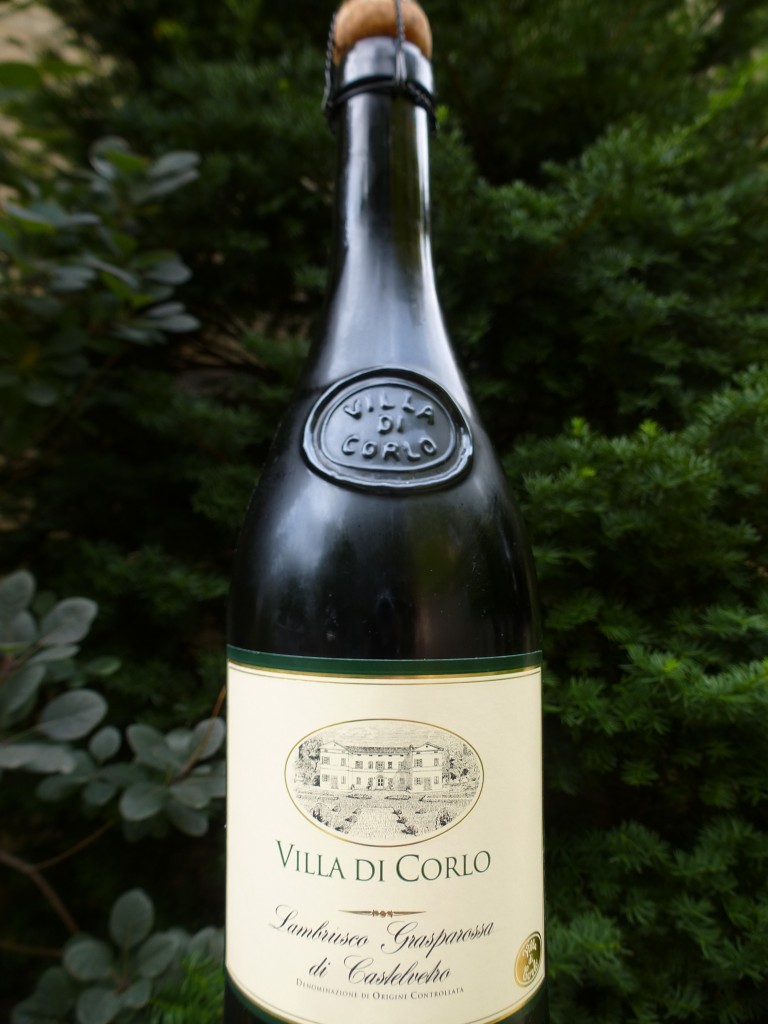 If the word "Lambrusco" means anything to you, it likely connotes the sweet, one-dimensional sparkling wines epitomized by Riunite. Now, I can enjoy Riunite as much as the next guy (it's great paired with beef jerky), but most of the time I'm looking for something with more balance and more depth of flavor. And oddly enough, there are Lambruscos out there that offer just such a thing.
In fact, I found one just the other day at my favorite neighborhood wine shop in Chicago, In Fine Spirits, and it proved to be just the thing for a cool autumn evening. Right away, I had a feeling it would be a better-than-average Lambrusco. First, there was the not insubstantial price tag of $18.50. In Fine Spirits wouldn't sell a sugar-bomb Lambrusco for that price.
And then there was the label. Many people half-joke that they buy wine because they like the label, but there are far worse ways to select wine than that. I liked this label's elegant simplicity, and I also liked that it had a lot of words. This wasn't just a Lambrusco — it was a Villa di Corlo Lambrusco Grasparossa di Castelvetro. Those last three words added specificity, which led me to believe this would be better than basic Lambrusco. And below that I found "Denominazione di Origine Controllata," which theoretically guarantees at least some sort of acceptable level of quality.
What I didn't see on the label was "Metodo Classico," which would have indicated that the second fermentation took place in the bottle, in the manner of Champagne. Steel-tank fermentation used to be a deal breaker for me, but I've mellowed in my dotage. More important, I trust the taste of In Fine Spirits. Knowing that the store's taste tends to align with mine means that I can be fearless about venturing outside my comfort zone. I bought the Lambrusco.
It turns out that there are at least 60 known subvarieties of the Lambrusco grape, according to The Oxford Companion to Wine, including Lambrusco di Sorbara, Lambrusco Marani, Lambrusco Salamino… Look for Lambrusco followed by names like these, rather than just "Lambrusco." The Sotheby's Wine Encyclopedia flatly states that "non-DOC Lambrusco is not interesting," and I would have to agree.
The Grasparossa di Castelvetro comes from Emilia-Romagna in central Italy (near Modena and Bologna), and it draws somewhat mixed reviews from the publications noted above. Although large cooperative producers blur the distinctions nowadays, "In theory, Lambrusco Grasparossa is the fullest and most alcoholic" of the various subvarieties, according to the Oxford Companion. A more tepid Sotheby's allows that DOC Grasparossas are "usually better than non-DOC versions," but argues that they don't quite match the quality of Lambrusco di Sorbara.
But really, this is splitting Lambrusco hairs. Get a DOC Lambrusco and have some fun. The Villa di Corlo had an appealingly dark purple color, which makes a nice change from the pale sparklers we usually drink. It had an invitingly grapey aroma, and small, sharp bubbles which felt more like a mass of foam than a group of individuals. Lemony acids balanced out the dark fruit and smokey notes quite well. But what I remember most about this wine was its almost rasping dryness — a sharp contrast to the stereotypically sweet Lambrusco.
For the fall, a dark but lively sparkling wine like this is ideal — it pairs wonderfully with all sorts of hearty foods. And at $18.50 a bottle, you're not paying much more than you would for a decent bottle of Prosecco. Serve this wine well chilled, and have fun surprising your guests with a deep-purple bubbly.
SUMMARY
Villa di Corlo Lambrusco Grasparossa di Castelvetro: Deep, deep purple in color, with a grapey aroma, dark fruit, bright acids and a rasping dryness. Serve well chilled, and pair it with just about any hearty autumnal meal.
Grade: B+
Find It: I bought this wine at In Fine Spirits for $18.50.
Bonus: Check out this melodramatic 1977 Riunite commercial starring none other than Susan Lucci.