4 September 2013
Comments Off

on The Message Is: Drink Blends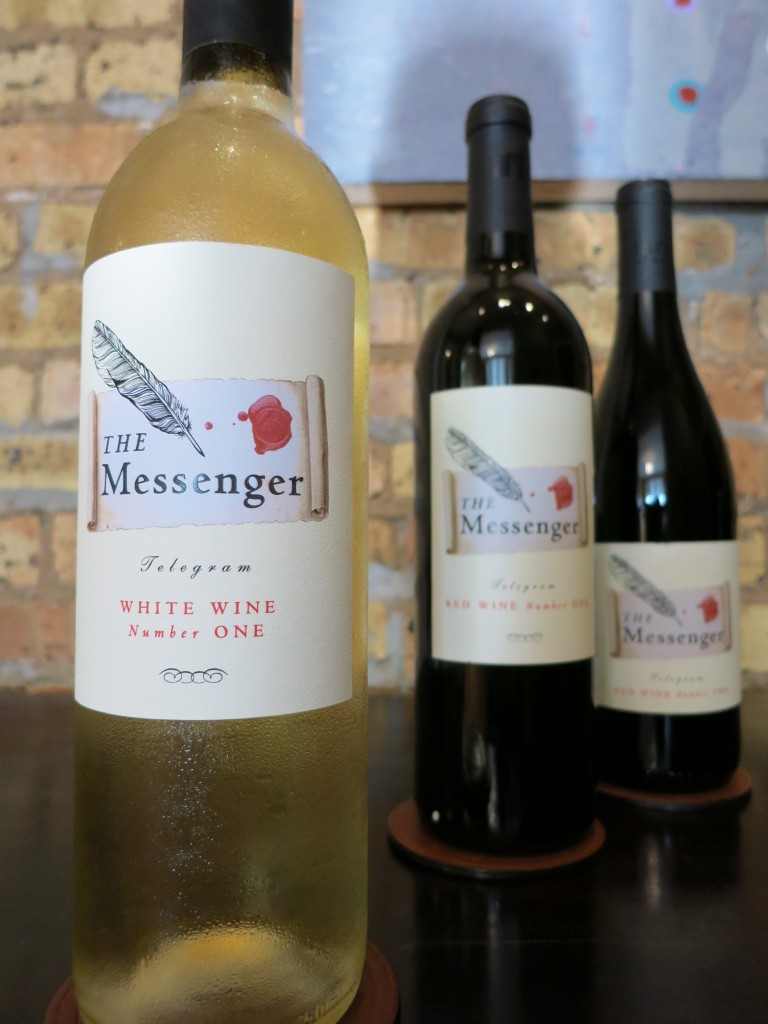 I've written about California wines a number of times on this blog, but the wines I've written about tend to come from unusual nooks and crannies such as Temecula and Amador County. But even in famous Napa Valley, it's possible to find unusual wines. Three came my way recently from Art+Farm Wine, a partnership of two families founded in 2005.
This winery makes a number of varietal wines such as a Sauvignon Blanc and Cabernet Sauvignon which are surely very tasty, but they don't have a place on this blog. I was more interested in Art+Farm's blends, which fall under its "Messenger" label. In her letter to me, Art+Farm's vintner, Kat McDonald, described why she finds these blends so exciting:
When the wine industry is all about single vineyard, estate grown — blah, blah, blah. We looked at each other and said, "What if we made killer wines and that be our only goal. We are not going to limit ourselves in any way."
McDonald has a point. Just because a wine comes from a single vineyard doesn't necessarily mean it's superior. The greatest wines of Bordeaux and Châteauneuf-du-Pape are blends, for example. A fine Châteauneuf-du-Pape might contain eight or nine different varieties of grapes from just as many different vineyards. If you have some very soft, supple wine and you have some tightly structured but rather tough and tannic wine, it only makes sense to combine them. The resulting blend will be better than either of its constituent parts alone.
We Americans love our varietal wines, and there's nothing wrong with that. But if we turn our nose up at blends, we deny ourselves a huge range of wine expressions. If choosing among blends seems daunting, I recommend starting with a Meritage (rhymes with "heritage"), a domestic Bordeaux-style blend based on Cabernet and/or Merlot. Or if you're like me, go for a combination you've never seen and see what happens. There's always an element of safety to a blend, because you know the flavor in that bottle is intentional.
Here are my thoughts on Art+Farm's three Messenger blends, which I received as complimentary samples and tasted with a group of oenophile friends:
Art+Farm "The Messenger" White Wine Number One (Lot #412): I've never seen a white blend quite like this one, but when I tasted it, I wondered why on earth no one thought of it before. A blend of 69% Sauvignon Blanc, 18% Muscat Canelli (also known as Muscat Blanc à Petit Grains or simply Muscat) and 13% Riesling, this beauty won over my entire crowd of tasters. One remarked, "I don't usually like sweet wines, but I like this because it has a bite at the end." Another more laconic taster just said, "Huge fan."
I was immediately sucked in by the wine's heady aroma of perfumed apples, leavened with a little funk. In this wine, it was crystal clear to me what each of the parts — sourced from both the 2010 and 2011 vintages — brought to the blend. It had the acids of a Sauvignon Blanc, the perfume of a Muscat and the lush texture of a Riesling. The wine exhibited both focus and restraint, and for $16 a bottle, it's a smashing value.
Art+Farm "The Messenger" Red Wine Number One (Lot #612): This is one complicated blend. No fewer than 11 different wines made their way into the mix, which is composed of 31% 2009 Lake County Cabernet Sauvignon, 24% 2006 Lake County Cabernet Sauvignon, 2% 2008 Dry Creek Cabernet Sauvignon, 1% 2010 Lake County Cabernet Sauvignon, 9% 2008 Napa Merlot, 9% 2008 Sonoma Merlot, 1% 2008 Dry Creek Merlot, 4% 2006 Napa Malbec, 4% 2008 Dry Creek Malbec, 3% 2008 Napa Cabernet Franc, and 12% 2009 Shenandoah Valley Montepulciano.
Whew! In the unlikely event you actually read the list above, you might be thinking, "What the heck is Montepulciano doing in a blend that's otherwise all standard Bordeaux varieties?" According to McDonald, just 12% of Montepulciano "completely changes the texture and color of this wine. As one of my fellow tasters astutely noted, "It's dark, but not heavy." I loved the aromas of mocha and dark fruit, and indeed, it tasted dark and dusky but lively as well, with well-balanced black-pepper spice. Paired with some dried blueberries, additional floral notes came to the fore, and the tannins became even more pronounced. This is one sexy blend, and another fantastic value at $18.
Art+Farm "The Messenger" Red Wine Number Two: Bottled in a Rhone-style bottle (as opposed to the Bordeaux-style bottle of Red Wine Number One), this blend contains, as you might expect, a mix of traditional Rhone varieties: 57% Grenache, 38% Syrah, 4% Mourvedre and 1% Viognier. Again, the constituent wines come from an array of vineyards and vintages ranging from 2008 to 2011. It may seem unusual to blend a white wine (Viognier) with reds, but this combination is more traditional than you might think — none other than Côte Rotie blends Syrah and Viognier together.
This blend also had a dusky, dark-fruit aroma, but there was an intriguing note of caramel underneath as well. It proved to be a rustic, forceful wine, with meaty fruit, black-pepper spice, an undertone of iron and an aromatic note of violets. Tasted with some dried cranberries, the wine brightened and "the spices headed to the heavens," or so my notes say in their typically over-dramatic fashion. This was a popular wine with my group. As one taster remarked, "I would like to enjoy this all by myself." Again, a startling value for $18.
The French, it seems, aren't the only ones adept at blending wine. If you see these wines in your local shop, snap them up for date night, or purchase them on the winery's website.
Note: These wines were provided as complimentary samples by the winery.