28 June 2014
Comments Off

on A Sensible Napa Red
Readers of this blog could be forgiven for feeling at times frustrated, because after I extol the virtues of Somló Juhfark or Slovak Furmint, I frequently write something like, "You'll have trouble finding this anywhere other than Bratislava." And let's face it, Bratislava is just not at the top of everyone's travel bucket list. So let's break from obscure Eastern European wines for a moment, and consider a nice red from a winery in Napa.
Napa does not figure prominently in this blog — Arizona has more entries — but that's not to say there aren't enticingly unusual cuvées coming from America's most famous wine region. As a gift for watching their cats, some thoughtful friends recently brought over a Napa red (or more accurately, a Lodi/Sierra Nevada Foothills red) which turned out to be one of the most unusual blends I've ever encountered.
The label (right) already indicates that this wine won't be your usual Cabernet. The 2011 Vending Machine Winery "Horror Show" is in fact an absolutely insane-sounding blend of Sousão, a red Portuguese grape figuring prominently in Port; Montepulciano, an Italian variety planted mostly in central Italy; and Tannat, which originated in southwest France but is more well-known as the national grape of Uruguay. How on earth did these three disparate varieties come to live in the same bottle? I telephoned the winery to find out.
Neil Gernon, who owns the winery with his wife, Monica Bourgeois, answered my call. He explained that "Horror Show" is a slang term used in the film A Clockwork Orange to indicate "dark, brooding fun." And who wouldn't enjoy a wine that tasted like that? So Gernon and Bourgeois got to work, thinking about dark grapes to include in a potential Horror Show blend. They hit right away on Sousão, because it "makes Petit Sirah look light," according to Gernon. And Petit Sirah seemed a little too obvious in any case.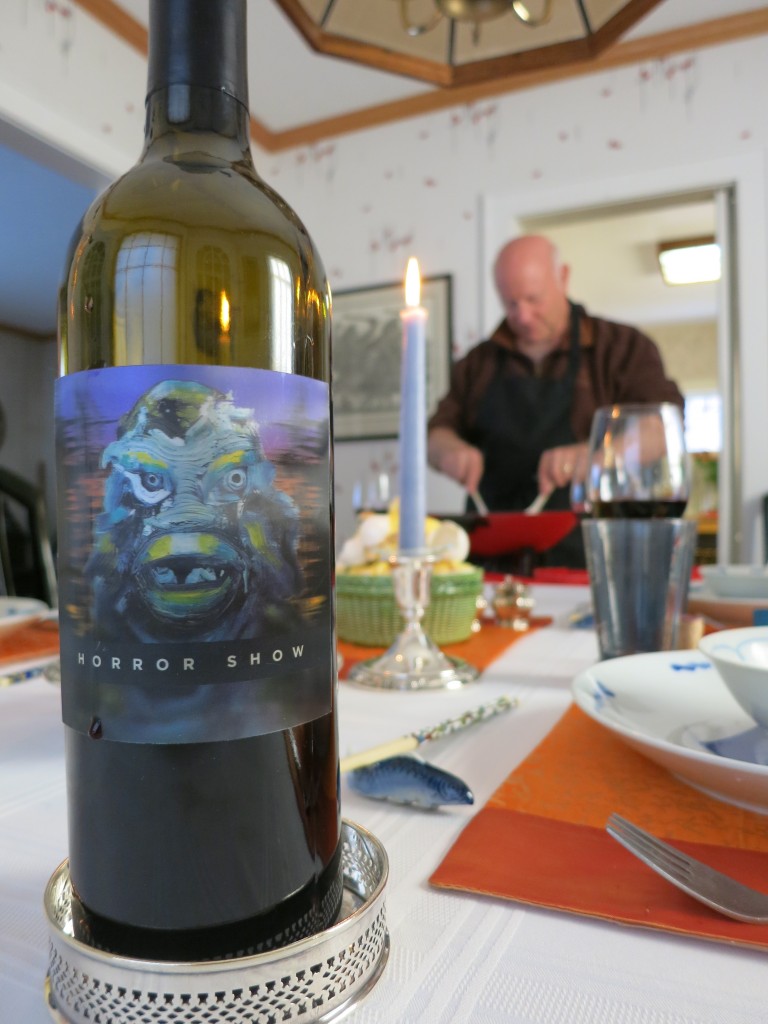 Building from brooding Sousão, they hit on Montepulciano, which is "dark in color but with bright, red-berry fruit," Gernon explained. But the blend still needed something else, some undergirding of earth. Bourgeois and Gernon settled on Tannat, which adds "earthy, funky" notes and some tannic power. So there's the initial fun fruit of the Montepulciano, the brooding mid-palate of the Sousão and the dark, powerful finish of the Tannat. After Gernon explained it, this extremely unorthodox blend sounded like the most sensible thing in the world. 
And it works! I recently brought the bottle to my parents' house for a stir-fry dinner on a cool evening, and the wine's dark, meaty fruit and rowdy acids paired deliciously with the beef. The wine had rustic red fruit, notes of iron and earth and a lovely aromatic quality on top balancing its sense of thickness. The wine wasn't fussy, as you might gather from the description of its finish on the website: "Just when you feel safe, the thrill ramps up like a graveyard shovel hit to the mouth." 
I wouldn't describe this wine as refined, but I certainly enjoyed it in any case. If you're in the mood for something big, bold and rustic, with lots of fruit, lots of acids and lots of earth, Horror Show is an ideal choice. And its beautiful but distressing label, which changes every year, makes this wine perfect for Halloween. Dark, brooding fun indeed.
You can find Horror Show and other Vending Machine Winery bottlings at the stores and restaurants listed here. Horror Show retails for about $28; not inexpensive, but a reasonable price for the flavor it delivers.