26 September 2012
Comments Off

on Drink the Brown – Part 2
Madeira, a fortified wine produced on the tiny Atlantic island of the same name, ages in an equally odd fashion as sherry (see the previous post). The best madeiras end up ageing for years, usually decades, in the attics of lodges in Funchal, cooked by the warm Madeira sun. This method is called canteiro, as opposed to the less-time consuming estufagem process which involves artificially heating the wine.
Exposing wine to high heat and wide temperature swings for decades at a time is exactly the opposite of how I was taught to treat fine wine, but it seems to work quite well for madeira. In fact, after suffering through summer after summer in a semi-tropical attic, Madeira becomes quite resilient. After all, what else can you do to the stuff? It can last in the bottle for decades or even centuries.
You'll see standard madeira blends classified by flavor profile (dry, medium sweet, etc.), but if you're going to buy some madeira, spend a bit more and go for one with a more specific classification, such as Sercial, Verdelho, Bual and Malmsey, which indicate the predominant grape variety as well as the level of sweetness. Sercial is the driest, and Malmsey the sweetest (you can read more information about these styles here and here.) These categories are then further subdivided by age.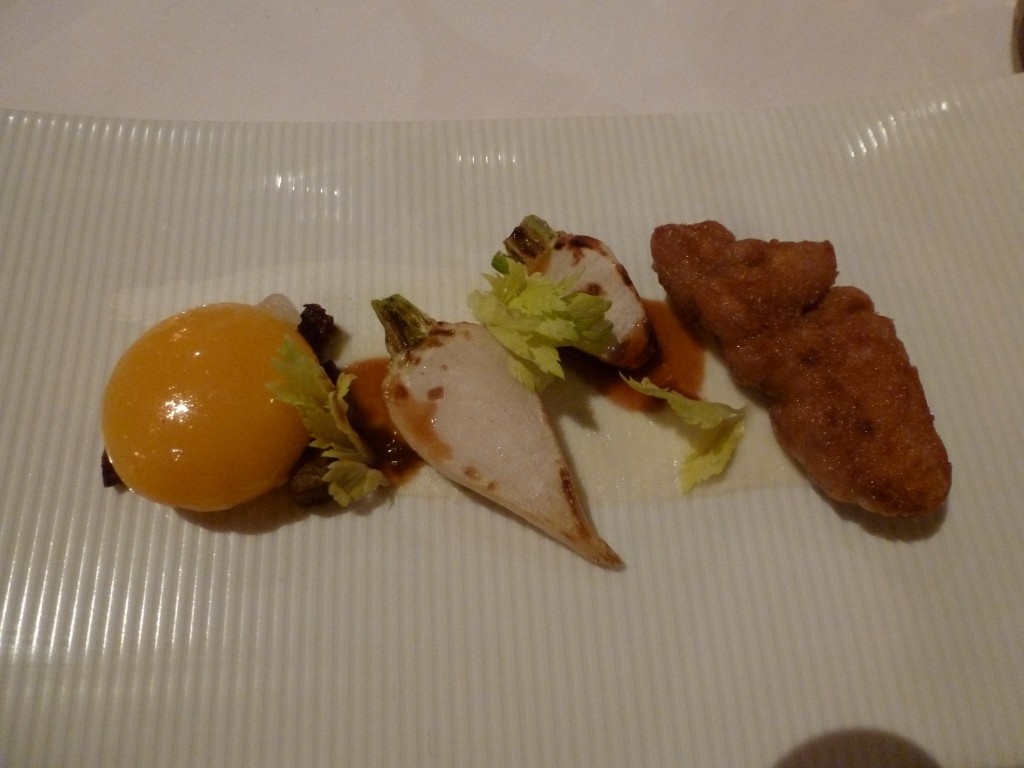 At Stella! in New Orleans, I had a Rare Wine Company "New York" Malmsey Special Reserve, produced by Vinhos Barbeito. "Malmsey" on a madeira label indicates that it's made from Malvasia grapes, and the words "Special Reserve" guarantee that the youngest wine in the blend is at least 10 years old. Although this is among the sweetest styles of madeira, I didn't have it with dessert. The creative sommelier, Marc J. Doiron, paired it with some crispy veal sweetbreads with andouille sausage, turnips and egg yolk.
Good heavens, what a marvelous pairing! The madeira smelled rich and woodsy, with some wheat toast in there as well. It tasted predictably sweet and caramelly, but amazing bright acids kicked in on the finish, ensuring that it would be food friendly. It complemented the delicate sweetbreads but stood up to the andouille and turnips as well. Quite the balancing act! I don't often write "Wow!" in my notebook, but write it I did.
I don't currently have any madeira at home, but you can bet it will be on my Christmas list. I could imagine it pairing well with some roast pork with sweet potatoes, or perhaps turkey with stuffing. Indeed, madeira was quite popular in colonial America, making it a thoroughly appropriate choice for Thanksgiving. Get a bottle now, give it a try, and if you can manage to avoid drinking the whole thing, you can serve the rest to the more adventurous palates at your Thanksgiving table, assuming you have a few.
If you don't, then I say forget hosting dinner and head to Stella! instead. It's not inexpensive, but my goodness, the food and wine is sheer delight.