20 July 2013
Comments Off

on The Unusual Whites Of Uruguay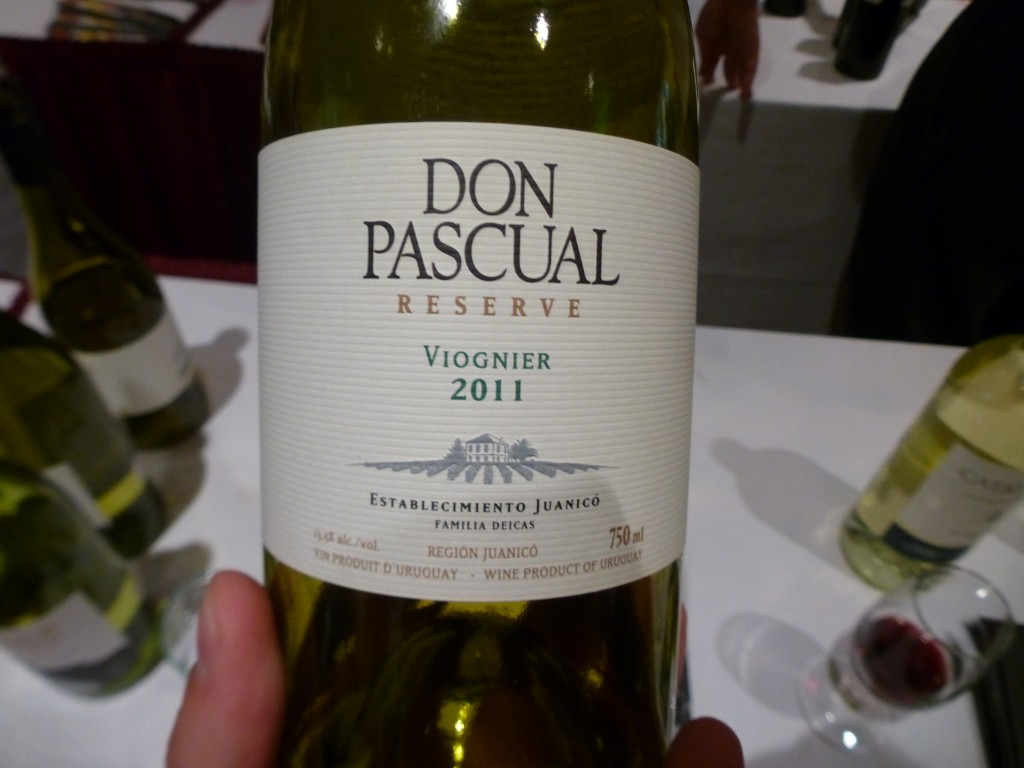 One could be forgiven for imagining that all South American wine comes from Chile and Argentina, so successful have their export campaigns been. But Uruguay, that diminutive country northeast of Buenos Aires and south of Brazil, has also started to make its mark, producing whites and reds of real quality. Though it's easier now than ever to find Uruguayan wines, "easier" is a relative term — few American wine shops carry more than one or two examples, if even that. And that's not the fault of the shops.
The problem is the Uruguayans. They simply love wine, if The Oxford Companion to Wine is to believed. "Domestic wine consumption is high," according to the Companion, "and rising, currently standing at 32 l/8.45 gal per person per year." For comparison, in France, domestic wine consumption stands at about 56 liters per person per year, and in the U.S. it's about 10.5 liters per person per year. Uruguayans may not be total winos like the French, but their consumption is formidable nevertheless, sucking up about 95% of Uruguay's wine output.
That leaves a scant 5% for export, and 60% of that heads across the border to Brazil (Source: The Oxford Companion to Wine). That doesn't leave very much for the rest of us. And yet another problem, according to The World Atlas of Wine, is that most of Uruguay's wineries are small, family-owned ventures, only 10% of which export any wine at all. The rest of Uruguay's producers simply don't have either the ability or the need to sell their wines outside of Uruguay.
All of which means that when you do see a wine from Uruguay on the shelf, you've discovered something rare, and it's worth inquiring about. As the Atlas notes, Uruguayan vineyards benefit from cool Antarctic ocean currents, which usually fosters an ideal gradual ripening of the grapes. "The conditions and the will to produce both elegant and characterful wines are evident," the Atlas goes on to say.
Alas, the Atlas also notes that the humid climate makes organic viticulture "virtually impossible." Only a handful of winemakers make the effort to do without herbicides and fungicides, which are "generally very widely needed and used to counteract rot and mildew." This assertion seems to be in direct conflict with a presentation about Uruguayan wines I attended during this year's Wine Bloggers Conference. There, the presenter cheerfully claimed that "Uruguay has the third purest environment in the world, after Finland and Norway, except [Uruguay has] grapes!" My suspicion is that the environment of Uruguay as a whole may be unsullied, but that the vineyards, most of which are clustered around the capital, are less than chemical-free. (Update: See winemaker Daniel Pisano's comment about this issue following this post.)
I prefer viticulture to be as organic as possible, but that's not make-or-break for me when I select a wine. If I had to choose between an organic wine and a higher-quality non-organic wine, all else being equal, I'd buy the better non-organic wine. For those also willing to overlook the organic issue, here are four tasty Uruguayan whites I had the chance to sample during the conference. In the unlikely event you see one of these specific wines, that's great, but since all of them were enjoyable, I recommend keeping your eye out for any whites from Uruguay.
2011 Don Pascual Viognier Reserve: The Don Pascual label falls under the umbrella of Juanicó, which The Sotheby's Wine Encyclopedia calls "One of Uruguay's fastest-rising wineries." This Viognier had a rather rubbery aroma, a lush texture, tart acids and notes of wood and green herbs. It's not what I would expect from a Viognier, but then again, Uruguay isn't the Rhône Valley!
2012 Bouza Albariño: The family-owned Bodega Bouza focuses on small production and low yields, according to its website. The Spanish Albariño grape variety has thick skins which help it withstand rot in humid climates, according to the Oxford Companion, which would seem to make Albariño an ideal choice for Uruguay. And indeed, I very much enjoyed this wine's fresh and spicy aroma and its sharp, attention-grabbing flavors. After a start of juicy fruit, zesty acids kicked in, followed by a thrust of gingery spice and a finish of aspirin-like minerals. No one could accuse this wine of being wimpy!
2012 Dante Irurtia Km. 0 "Rio de la Plata" Gewürztraminer Reserva: The Irurtia Family winery is one of Uruguay's oldest; it harvested its first grapes a century ago in 1913. The Km. 0 brand indicates that the grapes were grown near the wide Rio de la Plata estuary, which creates a "unique microclimate," notes the winery's website. This wine had exactly the sort of aroma I like from my Gewürztraminers: perfumed, floral and minerally. Fruity and aromatic at the start, this wine desiccated into bone-dry minerals on the finish. Quite an enjoyable expression of the variety.
2013 Castillo Viejo Catamayor Sauvignon Blanc: Founded in 1927, this winery started the "fine wine" Catamayor label only in 1993, hoping to create world-class wines which would break into international markets. Certainly the Catamayor Sauvignon Blanc satisfied this international consumer. It reminded me of a New Zealand Sauvignon Blanc, with a grassy-green aroma, juicy fruit and bright, citrusy acids. This wine was fun, and perfect for a hot summer day. Which rather makes me want to crack open a bottle right now…
Up next: To Tannat? Or not to Tannat?