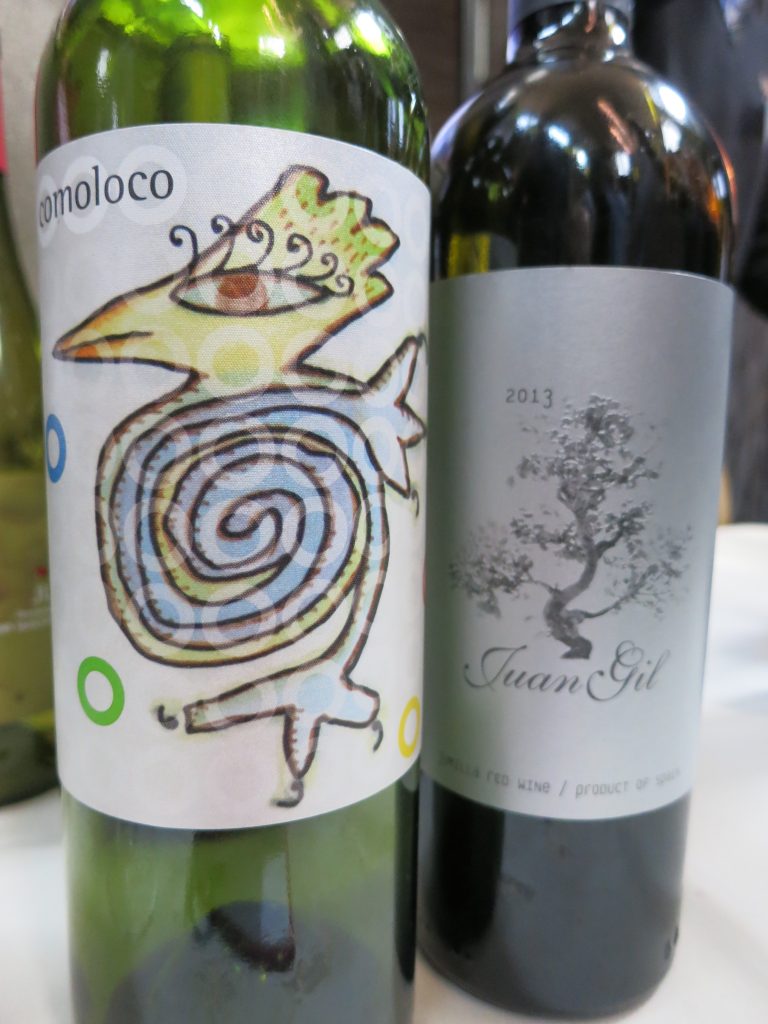 When I visit my Aunt Hannah, it's easy to choose a wine to bring. She loves Ivanović Prokupac from Serbia, and — a little easier to find — Juan Gil's Silver Label Monastrell from Jumilla. The latter, a Spanish red, remains relatively unknown in the United States, a fact which baffles me. Well-made Monastrell has such rich fruit and hearty character, it should be a perfect fit for the stereotypical American palate. And just as important, it usually offers a fantastic flavor-to-price ratio. Binny's, for example, sells the Juan Gil Silver Label for $14.
I suspect the obscurity of Monastrell (known as Mourvèdre in France) has something to do with the fact that its home base in southeastern Spain produced "lackluster" wines until only recently, according to The Sotheby's Wine Encyclopedia. The World Atlas of Wine agrees, noting that "Wine is still made that is deliberately strong and sweet, but the best can compete with 'premium' super-ripe reds from California and Australia." Fans of Zinfandel and Shiraz, if you're looking for something new, Monastrell from Jumilla may be just the thing.
Like Salta in Argentina, Jumilla has an arid climate, a large day/night temperature differential and a relatively high altitude (Juan Gil's vines grow between 2,300 and 2,800 feet). As a result, the vineyards tend to have low yields and the grapes tend to be thick-skinned, producing concentrated, aromatic and rather tannic reds, often with high alcohol levels. In other words, these wines are big.
And, as The Oxford Companion to Wine explains, Monastrell has "…a somewhat gamey, almost animal flavour when young." That sounds problematic, but in the right hands, that "animal" quality turns into an appealing savory undertone akin to grilled meat, smoke or even bacon, adding complexity to the wine.
I had an opportunity to experience the full potential of Monastrell at a recent tasting hosted by Juan Gil in Chicago. The wines ranged in price from $8 a bottle into the triple digits, and there wasn't a stinker in the bunch. That said, exercise caution with bargain-priced Monastrell. I once had a harrowing experience with $9 Bodegas Volver "Wrongo Dongo" Monastrell, for example, though the resulting puns that flew around the table were some consolation. When in doubt, stick to Monastrell that costs $12 and up.
2014 Honoro Vera Monastrell: This entry-level Monastrell typically sells for less than $10 a bottle, but it tastes more expensive. It has taut and ripe red fruit, a savory undertone, some forceful white-pepper spice and a tannic finish. It all seemed in balance, and my goodness, what a value for the money.
2014 Honoro Vera Organic Monastrell: Surprisingly, the organic version of this wine sells for the same price (Binny's sells both for $8 a bottle). It tastes different from the other Honoro Vera — it smells heartier, with more of a hint of meat and funk. Full of raspberry jam, it starts with a refined mouthfeel and builds to a big, rather rustic finish. Again, it's a superlative value.
2014 Orowines "Comoloco" Monastrell: Juan Gil also owns Orowines, which produces another remarkably inexpensive Monastrell (Binny's sells it for $8 a bottle). This example sees no wood, and though stainless steel highlights pure Monastrell fruit, I prefer a touch of oak. The wine smelled of dark red fruit and black pepper, and its fruit felt pleasingly fresh. The savory note and spice were both there, but I missed something in the midsection. Even so, considering the price, you're still getting a lot of flavor for the money.
2013 Juan Gil Silver Label Monastrell: Aged 12 months in French oak, this wine costs more (about $14), but for that money, you're getting a richer, darker wine, with no absence in the midsection. For years, the Silver Label has been one of my go-to reds.
2013 Juan Gil 18: If you have between $25 and $30 to spend, spend it on this. The 18 is a blend of 60% old-vine Monastrell, 30% Cabernet Sauvignon and 10% Syrah, all aged 18 months in French and American oak. The dark, rich aroma seduces immediately, and any Parkerized American will love the big, jammy fruit. A shaft of spice shoots right through it, keeping the wine balanced, and I loved the green tobacco note on the finish. This is a gorgeous wine, and a great value even at $30.
2013 Juan Gil "Aniversario" 100: Created for Juan Gil's centennial, the "Aniversario" blends 50% Monastrell, 25% Cabernet and 25% Syrah, and it sells for just a bit more than the 18 (if you can find it). It sees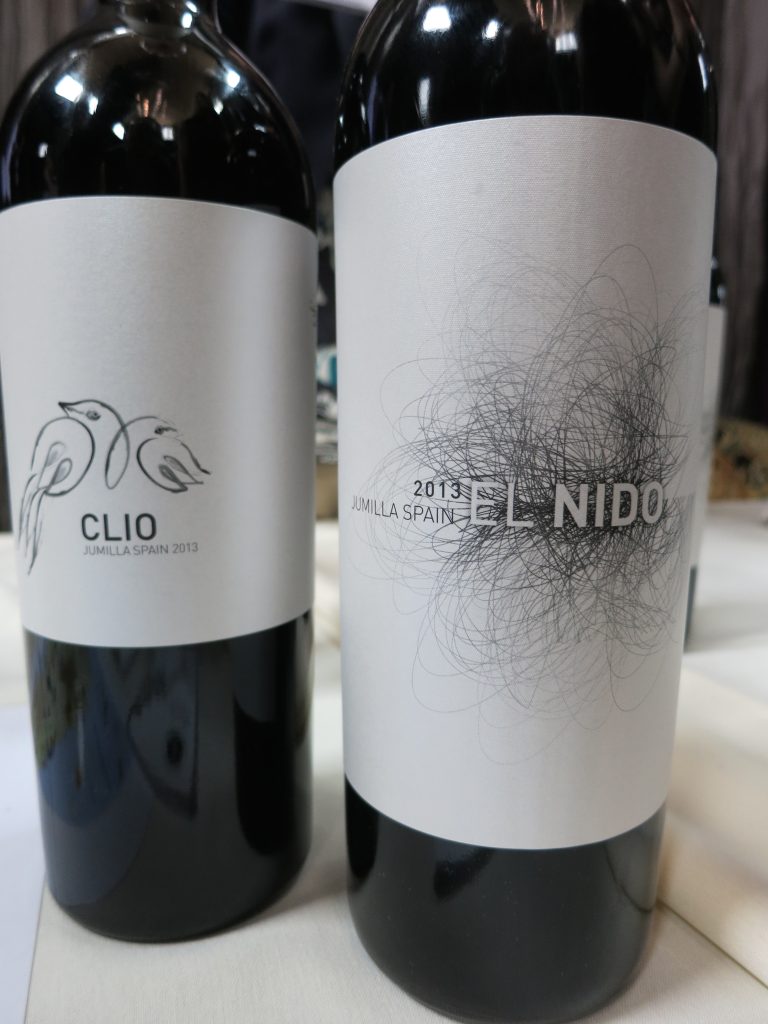 23 months in French and American oak, and it's big, dark and rich. The fruit feels opulent but tightly controlled, and the focused spice keeps going and going. The wine slowly unfolds, growing and developing to a big finish of spice and fine-grained tannins. This is a delicious, elegant and powerful wine, but if I had the choice between the 100 and the 18, I would pick the 18.
2013 Bodegas El Nido "Clio": Juan Gil also owns El Nido winery, a "…partnership between the Gil family and Chris Ringland, one of Australia's best winemakers," according to El Nido's website. The Monastrell vines are "very old… almost centenarians," and they produce some incredible fruit. This blend of 70% Monastrell and 30% Cabernet Sauvignon sees between 22 and 26 months in oak, and it was my favorite wine of the entire tasting. It had an aroma of rich, dark, almost jammy fruit, in the range of black cherries and plums. On the palate, the fruit felt sumptuously lush and clear, with a laser beam of white pepper spice streaming through it. The tannins on the finish were big but very refined. Binny's sells the "Clio" for $40, and it's worth every penny. A wine like this from Napa would easily be twice the price.