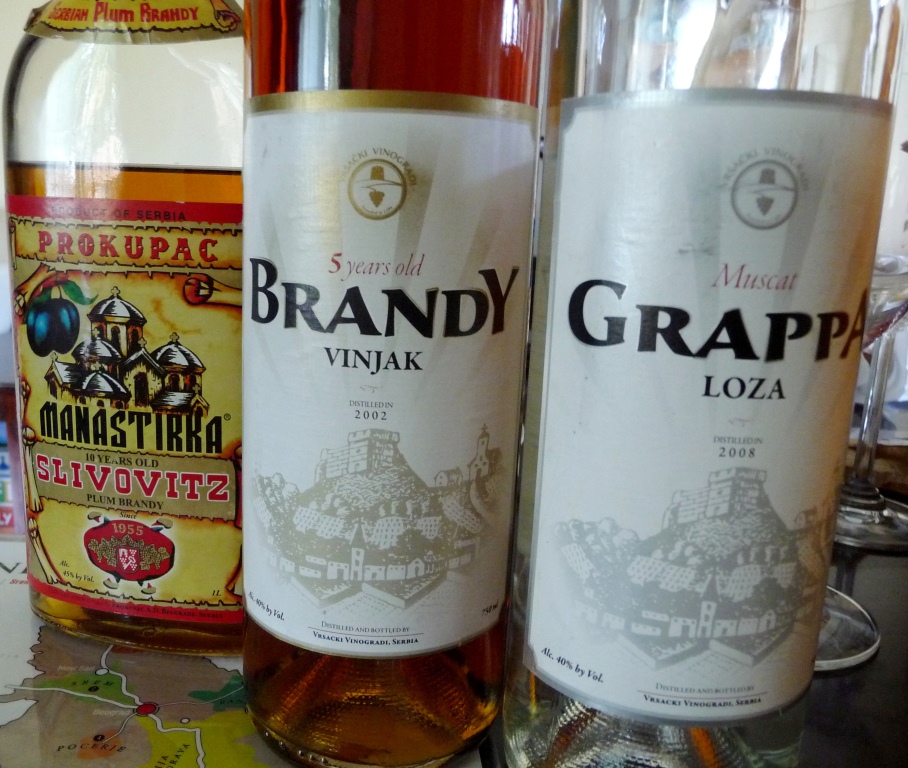 Our explorations of Serbian drink were not confined to wine. Mr. Goran Sevic of importer Vino et Spiritus brings a number of spirits into the United States, including loza (Serbian grappa), brandy and slivovitz. (You can read a previous post about slivovitz here.)
I briefly felt concerned that hard alcohol might not agree with my stomach, still recovering from a bout of food poisoning, but after tasting six wines, some sremska sausage and a stalk of green garlic, I decided to just go for it.
We started with a small glass of the 2008 Vršački Vinogradi Muscat Loza, distilled, like Italian grappa, from the seeds, stems, skins and pulp of grapes after they have been pressed for wine. The distillation process produces a powerful liquor (80 proof in this case), but it still features characteristics of the variety from which it came. The aromatic, perfumed nose made it immediately clear that this liquor was made with Muscat grapes. It packs a punch, but this loza would make an excellent digestif.
Vršački Vinogradi also produces a delicious five-year-old vinjak (brandy), crafted in a Cognac style, according to Mr. Sevic, from Riesling, Pinot Blanc, Frankovka (Blaufränkisch) and Vranac grapes. Aged in oak barrels with a heavy char, this brandy was surprisingly smooth and easy to drink, with flavors of caramel, wood smoke and toast. A chunk of panceta (Serbian pancetta) enhanced the smoky notes. A small glass of this brandy and a few chunks of panceta would be a wonderful way to start a dinner.
And what better way to end this glorious tasting of the unusual and the obscure than with a sip (or two) of slivovitz? Certain low-quality slivovitzes have unfortunately given this wonderful liquor a bad name. Authentic slivovitz is distilled from plums, but some cheap "slivovitz" is nothing more than bad vodka with artificial plum flavor and food coloring. When purchasing a slivovitz, be sure you're buying one truly distilled from plums.
There was no question that the Prokupac Manastirka 10-year-old Slivovitz comes from only the best plums. According to Mr. Sevic, this distillery uses požegača plums, "the king of plums," slightly larger than a human thumb. Mr. Sevic asked if I was familiar with the mirabelle plums so prized by the French, eaten as a fruit and distilled into brandy. Apparently they are nothing compared to the požegača; the "Serbians feed mirabelle plums to hogs," Mr. Sevic declared.
Taken only from the heart of the distillation, this smooth slivovitz could surely compete with the best mirabelle brandy, with a plummy nose and enticing flavors of almonds and vanilla.
But we weren't quite finished. Mr. Sevic had one more trick up his sleeve: Monastery Punch, a slivovitz-based cocktail developed by his colleague, Cris Dehlavi. I must admit had trouble imagining how it possibly could work, so Mr. Sevic offered to make me a batch. Here, published for the first time, is the secret recipe:
Monastery Punch
3 parts slivovitz
1 part Cointreau
1 part orgeat syrup or almond liqueur
1 part orange juice
1 part pomegranate juice
3 dashes Angostura Bitters (assuming 1 part = 0.5 oz.)
Combine all the ingredients and shake with ice. Serve straight up in a martini or punch glass.
The orgeat syrup amplified the almond notes in the slivovitz, the juices added texture and color and the bitters gave the punch an extra layer of depth. Delicious and unusual — just what I like. Monastery Punch requires a rather large number of ingredients, but if you mix up a batch for a party, your guests will surely be most pleasantly surprised.
SUMMARY
2008 Vršački Vinogradi Muscat Loza: A fine grappa, with an aromatic nose and a spicy finish. Well-priced at approximately $20 retail.
Grade: B+
2002 Vršački Vinogradi Vinjak: Very smooth, with well-balanced flavors of caramel, smoke and toast. An excellent value at approximately $20 retail.
Grade: A-
Prokupac Manastirka 10-year-old Slivovitz: A thoughtfully crafted example of authentic slivovitz, with the classic flavors of plums and almonds. A very good value for approximately $25 retail.
Grade: A-
Find It: The products of Vino et Spiritus imports can be found for sale at City Fresh, Adriatic Café Restaurant, Theater Café, Beograd Café, Boem Restaurant and Zupa Restaurant. The slivovitz can also be found at Binny's.
Balkans, Brandy, Grappa, Slivovitz Prokupac Distillery, Serbia, Vino et Spiritus, Vrsacki Vinogradi