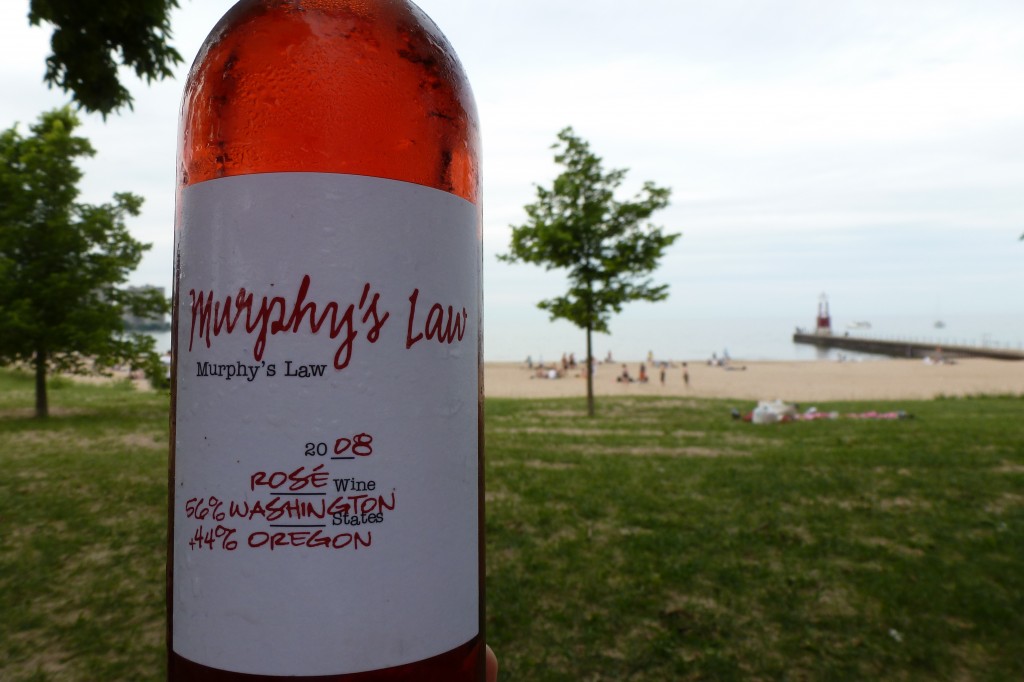 Hours-long picnics are one of the great joys of summer. When gathering up bottles of wine to accompany the pasta salads, cheeses and fruits, I invariably reach for a bottle of dry rosé. There's something inherently fun and casual about pink wines; they're difficult to take too seriously. And yet, the best of them are a far cry from insipid White Zinfandels, with luscious fruit and a reassuringly adult finish of stone.
Many of the most renowned rosés come from Provence, but wine regions all over the world now produce excellent examples. While browsing the unfortunately brief selection of rosé at Whole Foods recently, I discovered one called Murphy's Law which comes 56% from Washington and 44% from Oregon.
Intrigued, I examined the back label and found a plea from the winemaker: "Please don't jinx this fragrant and intense blend of 'All-Star' grapes from primo vineyards in the Pacific Northwest." Although Pinot Noir (44.2%) is an A-List celeb, Counoise (45.8%), Grenache (5%) and Blaufränkisch (5%) are unquestionably David Hasselhoff varietals: Big in Europe.
In fact, "Counoise is one of the more rarefied varietal ingredients in red Châteauneuf-du-Pape," according to The Oxford Companion to Wine. That southern French region had only about 1600 acres of Counoise as of 2000, and "it is not widely grown" elsewhere.
How Counoise vines ended up in the Pacific Northwest will have to remain a mystery for now — Murphy's Law's website no longer seems to function. But a quick survey of the wine blogosphere indicates that Counoise may be a varietal worth watching. It apparently grows quite well in its new, un-southern French home, and a few winemakers have started bottling 100% Counoise wines.
The 2008 Murphy's Law Rosé certainly supports this theory. A salmon pink, the wine had a bouquet redolent of ripe watermelon. Ripe strawberries appeared on the palate, with a bit of chalk in the finish. This food-friendly rosé stood up well to a light tomato sauce as well as a moderately spicy rice dish.
White Zinfandel continues to damage the reputation of all rosés in this country, but as this lovely wine shows, rosé can be an elegant, adult beverage perfect for an afternoon picnic. Indeed, because pink wines carry some baggage, winemakers tend to craft particularly charming rosés, almost as a rebuke to shameless White Zin.
That makes it hard to go wrong when selecting a dry rosé — it's a nearly foolproof summer delight.
SUMMARY
2008 Murphy's Law Rosé: Watermelon on the nose with flavors of strawberry and a hint of limestone. Fun and food-friendly. Chill well in the refrigerator.
Grade: B
Find It: I purchased this bottle for $13 at the Whole Foods in Hinsdale.