Returning to Chicago from a stay in Door County, Wisconsin, my husband and I decided to stop for a couple of nights in Algoma. This lakeside town may not exactly be synonymous with wine, but since activity options are relatively limited, we took a tour of the historic Von Stiehl Winery.
Built in the center of town in 1868 as a brewery, the winery's main building features an attractive tasting room and atmospheric aging cellars. We ended up enjoying a private tour of the facility with Edie, a memorable guide who used to perform from time to time on Hee Haw.
Back in the tasting room, we selected a range of mostly dry wines to sample. As we tasted, we looked at each other, perplexed, trying to understand the unusual journey of the wines. "Ah," my husband exclaimed, "the wines come to a point at the end." He was exactly right — rather than expanding at the rear palate, several of these wines tightened up and focused. Fascinating!
We expressed our thoughts to Edie, who politely nodded in agreement. Noting we hadn't selected any of the sweeter wines to taste, she insisted we try a little of this and a little of that, and before we knew it, we were stumbling to the cashier with a few bottles of Lakeshore Fumé. I also had the good sense to buy a bottle of the non-vintage Cabernet Sauvignon, made from "California and Washington State's finest fruits." That was in 2008, and the bottle has mouldered on my wine rack ever since.
I decided it was high time to open this buckaroo. While making my first-ever batch of homemade tagliatelle, I took  a wine break and poured a glass, expecting something drinkable (perhaps) but past its prime.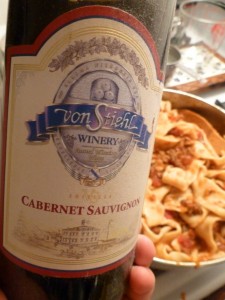 While noting the dark, transparent red color, the Cabernet's aroma hit me with violets and raspberries. My nose was a good three feet from the glass! The first sip tasted big, chewy and tightly wound, with ample fruit and some spiciness. As the wine breathed, it quickly relaxed, and though its backbone went a bit wobbly after a few minutes, the rich fruit, medium body and hint of iron on the finish kept me thoroughly engaged.
Paired with the tagliatelle topped with ground pork, garlic, mushrooms, chopped tomato, mirepoix and olive oil, the fruitiness of the wine became even more pronounced, and the pasta took on an extra dose of umami.
How fortunate that this Cabernet survived the wild temperature fluctuations of my wine rack. I hadn't intended to age this wine. It was just anti-Wisconsin prejudice getting in the way, which is rather embarrassing since I grew up in Milwaukee.
This delicious wine with the old-fashioned label is another reminder that gems can be hiding just about anywhere.
SUMMARY
NV Von Stiehl Cabernet Sauvignon (purchased 08/08, consumed 11/11): Richly fruity, complex and with some earth. A most enjoyable wine worth the price. Chill in the fridge about 20 minutes before serving.
Price: The current NV Cabernet sells for $20 on the Von Stiel website.
Grade: A-