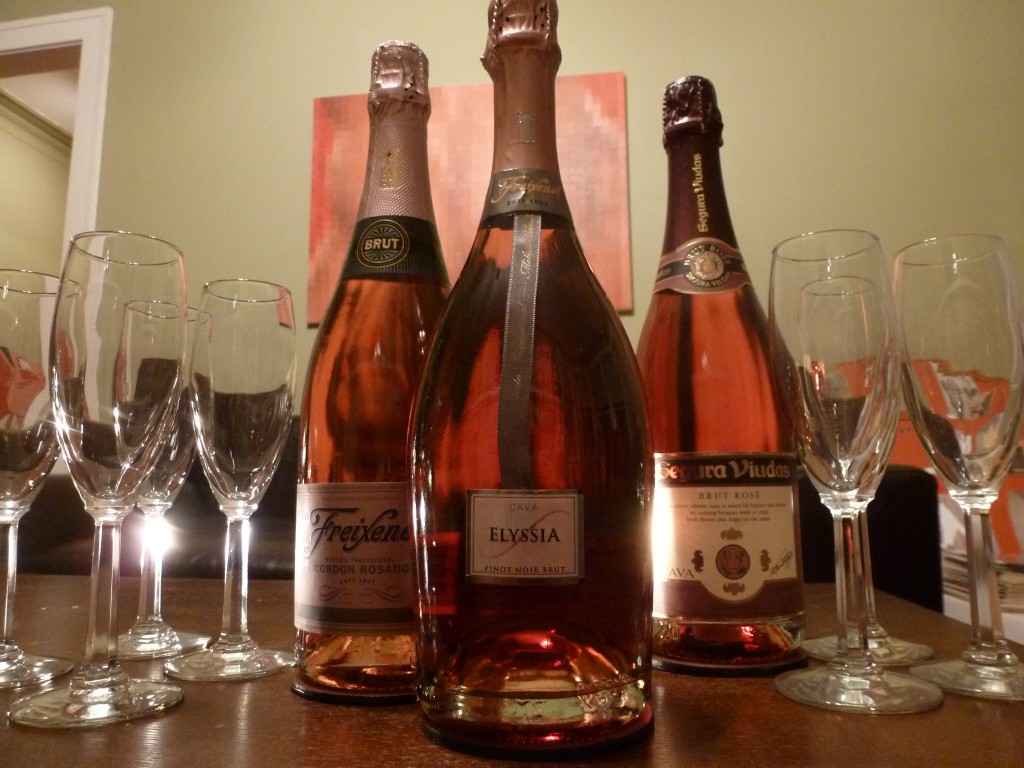 I recently had the fortune to receive a complimentary tasting sample of three bottles of Cava, the world's second-most famous sparkling wine. Catalonia, that feisty, autonomous region around Barcelona, produces the vast majority of it, and two companies, Codorníu and Freixenet, dominate this production.
Ordinarily, I'm biased towards the little guy, but in this instance, it seems wiser to go with the big boys. According to The Oxford Companion to Wine, "The best Cavas tend to be produced by the larger firms who control their own vinification rather than those producers who buy in ready-made base wine from one of the large but often outdated co-operatives that continue to flourish all over Cataluña." ("Cataluña" is the Spanish spelling, "Catalonia" is the English spelling, and you may also encounter "Catalunya," the Catalan spelling.)
Freixenet (pronounced "Fresh-eh-net") Cava may not seem especially unusual or obscure, but these three Cavas were all pink. Rosé Cava really came into its own only in the late 1990s, perhaps hindered until then by Cava traditionalists who "…for some bizarre reason always considered black grapes in a white Cava to be sacrilegious," according to The Sotheby's Wine Encyclopedia. The Encyclopedia goes on to describe how Manuel Duran, then chairman of Freixenet, experimented with black Spanish varieties, producing a notable Monastrell-Xarel·lo sparkler in 1997.
I looked forward to seeing what Freixenet had been up to since then, and organized a little party to find out.
All three of these non-vintage wines, the Segura Viudas Brut Rosé, the Freixenet Cordon Rosado and the Elyssia Pinot Noir Brut, contained the Trepat variety, an obscure grape indigenous to northeast Spain. The information sheets which came with the wine noted that Segura Viudas (a branch of Freixenet) pioneered the regeneration of this local variety, though even today only about 2,500 acres are planted with it.
Unfortunately, the Segura Viudas was the least successful of the three Cavas. This Trepat-Garnacha blend tasted just fine, but its bubbles felt too large and inelegant. One of my party guests called it "aggressively bubbly." But for $10, I suppose one can't expect pinprick refinement.
We enjoyed the Freixenet Cordon Rosado, also a Trepat-Garnacha blend, much more. One guest liked the "light floral aroma" and "creamy texture," though another guest found it "too dry." I immediately appreciated the attractive pink label and lovely watermelon color, and I also really liked the fruity aroma and the much more delicate bubbles. But as my guest noted, just because there were ample berry flavors and some juicy green apple, it didn't mean this was a sweet wine.
The fact sheet for this Cava recommended a retail price of $12, just $2 more than the Segura Viudas. It's an excellent deal. If you can find it, buy it.
I was particularly interested to try the third Cava of the evening, Elyssia Pinot Noir Brut, because Pinot Noir became legal to use in Cava only recently. In fact, in the late 1990s, the use of Pinot Noir was quite contentious, firing the rivalry of Codorníu and Freixenet. According to the Oxford Companion, Codorníu charged (in court) that Freixenet's wines didn't spend the minimum time required on the lees. Freixenet counterattacked, charging that Codorníu sometimes illegally blended Pinot Noir into its Cavas.
Rivalries and legalities aside, this Cava of 85% Pinot Noir and 15% Trepat tasted marvelous. It had a welcome touch of yeast in the aroma, and its tiny bubbles gave the Cava a real finesse. Pronounced strawberry flavors gave way to a dry, elegant finish. The recommended retail price of $18 makes this Cava an ideal alternative to a Blanc de Noir Champagne.
I would serve the Cordon Rosado at a Hannukah, Christmas or New Year's Eve party, but the Elyssia Pinot Noir I would reserve for a romantic evening by the fire.
Keep your eye out for rosé Cavas at your local wine shop. You might not see one of these specific wines, but if these three are any indication, you'll get a lot of bang for your buck. Sparkling wines are, of course, an excellent choice any time of the year, for most any occasion. But over the holidays, when we're all (theoretically) feeling especially festive, some good bubbly is a must. It's ideal for cutting through the fat in rich holiday recipes.
SUMMARY
NV Segura Viudas Brut Rosé: Fruity and fun, but the bubbles are too large for my taste.
NV Freixenet Cordon Rosado: Berry-flavored but dry, with elegant bubbles. An excellent value at $12 or $13.
NV Elyssia Pinot Noir Brut: A romantic sparkler showing finesse beyond its $18 price tag.
Spain, Sparkling, Trepat Catalunya, Cava, Cordon Rosado, Elyssia Pinot Noir Brut, Freixenet, Holiday Wines, Segura Viudas