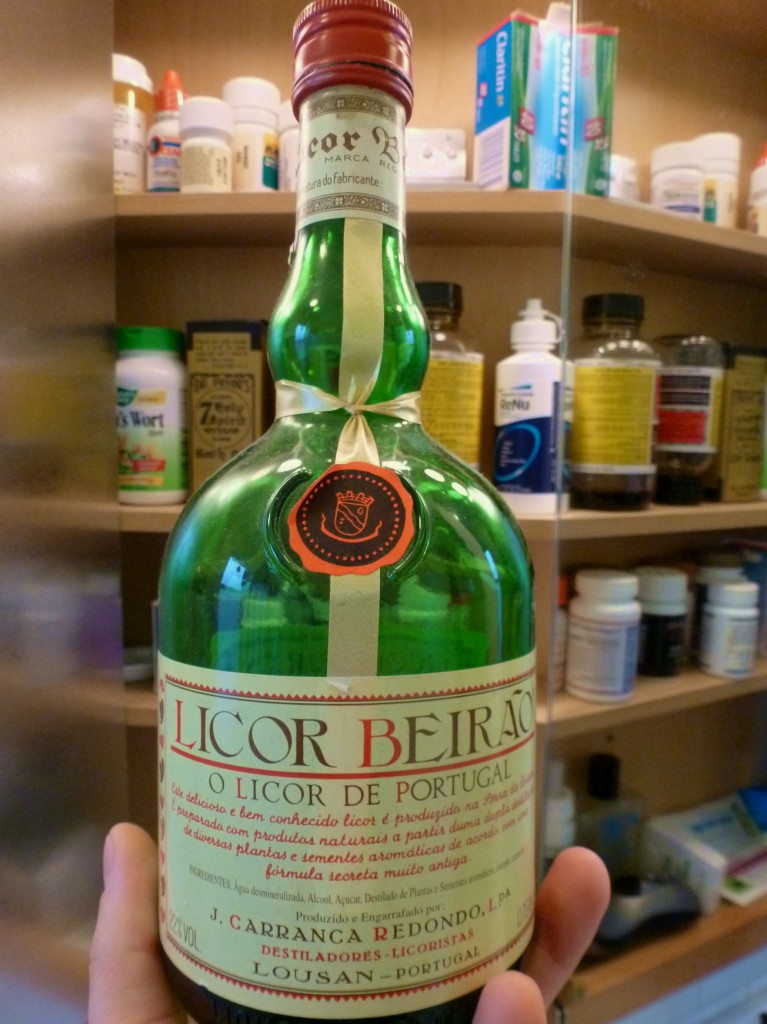 I'm amazed I can even remember the first time I tried Licor Beirão, which is like a Portuguese Jägermeister except it's lighter and not thoroughly revolting. About 12 years ago, my parents and I were in a bar in Lisbon one afternoon, taking a break from the sightseeing, when I got a bee in my bonnet and decided to try all the unfamiliar Portuguese liquors listed in my invaluable Berlitz European Menu Reader. Even back then, I was already hooked on drinking the unusual and the obscure.
So I finished my glass of Tawny Port and ordered up a shot of Ginja (also spelled Ginjinha), a very sweet but tasty cherry liqueur. Next was the Licor Beirão, and then I ordered a Bagaceira. The bartender's eyes widened, and he repeated my order back to me to make sure he heard correctly. Apparently foreigners don't order it very frequently. Or if they do, it's not immediately after downing the ill-advised mix of booze listed above. (Actually, a Google Image search of "Bagaceira" illuminates what the bartender was likely imagining.)
Bagaceira turned out to be like Portuguese Grappa, a very powerful clear liquor with distinct raisiny notes. And I, perhaps as the bartender foresaw, turned out to be quite drunk. I don't exactly remember what happened next, but one way or another I ended up with a bottle of each liquor and a pair of shiny black Capri cargo pants.
In any case, I became rather fond of Licor Beirão, which, like Jägermeister, is concocted with various secret aromatic herbs and originally intended to be medicinal. The drink was born in a pharmacist's shop, and after it became illegal to advertise the medicinal properties of alcoholic beverages, the pharmacist's son-in-law began producing Licor Beirão as a digestif.
According to the Licor Beirão website, the current owner's father was afraid of losing his job at the liqueur's factory, so, like any enterprising young man, he bought the factory. I suppose that's one way to ensure your job is secure!
At 22% alcohol, Licor Beirão is much easier to sip than Jäger, and to my palate, it presents a much more balanced flavor profile. It smells sweet and caramelly, with a bit of bitterness, and though it initially feels syrupy on the tongue, some orangey acids kick in, preventing it from being cloying. The caramel/orange flavor then gives way to a bit of bitterness on the finish, mirroring the aroma.
For this tasting, I actually did try using it medicinally. After overindulging a bit at dinner, my upset stomach called out for a soothing digestif. Though I can't prove a causal relationship, after a small glass of Licor Beirão, my stomach felt much more settled.
Licor Beirão can be hard to find. Toast Wines by Taste offers it for $22, and the company will ship to most states. This seems to be your best bet — most other online sellers appeared to be based in Europe.