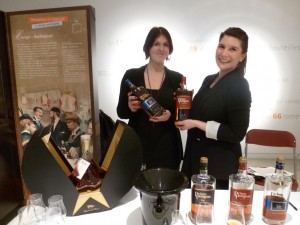 I've written a bit about the big guns of Cognac — Hennessy, Rémy Martin and Courvoisier — but I would be remiss in my duties as Odd Bacchus if I didn't devote at least one post to some of the lesser-known, small-production Cognacs. I can't think of one brand I tasted that I didn't enjoy, so it's worth taking a risk on an unknown name if you see a good deal.
And why take a risk at all? Cognac simply tastes delicious, with complex flavors and often a touch of sweetness. If you like Bourbon, you'll like Cognac. It's not heavy, as many people I've spoken with fear. VS and VSOP Cognacs tend to feel very fresh, and even the older XOs usually have plenty of vivacious life.
At a grand tasting event in the Museum of the Arts of Cognac, I sampled no fewer than 25 different Cognacs, and although I enjoyed some more than others, there wasn't a single one that tasted in the least bit unpleasant. Some, like Baron Otard and Prince Hubert de Polignac, have not yet made it to store shelves in the U.S., which is a great misfortune. I'll therefore confine myself to Cognacs you have a fighting chance of finding:
PAUL GIRAUD (I wrote briefly about the charming Mr. Giraud in this post. All his vineyards are in the Grande Champagne region, the most prestigious part of Cognac.)
VSOP: Aged a minimum of eight years, this Cognac smelled of caramel and marzipan, and exhibited an elegantly restrained power.
XO: Mr. Giraud, referencing the theme of the Cognac Summit, shared his opinion that "this is the one for the ladies — it's sweet and smooth." Indeed it was, with concentrated aromas and rich but lively flavors. It paired beautifully with chocolate.
Tres Rare: This 40-year-old Cognac had a luxurious nose, and it really took me on a journey, developing and changing on my palate with a very long finish. Delicious.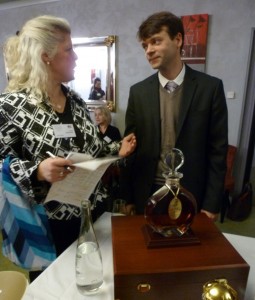 FRANCOIS VOYER (The cellarmaster may be young, but he makes some pretty darn impressive Cognacs.)
VS: Surprisingly complex for a VS, and very spicy.
VSOP: It started slow and smooth, before building to a big finish.
XO: An enticing dark amber color. The nose was redolent of caramel, dried fruit and cake. Sweetness gave way to a long, spicy finish.
Hors d'Age: Served from a beautiful crystal decanter, this old Cognac smelled like caramel luxury. It had such elegance on the tongue, with deep caramel flavors supplemented by some herbal and spicy notes, and impressive, righteous power. Wow.
LOUIS ROYER (In addition to the Cognacs described below, watch for the "Distilleries Collection," a range made exclusively from one region, i.e. Bon Bois, Fins Bois, Petit Champagne, etc. The distillery for each Cognac is located in the region as well, for maximum terroir effect.)
VSOP: Zippy and very spicy, made mostly with fruit from the Fins Bois region.
XO: A deep amber, this minimum 15- to 30-year-old Cognac starts very smooth and velvety and builds to a big, spicy finish.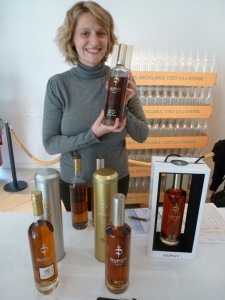 DUPUY TENTATION (Owned by the same family as Bache-Gabrielsen, another very fine Cognac I wrote about here.)
VS: Fresh, bright and fun. I suspect it would work beautifully for cocktails. The VSOP tasted similarly fresh, but there was an added sense of groundedness.
XO: It starts like many XOs, with a lush richness. It grew and grew, and I thought it might get too powerful for me, but it restrained itself at the last moment.
MEUKOW (Pronounced "mew-koff." Another family company, but no longer owned by the Meukows. The original Meukow brothers were sent to France by Czar Alexander II, who sought a supply of Cognac for the Russian royal court. Ignore the rather silly-looking panther-emblazoned bottles.)
VS: Very smooth for a VS, with unique tobacco notes. If you enjoy Scotch or Irish Whiskey, this Cognac would be an excellent choice.
XO Grande Champagne: Rich, smooth, floral, and surprisingly lively — there was some spice left in this old cat!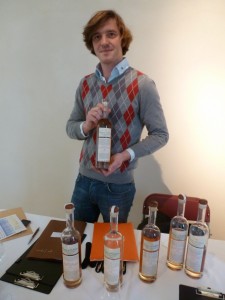 JEAN GROSPERRIN (This boutique company has only eight employees and focuses almost exclusively on vintage Cognacs. Only 1% of Cognac is vintage, because it's a great pain in the derrière to make. Barrels must be sealed with an official seal, and when the cellarmaster wishes to open a barrel to work with it, a government official must be present to ensure a younger Cognac isn't substituted. Of course, an official must also be present during bottling. You may not find the specific vintages discussed below, but any Jean Grosperrin vintage Cognac is well worth trying.)
1982 Fins Bois: The Fins Bois region is the third-most prestigious area of Cognac, after Grande Champagne and Petit Champagne. This Cognac tasted dry but rich — it threatened to overwhelm with spiciness but showed admirable restraint.
1971 Grande Champagne: Caramelly, with a huge power that made me stomp my feet. The finish went on and on.
1975 Fins Bois: This very rare Cognac (only 60 bottles were made) boasts an alcohol level of 58.1%, well above the usual 40%. Vanilla and caramel flavors developed into an almost unbearable spiciness. This is a Cognac that lets you know you're alive!
As much as I enjoyed the Cognacs noted above, a few that I tasted over the course of the Cognac Summit literally brought me to tears. Really. But that's for another post…
Cognac Dupuy Tentation, Francois Voyer, Jean Grosperrin, Louis Royer, Meukow, Paul Giraud